Maria Klawe is no imposter.
You may have heard Klawe talk about "impostor syndrome" when addressing each entering class during Harvey Mudd's Convocation or at other events. Symptoms include doubting that one is deserving of their success or feeling as though one is not doing as well as others. Yet, Klawe points out that despite these feelings, those who identify this way are very successful as they tend to work harder, risk failure more often and persevere. She even referred to herself as the "chief impostor."
Yet, the 17-year history of Klawe's Harvey Mudd College presidency—the longest term since Founding President Joseph Platt (20 years)—is full of examples of how high expectations for herself and the habit of dreaming big have resulted in many outstanding successes. Her first rule for success—fail openly and fail often—has guided her and has resulted in a tenure filled with firsts, priorities met, goals achieved and improvements made.
While former HMC President Jon Strauss had doubled the College's endowment during his nine-year tenure, there was still work to be done after he left Harvey Mudd. Three new buildings (Linde Activities Center, Sontag Residence Hall, and the Hoch-Shanahan Dining Commons) had been added to campus. On the admission side, the College had gone from need-aware for 40 percent of admitted students to being need-blind for all domestic students and permanent residents—meaning an applicant's financial situation is not considered when deciding admission—and 100% of demonstrated need is met for all admitted students. The College's Office of Institutional Diversity was created under the Strauss administration, and Klawe saw great potential in expanding this effort as increasing diversity and inclusion in STEM fields has been her life's mission. Along with five other themes, diversity became a priority of the College's strategic vision, aka "HMC's dream for the future." Established with input from the HMC community after four days of planning, the strategic vision was launched at Klawe's inauguration Feb. 3, 2006.
Unsurpassed excellence and diversity at all levels
"Changing the diversity of our student body is the thing that I'm most proud of," Klawe says. "I'm proud of the way the entire community came together to help recruit and retain a much more diverse student body."
Under Klawe's leadership, the College has made significant strides in creating a diverse campus, one that recognizes, values and supports a broader range of students, faculty, trustees and staff from different ethnic, economic, geographical, intellectual and attitudinal backgrounds. The College implemented several initiatives, including expanding recruitment efforts in underrepresented communities and increasing financial aid for low-income students. These efforts have resulted in a dramatic increase in the diversity of the student body. Women now make up about 50% of the student body compared to an average of 20% during the 1990s. The most gains in ethnic diversity have occurred for those identifying as Hispanic/ Latino (from 8% in 2006 to 21% in 2022) and Black or African American (from 1.4% in 2006 to 6% in 2022), making HMC one of the most racially diverse colleges in the U.S.
Diversity of the Student Body
Hispanic/Latino
From 8%

to 21%
Black or African American
From 1.4%to

6%
Women
Women now make up 50% of the student body compared to an average of 20% during the 1990s.
The College celebrated a milestone in 2010, with an entering class consisting of more women than men for the first time in its history. Another milestone was reached in 2014 when more women graduated with engineering degrees (56%) than men, a first for HMC and possibly any other co-ed U.S. college. In the Class of 2018, the College reached its highest percentages of women graduates in physics (58%) and computer science (56%). Each September, the administration is required to report to the board of trustees on the progress of diversity, equity and inclusion initiatives.
"Not only has diversity increased over Maria's tenure, but the students are outstanding as well," says Jim Bean '77, chair of the board of trustees. "Harvey Mudd has disproved the hypothesis of tension between diversity and quality."
Bean adds, "The board of trustees has committed to increasing the diversity of the board in alignment with the student body, faculty and staff." In 2022–2023, 30% of trustees are women, and nearly one-third of the trustees are from underrepresented ethnicities.
In addition to trustee and staff changes— personnel in areas serving students and advancing the College have expanded—the makeup of faculty has also shifted. In 2017, the Andrew W. Mellon Foundation provided funds to support the key goals of the College's Strategic Vision through its Presidential Leadership Program and a four-year grant that helped the College increase racial and gender diversity among the faculty. At the time, 36% of tenured and tenure-track faculty were women and 7% were from minority populations underrepresented in STEM. Today, the number of female faculty has increased to 40% overall and, with a record number of faculty set to be hired this year following the pandemic hiring freeze, progress will continue to be made regarding faculty gender and ethnic diversity.
"Coming out of the pandemic, due to a hiring freeze and some early retirements, we are making an unusually large number of tenure-track hires this year," says Tom Donnelly, vice president for academic affairs and R. Michael Shanahan Dean of the Faculty. 11 searches are complete or near completion. "Based on early returns, I am confident that the cohort of faculty we hire this year will increase our faculty diversity along nearly every axis."
In 2014, the College made Harvey Mudd history with its academic department leadership. Four of seven department chair positions were held by women professors, marking the first female majority within the Department Chairs Committee. In 2016, women chaired six of seven departments. Today, two departments, Physics and Engineering, are chaired by women.
Experiential and interdisciplinary learning
A strong faculty has been instrumental in the College's academic reputation. During Klawe's tenure, the faculty has implemented changes to the curriculum that support key goals of the strategic vision: increasing interdisciplinary learning in the Core Curriculum, expanding interdisciplinary majors and research projects and establishing centers to stimulate and support interdisciplinary learning and research. The first changes to the Core were launched in 2010, and the latest revision, "Four Courses with Optional Electivity," was passed by the faculty in May 2020 after three years of work by several committees, a self-study, an external review, and surveys of students, alumni and faculty. The new Core curriculum is designed to increase joy of learning, reflection, mastery and retention by allowing students to take a four-course load in the first four semesters, while still being on track to graduate in four years.
"I want Harvey Mudd to be a place that transforms what the rest of their life will be like," says Klawe. "I also want it to be a place that transforms what the outcomes will be for the world."
Global engagement and informed contributions to society
"Because of the outstanding work of the faculty, we've made great strides in developing innovative and inclusive curricular approaches that have improved learning outcomes for our growing and diverse student population," Klawe says. Results are shared in presentations, papers and joint partnerships with other organizations and institutions, so the lessons HMC learns in developing inclusive pedagogy can spread. Klawe enthusiastically joined faculty members, administrative staff, trustees and others to help share the College's vision and accomplishments.
She was among the 31 representatives, including five presidents from The Claremont Colleges, to travel in 2008 to Singapore, Hong Kong, Shanghai and Beijing. They visited leading universities, held receptions for alumni and parents, and met with leaders from government and industry. Klawe's other international trips included a 2009 trip to England, Iceland and Poland, and one in 2018 to Pakistan, where she gave a lecture at its first liberal arts and sciences institution, Habib University. She returned to Asia in 2019.
"Institutions across the country and world now look to HMC for innovations in secondary and postsecondary education."

Maria Klawe
Klawe likened HMC's influence in the world to art, one of her passions (she painted the College's holiday card each year and has over 100 watercolors). "As an artist I think of these changes as small splashes of color on a canvas. Inches away from it you can't see the beauty of the big picture. Only when you step back and refocus do you begin to see how each individual stroke joins with its neighbors to form something compelling.
"When young colleges and universities create a new successful approach to some aspect of education and then disseminate that knowledge, they can have a lasting impact on higher education," Klawe says, "Institutions across the country and world now look to HMC for innovations in secondary and post-secondary education."
Concerted efforts community-wide have resulted in a significant increase in admission applications. In 2015, the entering class was the most diverse in HMC history. Accompanying the steady growth and diversity of the student body was the expansion of the Division of Student Affairs to improve services and continue to nurture and develop the whole student, to expand proctor and mentor programs, to embed intentional training around diversity and inclusion, to expand health and wellness staff and programming, to add peer academic liaisons in dorms and to increase resources for the Office of Institutional Diversity.
"Growth in the area of student affairs under President Klawe reflects the College's now-recognized position as a competitor for top students, across the country and internationally," says Laurie Girand, chair of the Student Affairs Committee of the board of trustees. "HMC strives today to provide the quality and caliber of student services offered at much larger, competing institutions, to a smaller, more tightly knit community."
The College's national reputation has also remained strong, particularly in the areas of Best Undergraduate Engineering Program, and Best Graduate Salaries and Return on Investment. And, Harvey Mudd student scholars have continued to earn prestigious prizes—Goldwater, Apker, Watson, Computing Research Association Research Awards. Such accolades serve to attract positive attention and maintain the high value of an HMC degree. Other accolades during Klawe's tenure also contributed to HMC's prominence. In 2012, three HMC professors received the Gordon Prize, considered by many in the engineering field to be equivalent in renown to the Nobel Prize. The prize recognized Clive L. Dym, M. Mack Gilkeson and J. Richard Phillips as innovators who helped develop a highly successful, project-based engineering design curriculum that continues to be the centerpiece of engineering instruction at the College and a model for others.
Total HMC Admission Applications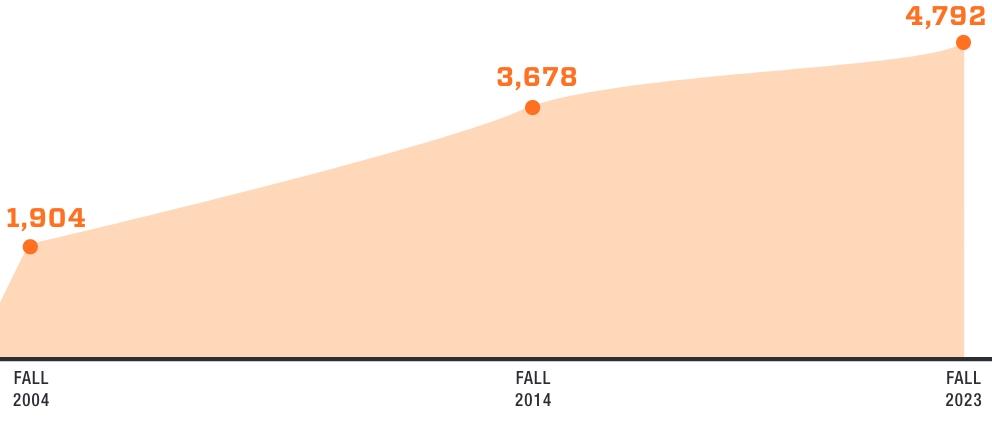 Financial Aid From All Sources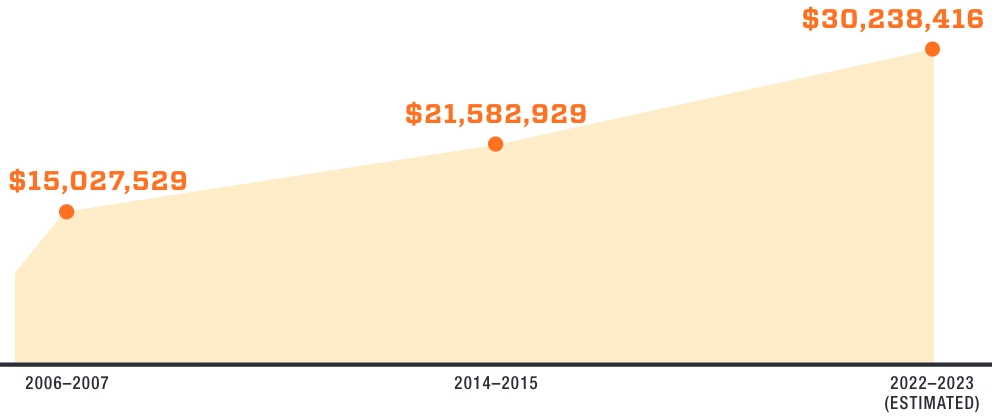 Innovation, leadership and impact
Klawe further expanded the College's visibility by sharing the story of Harvey Mudd College at every opportunity. "A key reason I chose to become president was to help influence the world of higher education more broadly through the type of innovative educational efforts that trace back to HMC's founding," says Klawe. In addition to her travels abroad, she authored a regular Forbes.com column that highlighted key programs and initiatives of the College through her interviews with faculty and staff. Klawe accepted many invitations to key speaking engagements at colleges and universities (some of them to receive honorary doctorates—she has 21), high-profile symposiums and conferences (including Grace Hopper Celebration of Women in Computing, Fortune's Most Powerful Women Summit, and, most recently, the Summit on STEMM Equity and Excellence, her third invitation to the White House. Notably, in 2009, she was elected to the board of Microsoft as its 10th member and one of only two women. She also served on the board of directors of Broadcom Corp.
She felt that serving on a board for a major corporation was a way to increase the visibility of HMC and build new connections with business leaders. "For people who barely know that Mudd exists, we're going to convince them—because it's true—that making an investment in Mudd is making a strong and valuable investment in the future of our society." She has served on numerous boards, including the American Association for the Advancement of Science, the Alliance for Southern California Innovation and Glowforge (an HMC alumni startup). She continues to serve on the boards of the Mathematical Sciences Research Institute in Berkeley (soon to be renamed the Simons- Laufer Mathematics Institute), Math for America and EdReports.
Such ties have resulted in key partnerships between HMC and various organizations: Building Recruiting And Inclusion for Diversity initiative (with AnitaB.org), WitsOn /Women in Technology Sharing Online (a U.N. and White House initiative), and an academic leadership award and grant with the Carnegie Corporation.
Klawe's many strategic connections added to the solid foundation of The Campaign for Harvey Mudd College, which successfully concluded in 2018, with $179 million raised, including $30 million from longtime supporters R. Michael (past board chair) and Mary Shanahan, the largest single gift in the College's history. HMC's largest comprehensive campaign concluded $25 million over the goal. Gifts fueled many changes on campus, including construction of buildings (Shanahan Center, Drinkward Residence Hall and the McGregor Center), space renovations (Engineering Clinic areas in Parsons, chemistry instructional labs in Jacobs-Keck, Galileo Auditoria), 11 new endowed professorships; scholarships for students, $50 million in increased funding for the endowment; new services and staff in health and wellness, community engagement and institutional diversity—"exciting ways we continue to provide unsurpassed educational quality while maintaining fiscal responsibility," says Klawe.
Endowment Market Value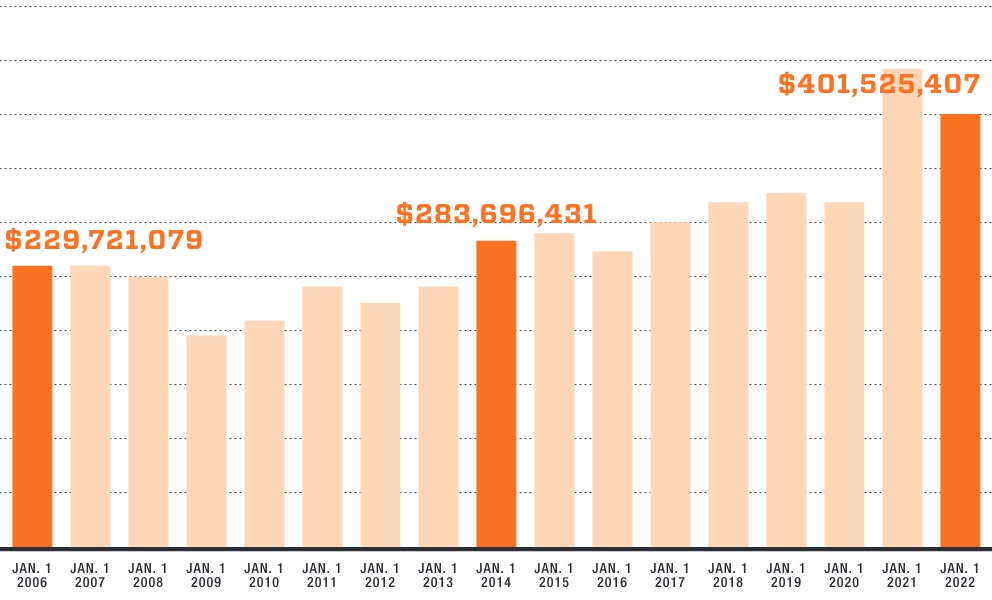 Asking for help
Klawe acknowledges that she "hasn't always gotten everything right" and that there have been challenges along with the accomplishments. As at any institution, there have been some heartbreaking events and tough moments. A particularly challenging year was 2017 when, along with a divisive political climate, there were two student deaths as well as the release of a confidential report containing inflammatory remarks. These events tested her presidential skills and "reminded me just how important listening can be," she says. Leading a college during a global pandemic is not something Klawe would have guessed her job would include. It disrupted routines and forced everyone to take up new ways of living, interacting and working. Klawe and her cabinet focused on creative and flexible problem solving and finding ways to connect and support the HMC community, including implementing a Community Emergency Aid Fund to support students, faculty and staff and to address general operational changes needed to effectively respond to COVID-19. This included salary support and financial aid as well as technology and supplies needed for classroom learning on- or off-campus during the 2019–2020 and 2020–2021 academic years.
"Klawe's leadership elevated the Harvey Mudd brand in new and important places and spaces, opening the door for strategic partnerships for the College and opportunities for our Mudders. She truly cares about the students and invests in their success."

ANDREA FANT-HOBBS AND BRAD HOBBS P23
At the first in-person Family Weekend since 2020, Parent Leadership Council members Andrea Fant-Hobbs and Brad Hobbs P23, parents of Madison Hobbs, shared, "Klawe's leadership elevated the Harvey Mudd brand in new and important places and spaces, opening the door for strategic partnerships for the College and opportunities for our Mudders. She truly cares about the students and invests in their success. During her tenure, Mudd's recognition as a top producer of PhDs in the sciences has grown. We also deeply appreciate Maria's leadership in extremis—in the midst of a global pandemic and unprecedented time, she kept Mudd safe and moving onward and upward."
"Feels like a new beginning"
Under Klawe's leadership, the College emerged from the pandemic with an increase in applications, continued advances in the diversity of entering classes and continued progress graduating larger percentages of women in critical areas. Recognizing another area of urgent need, the College has turned its attention to climate change programs and solutions and is getting a strong response. After the reestablishment of the Hixon Center in 2021 (it's now known as the Hixon Center for Climate and the Environment), there has been a successful fundraising effort, curriculum additions to meet student demand and hiring of faculty members with expertise across academic areas.
Trustee Michael Schubmehl '02, who served as co-chair of HMC's Climate Change Working Group and the Hixon Initiatives Steering Committee, explains, "The center is a place for students and faculty to explore their passion for the human and technical facets of environmental issues, with particular emphasis on solutions to the grand problem of climate change. Mudd students across all fields can benefit greatly from climate literacy, and the first offerings through the Hixon Center—Introduction to Global Climate Change and Climate Science—aim to provide that."
Climate studies and entrepreneurship are two initiatives that Klawe and many HMC community members look forward to seeing grow. They'll soon be guided by Klawe's successor Harriet Nembhard, who begins her term July 1, 2023. "I think she's going to be fantastic," says Klawe.
Klawe is heading to New York to lead Math for America, an organization dedicated to transforming the teaching of math and science by building and supporting communities of master STEM teachers. The move will allow her and her husband, Emeritus Professor of Mathematics Nick Pippenger, to spend more time with their son, Janek, daughter-in-law and two grandchildren, and be nearer to their daughter, Sasha, who lives in D.C.
"I feel this enormous pride and gratitude for having had 17 years at Mudd," says Klawe. "I love Harvey Mudd way more than any other institution I've ever been at. It is just by far the best work experience I've had. I am so proud of what we have achieved together."