Modem Medicine
Biology researcher turned nurse Heather Whalen is an advocate for telemedicine.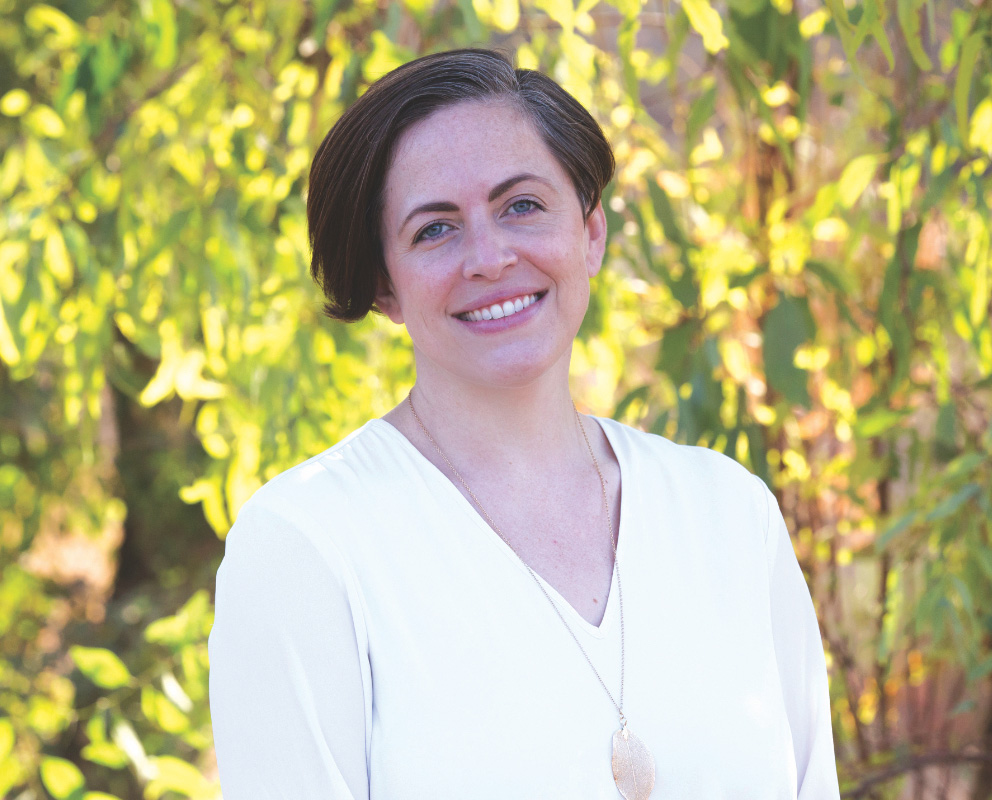 Heather Whalen '04 has long harbored a keen interest in biology but wasn't always clear on where that fascination would lead. Today, she is a nurse practitioner at Planned Parenthood Mar Monte in Merced, California, and while Whalen concedes that her path was somewhat circuitous, she maintains that she is right where she's supposed to be.
Early in her career, Whalen thought that academia was where she belonged. After earning her biology degree, she did a one-year stint as a research assistant in a Stanford University biology laboratory, then entered graduate school at the University of California, Merced, with the intention of completing her PhD and doing breast cancer research. Three years in, however, she changed course. "I realized that pursuing a PhD wasn't for me," she says.
So, with her master's in hand, Whalen began teaching biology at Merced Community College. Two years later, she decided she wanted to leverage her knowledge in a new way and entered the nursing program at California State University, Los Angeles, to obtain her MSN as a family medicine nurse practitioner (NP).
"One of the greatest parts of being a nurse is the wide variety of career opportunities. Nurse practitioners work as part of the medical team in pretty much every facet of the healthcare system."
Whalen first completed her RN and then worked on the medical-surgical-telemetry floor at Huntington Memorial Hospital in Pasadena, California, as she continued her education. Upon graduating, she was hired as an NP at Planned Parenthood and a week later was offered a position as NP at the local hospital emergency room. "One of the greatest parts of being a nurse is the wide variety of career opportunities. NPs work as part of the medical team in pretty much every facet of the healthcare system," she explains. "The scheduling flexibility offered by most NP positions makes it possible to try out different career avenues depending on where your interests lie."
In January, Whalen left her job in the ER to work solely at Planned Parenthood. "I have two young children now—a preschooler and a first-grader—I wanted to work less and spend more time with my family." Whalen left her ER position shortly before the pandemic erupted, but is happy to continue serving the medical needs of her community through her work at Planned Parenthood.
"Planned Parenthood's services have been vital to so many during the pandemic, and our ability to continue providing care to our patients is very important to us," Whalen says. "With the loss of jobs and homes brought about by the pandemic, people are facing greater challenges in procuring healthcare. And given the highly contagious nature of COVID, many patients are nervous about visiting their doctor, whether for routine healthcare or emergent issues."
Fortunately, says Whalen, Planned Parenthood has been able to remain steadfast in its delivery of healthcare through a mix of telemedicine and in-person visits. "Although we had not offered telehealth visits before the pandemic, it has worked out really well. Our facility has remained open when many other practices suspended services."
Utilizing telemedicine has allowed Planned Parenthood to protect both patients and staff from unnecessary exposure while maintaining continuity of care, Whalen notes. "I really think
this is where medicine is going. Telemedicine has been around for some time, but up to now it has been underutilized. The pandemic has accelerated adoption and, honestly, I think it offers a nice option for patients and providers alike. Under the right circumstances, it makes providing care easier for everyone."
Given the challenges of the past year, Whalen says she is doubly grateful for the education she received at Harvey Mudd. She cites supportive faculty and a strong grounding in the sciences as keys to her subsequent success. "My advisor, biology professor Catherine McFadden, was incredibly supportive," she recalls. "She was approachable and always so positive." Senior Clinic advisor Elizabeth Orwin '95, James Howard Kindelberger Professor of Engineering, was also a great source of encouragement. "As a biology major, I was one of the few non-engineering students who participated in Clinic, and Professor Orwin was wonderful. She assisted me in getting an amazing internship with a biotech start-up in Hawaii and helped me land a job as a research assistant in a Stanford University lab right out of school," Whalen recalls. "It was wonderful to have these women as mentors. When I was a student at Mudd, the female representation on campus was not great. I really appreciate seeing how this has changed over the years."
While Whalen admits that many of the topics she studied as an undergraduate are not directly relatable to her career as a nurse practitioner, she says that the foundational skills she obtained remain relevant. They have provided a tremendous base for her current career in healthcare, she notes, and are evidence that a strong background in science can open many doors. "Honestly, when I was a student at Harvey Mudd, I never even considered a career in nursing. It wasn't until after I was in grad school that I realized I wanted to become an NP. I want students at Mudd to know that nursing is a challenging and rewarding career option they should consider. I suspect many Mudders feel that pursuing an M.D. is the obvious or only option for those with an interest in healthcare, but it's simply not true," she insists. "I find my work as a nurse practitioner extremely rewarding. I really love my job!"
Whatever path students choose, Whalen is confident that the education they receive at Harvey Mudd will serve them well. "During my four years at the College, I learned to be a critical thinker and a collaborative problem solver," she observes. "As a result, I go into every situation confident that I can meet whatever challenges come my way."
Scrub That
Michael Shimogawa's career shift is changing more lives than his own.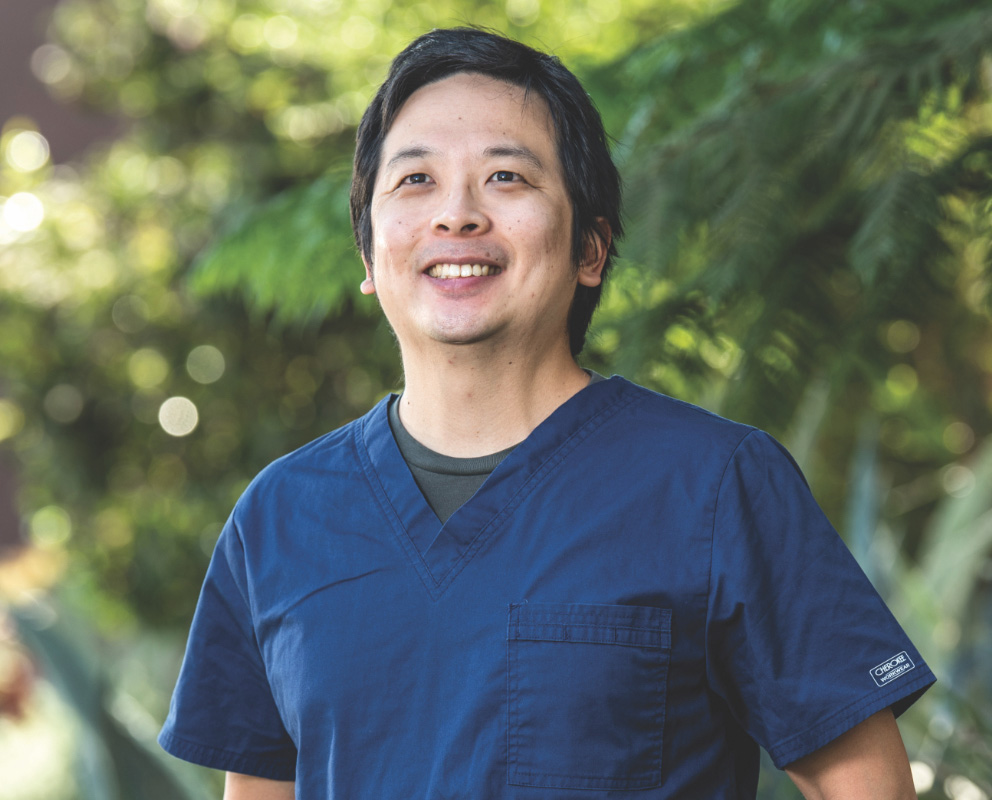 Icy, arctic noctilucent clouds shine bright blue and white, reflecting sunlight high in the mesosphere for just three months. As part of his physics PhD program at University of Washington, physics alumnus Michael Shimogawa '03 built an electric field probe for a NASA-funded rocket used to study these clouds as well as polar mesospheric summer echoes. After completing the NASA project and his dissertation, Shimogawa earned his doctorate and moved to California, seeking work in aeronautical engineering.
But after searching unsuccessfully for a full-time position, his hopes for working in the field began to fade like the seasonal clouds he had studied. Being a pragmatist, Shimogawa knew that his technical skills and Harvey Mudd's liberal arts education—"learning a little bit of everything"—had given him the broad perspective that could transfer to another field. But which one?
A dinner conversation with family provided the perspective he needed. "My cousin (a former social worker) and her husband (a former bus driver) had both switched to nursing," says Shimogawa. "After talking to them about transition, I thought, that makes sense. And maybe I can do it."
In 2014, he began volunteering at UCLA Health and enrolled in nursing school at the University of California, Los Angeles. He worked with the elderly, learning the necessary, down-to-earth skill of building rapport with patients, in particular, those with dementia. "Having somebody there to keep an eye on them and talk to them can help the patients a lot. It also helps the team, so that they don't have to keep coming in to redirect the patient."
Shimogawa completed his master of science in nursing in 2016, went through a rigorous orientation and began his first assignment as an advanced practice registered nurse in UCLA Health's medical-surgical (med-surg) geriatrics unit. This period, he says, was "terrifying" as he learned to handle situations ranging from routine to life-threatening at a breakneck pace.
During this stressful time, the support of Shimogawa's colleagues was crucial. "One coworker in the cohort ahead of me would ask how I was doing and reassure me as I worked overtime to finish my charting," he recalls. "It was nice to hear some friendly words."
He also employed an important skill he used frequently at Harvey Mudd: asking for help. "When you're new," he says, "you have to ask a lot of questions, because it's better to ask a question and annoy another nurse than it is to make a mistake."
During the three years he spent at UCLA Health, he gradually became acclimated to the fast-paced schedule and demanding situations. His patients were often over age 80, with many admissions linked to worsening chronic conditions, such as heart failure.
"Typically, it would be that they fell at home, and they'd have a hip surgery or something similar and then come to our floor," he says. While the hospital's doctors prescribe and direct care, nurses play a vital role as facilitator and provide 24-hour care. "You're the person who keeps track of everything and makes sure that everything is happening the way that it's supposed to. You run the day for the patient in a lot of ways, making sure everyone's communicating and managing their time."
The key, he says, is that "each patient feels like they are our only patient whenever we are with them. There's an art to that, which takes a while to learn."
Connecting with those under his care has become even more important during the COVID-19 pandemic. This September, Shimogawa joined Centinela Hospital Medical Center in Inglewood, California, and is based in two units: med-surg and acute rehabilitation. Due to the pandemic, the hospital does not allow visitors, which can be problematic for older patients who may be suffering from Alzheimer's or dementia. He and other nurses provide the stability and companionship needed when a patient's family members cannot be there.
Shimogawa says it's heartwarming when patients share how much they miss him when he is off shift, and he is often humbled when family members show their appreciation with gifts when discharging their loved ones from his care.
He says his new profession may still require a pivot or two as he explores nursing roles that suit his personality and skills, but he is settling in to his new career—for the long-term. "Nursing is a really great career," says Shimogawa. "No matter what's going on in the world, there will always be a need for us."
Moved to Help
Cultural ties and a desire to help COVID patients lead Kaesa Footracer '92 to an Indian reservation.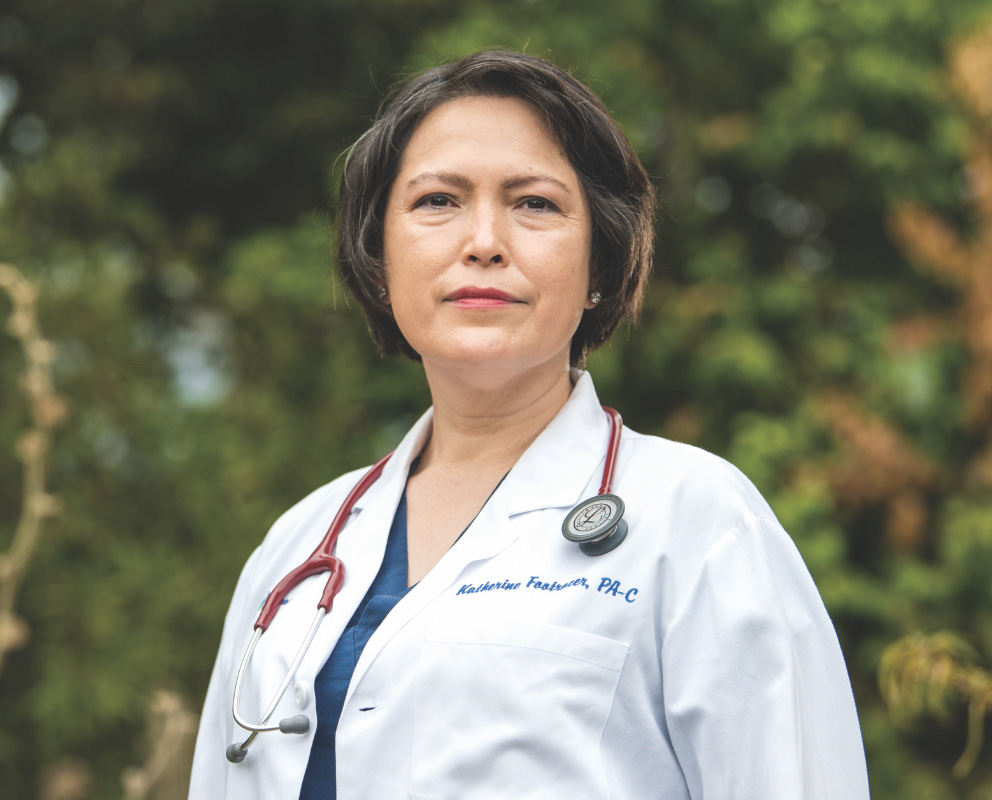 Katherine "kaesa" Footracer '92 has moved around a bit, changing majors, colleges and careers, but through it all, one thing has remained constant: her desire to use her talents to help the community. "If you look around, there is so much need in the world and so many problems, so whenever I can step up and do something, I try to," Footracer says.Last spring, that passion for helping others led her to volunteer on an Indian reservation where she helped care for patients infected with SARS-CoV-2 (COVID-19).
Underlying direction
While enrolled at Harvey Mudd, Footracer made the first of many choices on her path toward leading a fulfilling life. She had planned to pursue a math/physics degree, but soon noticed something different about the other students in her math courses and also in a dance class she was taking as her physical education requirement. "Being around people at Mudd who loved and were excited about their fields, I realized that although I was good at math and I liked it, I didn't love it," she recalls. "I decided I didn't want to spend my life on something I didn't love." That realization led her to transfer after her sophomore year to Scripps College, where she earned majors in dance and psychology.After graduation, Footracer spent seven years managing not-for-profit arts organizations, before she realized she wanted more direct contact with people and became a massage therapist. "It's hard to get more direct and hands-on than that!" she says with a laugh. After repeatedly hearing from massage clients that they had health complaints but felt uncomfortable discussing them with their doctors, she felt a calling to bridge that gap and returned to graduate school to become a physician's assistant (PA). She earned her M.S. and national certification, and has been serving as a PA-C for the past 12 years, mostly at an office in Los Angeles, where she now provides primary care.Throughout her education and career changes, she has consistently volunteered. At Mudd and Scripps, she participated on a first-aid squad, taught for the Red Cross and helped at a battered-women shelter, and since has served in other capacities, including docent naturalist for a nature center, special events assistant for a chamber orchestra and board member for the National Commission on Certification of Physician Assistants. In May 2020, she also became a COVID-19 clinic volunteer on the sparsely populated Navajo reservation 600 miles from her home near Los Angeles.
Helping in a crisis
As COVID-19 began marching across the United States in early spring, Footracer closely followed statistical reports and health websites detailing its spread and became increasingly alarmed about its impact on American Indian populations. "At the end of April, it was tearing through the Navajo reservation, and I just felt like I had to do something," she says. Her personal connection to the Navajo Nation amplified the urgency: Although she was raised in the suburbs of southern California and outside Indian culture, her father is Navajo and grew up on the Navajo reservation.With the full support of her husband, who is also a healthcare professional, Footracer contacted Navajo Area Indian Health Service in Arizona, communicated her qualifications and asked how she could help. Before she knew it, she had arranged two weeks of vacation time, packed a car, and began the long drive east to the Kayenta Health Center in the northeastern Arizona desert. On arrival, she dropped her bags in the provided on-site staff housing and got to work in the Influenza-Like-Illness Clinic, the section of the Emergency Department where most patients suspected of having COVID-19 were triaged. There, she did everything from stabilizing and evaluating patients to interpreting test results to prescribing medications and arranging for follow-up care and, when necessary, transfer to a hospital."It was such a different world there," she says, describing the reservation as about the size of West Virginia but with a population of only around 160,000. Cell, internet or home-delivered mail services are sparse; grocery stores, pharmacies and healthcare facilities are few and far between; and about a third of residents have no electricity or running water, Footracer says. Multi-generational living is common, with a dozen or more family members, including the elderly, sharing one residence, which increases the potential for transmission of COVID-19. In addition, the reservation has a higher-than-normal incidence of both diabetes and obesity, which heightens the risk of severe illness from the virus. "These factors are all part of why the pandemic took off so ferociously on the reservation," she says, noting that all of her patients there had friends or family with COVID-19, and most knew someone who had died from it.Of the experience, Footracer says, "I am very grateful and glad to have had the opportunity to volunteer. In some ways, it was a very small thing that I did—I helped out in a clinic for two weeks and then returned to my life—but at the time, it made a difference for the patients who I saw and the colleagues with whom I worked."
Encouraging others
Her volunteer service in Arizona left Footracer with not only an appreciation for the willingness of residents to protect one another by wearing masks and following public health guidelines, but also affirmed her value of public service."I think it's so important especially for people who went to the Claremonts to give back. We have such a wealth of resources in terms of knowledge and ability and connections, and I feel we should all be volunteering," she says. "It doesn't have to be in your field of work—in fact, this is the first medical volunteering I've really done since becoming a PA-C—but I think it's so critical, and I wish more people were doing it. The HMC community is full of creative problem solvers with access to resources beyond what one person has. I hope that in learning about the disparities facing Indigenous populations, some Mudders will be moved to help address some of the underlying infrastructure problems."