My Mudd Life
All Together Ooky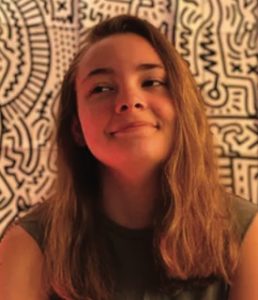 Artist and mathematician Fletcher Nickerson '22 was part of the 40-member 5C team that transitioned the live theater production of The Addams Family Musical to a socially distanced, 2.5-hour movie. CMC News describes their effort: "The actors set up 9-by-13-foot green screens, lighting and cameras in their homes, and the director and choreographers could simultaneously see what the camera was recording via Zoom. With editing software, and many re-shoots, they brought actors together in their scenes with large-scale, hand-drawn backgrounds (commissioned from Fletcher Nickerson at Harvey Mudd College) and animation."
We asked Nickerson to tell us more.
How did you become involved with the play?
I originally joined the project as a set designer last spring semester, when we were anticipating doing an in-person production. I was expecting to design and help construct the set. As we shifted to working on a virtual production, I stayed on as a set designer, but had to adapt what form that design was going to take.
How many backgrounds did you do?
By my count I've completed about 32 backgrounds, though there were a number of others that stayed as drafts or that we ended up not needing.
How long have you been doing art, and what are some other works you've created?
I started learning about set design and construction in high school and have taken a couple of theatrical design/ installation art/ theater-adjacent courses at Pomona. Before the pandemic, I did set and makeup design for Madeleine Kerr's production of Isaac's Eye at Mudd and makeup design for Macbeth at Pomona. I've also done a bunch of digital art, including some sketches based on Seifert Surfaces (knot theory) and a couple comics inspired by the ant lab I'm in.
Any other art projects planned?
Not at the moment. I just learned to animate, so I might do some experimenting at that. I'm also doing bee research this summer (Prof. Matina Donaldson-Matasci), so I'll probably end up drawing some comics about the unexpected things our colonies do.
What is your STEM interest?
I really like both knot theory and social insect behavior; hoping to find some surprising way to connect the two.