Faculty
We Are How We Eat
WHEN CHRISTY SPACKMAN WAS AN UNDERGRADUATE molecular biology major, she read an article in the American Chemical Society's newsletter about the chemistry of whipping egg whites—why using a copper bowl helps to stabilize them. She says it was one of those watershed moments. "For me it was both how to make a better angel food cake, and larger than that. I grew up in a family of very good cooks, and I cook a lot myself. I ended up moving to Chicago and going to culinary school, and it was there that I discovered the field of food science."
After getting her professional cookery certificate and her M.S. in food chemistry from the University of Illinois at Urbana-Champaign, Spackman received her PhD in food studies from New York University. There, she focused on the technologies of taste and flavor analysis with particular regard to water, the "one thing that's supposed to be flavorless," she says. "I spent five years looking at the way that technologies from the food science industry have been adopted by the water industry."
Why is iceberg lettuce shipped across the country from California to New York when you can grow lettuce just fine in New York?

– Christy Spackman
As the current Hixon-Riggs Early Career Fellow in Science, Technology and Society at Harvey Mudd, Spackman teaches a course called Where Food Comes From, the focus of which is the historical development of the contemporary agricultural system. "Why is iceberg lettuce shipped across the country from California to New York when you can grow lettuce just fine in New York?" she asks. "There's an uncomfortable tension around how we imagine our farms as small, family-owned enterprises and the mega-industrial things they actually are. They don't fit that image of what we think farms should be. What are the consequences of that shift?"
Harvey Mudd students, Spackman observes, come into the classroom unburdened by assumptions about the agricultural system—for instance, they have a very different view of genetically modified food than her NYU students did. "Harvey Mudd students are much more willing to say, 'What's the data?' I personally hope that students leave the class with knowledge of the unintended consequences of technology and the importance of thinking about scale in trying to effect change," she says.
It's the creativity of the food world that appeals to Anya Kwan '17. "After I graduate Mudd, I would like to be a part of the food industry, probably as an R&D chef. I recognize that changing food to make it cheaper will be important in the future."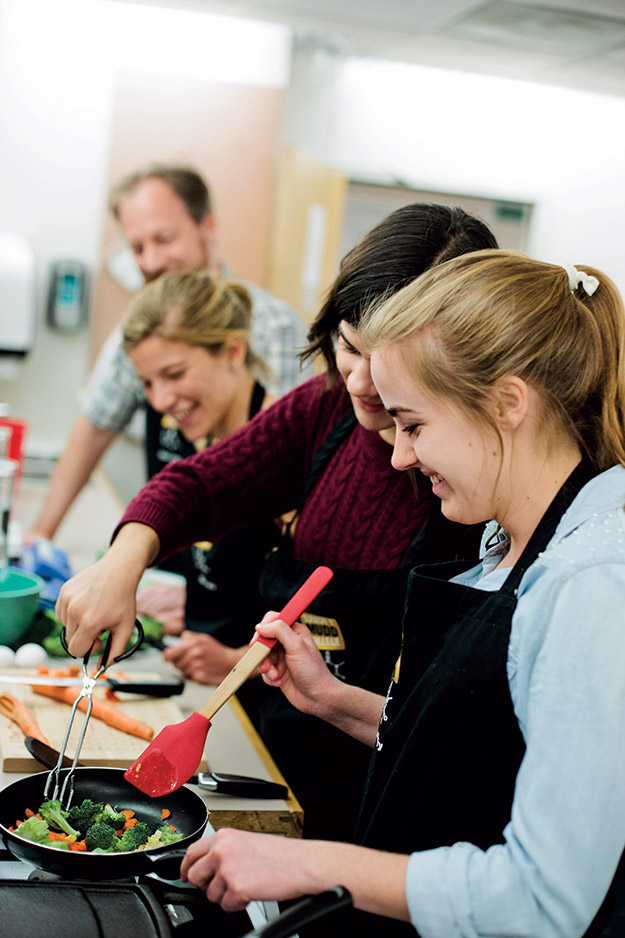 For Isabell Lee '16, examining the history of food through the lenses of immigrant labor in agriculture or women's influence on food retail has been key to understanding its politics. "Working our way through history will really allow us to understand the likely confusing subtleties of modern food policy," she says.
To get at those subtleties, Spackman prizes interactive experience. Her class traveled to L.A. City Hall for L.A. County's Food Day and to the Los Angeles Wholesale Produce Market to talk with Heath & Lejeune, a certified organic wholesale distributor.
During spring, Spackman will circle back to her passion, teaching a course called Technologies of Taste. The class will visit Gold Coast Flavor Company and Cal Poly Pomona's sensory science lab to understand why and how people taste. And it will examine the development of sensory science from the 1950s onward, focusing on water and the tricky, ever-evolving process of quantifying subjective experience into objective measurements.