My Mudd Life
First-Gen Pride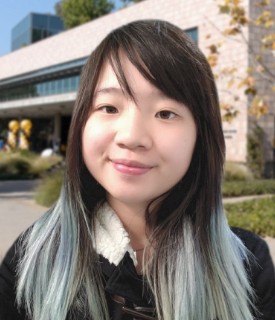 It wasn't until her junior year of high school that Shanni Lam '22 realized she was on her way to becoming a first-generation college student.
"I just assumed that most people were first-gen, because that's how it was in my community," she says. "I didn't understand why colleges thought it was such a big thing, but now that I attend Mudd, I'm a lot more proud and a lot more vocal about it."
Today, the math/computer science major is helping other first-generation students find their way. Lam leads Project Decode, a student-run organization for first-generation and/or low-income students, and served as a mentor for Mudd's Summer Institute program, which helps underrepresented incoming first years with the college transition process.
"First-generation students have to overcome a lot more barriers than other students, so I have a newfound appreciation for my identity," Lam says.
What are the barriers first-generation college students face?
An obvious barrier is that we don't have parents who can help with applying to college. First-gen students are also often low-income and attend more average (or below average) public schools, where the curriculum is less likely to prepare them for a college curriculum, especially Mudd's curriculum. Another big barrier is a feeling of alienation. Prior to Mudd, I went to schools where most students were people of color and on free/reduced lunch. I only knew a handful of students whose parents went to college. Now, it's weird hearing people tell me their parents are research biologists or engineers. It's also weird hearing people speaking to their parents in full English, seeking job advice and getting help on their engineering homework, while I do the opposite, helping my parents find jobs. It reminds me how deeply class inequality hits in America.
Tell us about Project Decode.
Project Decode is Mudd's student-led affinity group that provides guidance and networking for first-generation and low-income students. I serve as the group's co-president and help plan many of the events, including workshops to help students understand things like financial aid and healthcare. The organization is also a space for people to hang out, meet new people and discuss the first-generation lived experience and issues at Mudd.
Through your experiences with Project Decode and Summer Institute, what have you learned about how Mudd can support its first-gen students?
A major way is through recruiting and admissions. We need to have a more socioeconomically diverse student body. It's important for first-gen students to know that there are others just like them at Mudd. Firstly though, most first-gen students likely won't even know what Mudd or the other Claremont Colleges are. I didn't until I lived literally 15 minutes away from Claremont my junior year, and even then, I only ever felt pushed toward public colleges.
You study many languages. What do you enjoy about that?
I come from an interesting multilingual background. My parents and grandparents are ethnically Chinese, born and raised in Vietnam, so they speak Cantonese and Vietnamese. It wasn't until recently that I learned that my dialect of Cantonese apparently has a Vietnamese accent and sounds somewhat old-fashioned and rural, as if I was from the '60s. This motivated me to learn more about Cantonese, as it reinforced that every language has its own rich varieties. I am also learning Mandarin because it's interesting to see the phonological and grammatical similarities and differences between Mandarin and Cantonese. Because of Sinospheric influence, I can also find similar sounding words in Vietnamese and Korean, the latter of which I began learning because I was briefly interested in K-pop and K-dramas. Since eighth grade, I've studied Spanish because it was very commonly spoken in the places I lived and most often offered at the high schools I attended. It's very enriching to learn about different cultures and writing systems.
What do you like to do in your spare time?
I consider myself a film buff, so I like to watch a lot of movies. I also like to go to the desert; it's my favorite ecosystem. That sounds kind of weird, but it's a nice place with its own flora and fauna with minimal light and noise pollution to slow down and think peacefully. I also like to go to different ghost towns or abandoned places. When I'm driving and see abandoned structures, I wonder what happened to them and feel nostalgic. It's cool to explore and think about the past.
What do you hope to do after graduation?
There are a few paths I'm considering. One is data analytics. More recently, I've been thinking about consulting. I feel like I'm good at quick math and being able to provide recommendations for other people. It would allow me to use more of my communication skills. I've also thought about being a community college professor because I've had some experience with tutoring and find it to be more accessible and widely impactful.