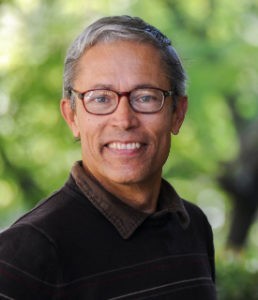 It's been 50 years since Greg Lyzenga '75 (physics), first became part of the HMC community, when he was admitted to the Class of 1975. He has taught physics to generations of Harvey Mudd students and worked with them on numerous research projects and extracurricular activities, including astronomy and rocketry clubs and competitions. As Lyzenga enters retirement, the HMC Alumni Association celebrated his many accomplishments with a 2021 Outstanding Alumni Award, which recognizes impact on Harvey Mudd College as well as service to society.
The Burton Bettingen Professor of Physics, Lyzenga conducts both theoretical and observational studies of the physical processes that lead to earthquakes and tectonic deformation. He uses the Global Positioning System to measure the movement of land along fault lines to determine the amount of strain on these faults before earthquakes and the alteration of the earth afterward. He has published extensively in the area of modeling tectonic plate movement.
Before becoming a faculty member at Harvey Mudd in 1990, Lyzenga worked at NASA's Jet Propulsion Laboratory on the development and interpretation of space-based geodetic techniques. In 2012, he and fellow collaborators received the NASA Software of the Year Award for QuakeSim, a comprehensive software tool for simulating and understanding earthquake fault processes and improving earthquake forecasting. The tool is accessible to a broad range of scientists and end users, including emergency responders, commercial disaster companies, the insurance industry and civil engineers. Recently, he and JPL colleagues have been doing earthquake research, making measurements of the San Andreas fault in the area of the Salton Sea and also in the area of central California near the Ridgecrest earthquake. He'll continue that work in retirement.
Though much of his research is about examining the causes of earthquakes, he's an inveterate stargazer and science fiction fan. He bought his first telescope at age 8 for $29.95—the insurance money his parents received after his bicycle was stolen. The telescope began Lyzenga's lifelong activity in amateur astronomy and professional pursuit of understanding planets large and small. In response to our request, Lyzenga is sharing one of his astro calendars, a popular feature in past magazines.
Astro Calendar 2021
12–13 JULY
Venus and Mars less than a half degree apart after sunset over western horizon.
2 AUGUST
Saturn at opposition. Rises at sunset and is at its closest to Earth.
13–14 AUGUST
Perseid Meteor Shower. Waxing crescent moon will not interfere with viewing, which is best after midnight.
19 AUGUST
Jupiter at opposition.
4 SEPTEMBER
Venus and Spica (Alpha Virginis) close together after sunset low in the WSW.
22 SEPTEMBER
Northern Hemisphere Autumnal Equinox
9 OCTOBER
Astronomy Day (check local astronomy clubs for events in your area)
16 OCTOBER