Space Study
Contemplation and Collaboration
When John Harrell was an engineering student at Harvey Mudd College in the late 1960s, he would often roam the nearby California Botanic Garden to clear his head.
Today, students don't have to leave campus to find a quiet place to read, think and reflect, thanks in part to Harrell and other members of the Class of 1969. For their 50th reunion gift, the class has joined forces on a fundraising drive to create and maintain a new garden area and to establish an endowed fund to support students and faculty engaged with HMC summer research projects.
The Contemplation Garden is located south of East Dorm in a shaded, quiet corner of campus, far from the flurry of the main thoroughfare. It features a fountain, three Italian-made wooden benches, lighting and a commemorative plaque mounted on a large boulder that reads: "Let your time in this garden awaken a gentle peace, a commitment to truth and empathy for others. May it inspire profound insight and innovation."
The Class of '69 Summer Research Fund will further enhance the development of "insight and innovation" by supporting faculty and students in their research endeavors. Class members are rallying behind the endowed fund because they believe that supporting research is crucial to developing a national reputation among faculty members and the College while providing experiential learning for students. During 2020, gifts toward the Class of '69 Summer Research Fund supported Christopher Paniagua '21, who worked with engineering professor and fluid mechanics expert Leah Mendelson to study the waterexit strategy of the archer fish and the engineering applications of this behavior. The fund will support one or more students each summer as it grows into perpetuity.
Members of the Reunion Committee who spearheaded the fundraising drive, with collaboration from College staff, generated gifts and pledges of nearly $250,000: $75,000 for the garden and $175,000 for the summer research fund. Committee members discovered that both elements—an endowed fund for a specific purpose (summer research) and the tangibility of a garden—inspired significant interest.
Boosting this effort was a participation challenge—committee members agreed to double their pledges if 60 percent of class members gave toward either effort—that helped the Class of '69 achieve beyond expectations and create momentum for building the endowment. With staff members in advancement and facilities and maintenance providing support and encouragement throughout the initiative, fundraising to establish the garden and research fund was a positive and rewarding endeavor that the Class of '69 hopes other reunion classes will emulate.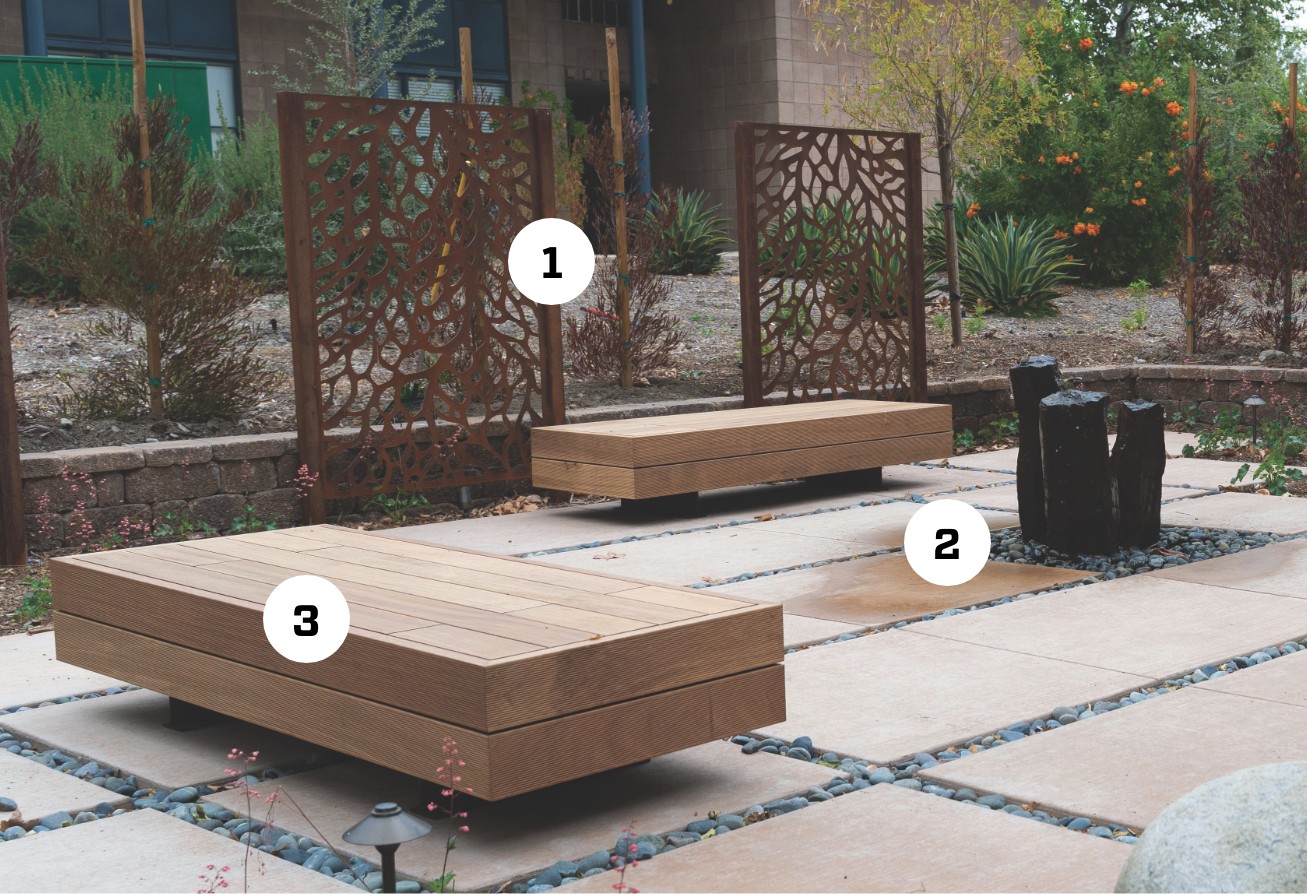 The screens provide a little privacy in the garden without imposing isolation. Their organic branches-and-leaves pattern is a reminder that we are in a garden, after all.
Water bubbles gently up from the earth and runs down the sides of the rock fountains, creating quiet noises for the ear, tiny movements for the eye and a pleasant and peaceful background for contemplation.
The benches are almost like slabs of rock, but the warmth of the wood fits with the garden's surrounding shrubs and trees. They encourage reflection,
not slumber.