Alumni
How to Cultivate a Career
Geophysicist Betty Johnson '78 overcame a steep learning curve to become a leader in the field.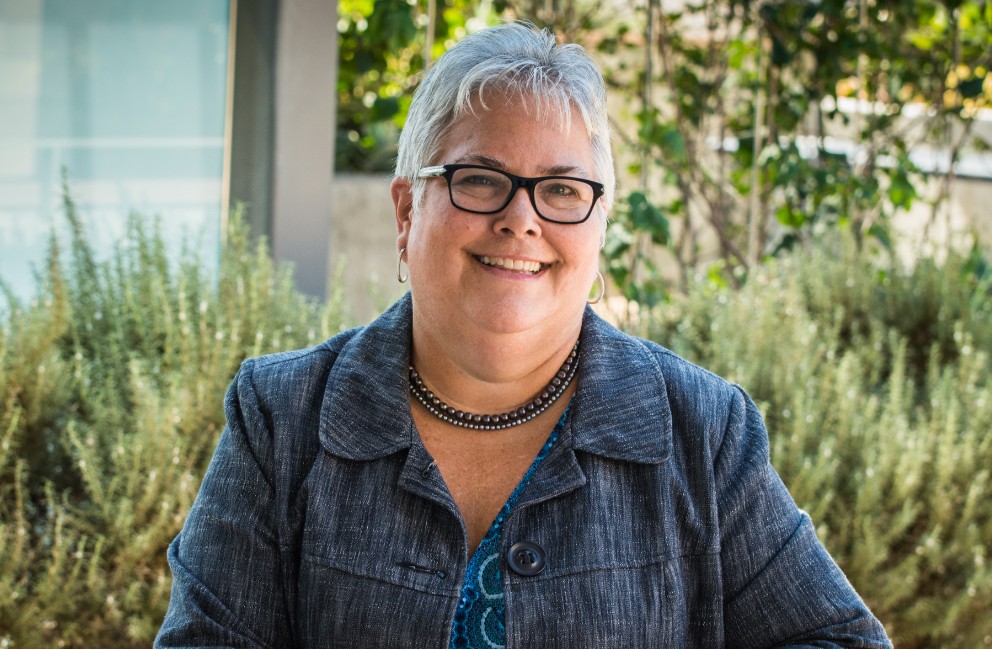 It was spring of Betty Johnson's junior year at Harvey Mudd. Interviews with several oil companies hadn't led to an internship, so the physics major with a geophysics emphasis resigned herself to the idea of once again working retail over the summer. Then, at the last minute, Unocal offered her an internship in the geophysics department working on a statistical project. She accepted despite one major challenge.
"At that time, I hadn't taken any statistics classes," says Johnson '78, laughing. "It was a steep learning curve, but I had a fantastic boss who mentored me. I learned about everything the geophysicists were doing. I knew at that moment it was definitely what I wanted to do.'"
Johnson's subsequent 43-year career in the petroleum industry as a geophysicist with Unocal (acquired by Chevron in 2005) has been a testament to the rewards of seizing and creating opportunities that stretch one's skill set in new and unexpected directions. At every turn, Johnson has leveraged her technical and managerial skills and Harvey Mudd education into innovative and prominent positions in a male-dominated field while staying at the forefront of dramatic changes in how terrain and talent are cultivated. "In my career, I've seen an evolution of companies, technology, geophysics and women in the workplace," she says.
Her first position at Unocal, geophysical technician, wasn't exactly what she had in mind, but it got her foot in the door at corporate headquarters in the Los Angeles area. The workplace "was still a lot like Mad Men," she says. "Women had to wear dresses and skirts and pantyhose. Most of the women were secretaries. I definitely felt out of place as a female scientist."
While at Harvey Mudd, Johnson had valued the support and collegiality of the Society of Women Engineers (SWE). She recreated that nurturing environment by serving as one of the "founding mothers" of the Association for Women Geoscientists (AWG). "It was instrumental for me because at the time there were few leadership opportunities for women within work," she says. "I found amazing colleagues through AWG and learned a lot about leadership."
Johnson's career advanced in tandem with computing technology and the development of geographic information systems.
She distinguished herself by mastering new software as platforms evolved from mainframe to workstations to PCs. "I quickly became an expert, which is a testament to the strength of the Harvey Mudd education," she says. "I had only a bachelor's degree, which was unusual in my field. But Harvey Mudd taught me how to learn and solve challenging problems."
Early in her career, Johnson also was tapped for a task force that defined a technical career path within the company. "It was an incredible project, a peek behind the curtain of how people were managed," she says. That one assignment served as a springboard for several subsequent higher-level management positions. She took on leadership of the Gravity, Electrical and Magnetic Services team, an area that was not her strength in college but provided an exciting learning opportunity in offshore exploration. She oversaw talent management, from recruitment through leadership development, for the 475-member Earth Science Department.
Until recently, she managed the dozen or so technically diverse members of the newly created basin framework analysis team, which analyzed potential exploration sites around the world. "I felt like I was in The Big Bang Theory every day," she says. "It was a joy to learn about each team member's deep expertise and find ways for these very different disciplines to work together."
These are very different times for the petroleum industry from when Johnson first started. As science and public sentiment have shifted away from fossil fuels, Chevron has stated its dedication to a lower-carbon future. "As earth scientists, we have a role to play at all points along that spectrum," Johnson says, "from producing oil and gas in a clean and safe way to looking for alternative sources of energy."
As she contemplates retiring in the next couple years, Johnson has been focusing her attention on the next generation of scientists. While serving on Harvey Mudd's Alumni Association Board of Governors, she helped lead fundraising efforts for the curricular innovation fund, which has exceeded its $100,000 goal. In her new role at Chevron as subsurface talent manager, she's engaging employees at all levels in championing new ways of working together in a digitally connected world—lessons learned during the pandemic.
"In the span of 40 years, we've learned a lot about leading people, how teams work together and how innovation actually happens," she says. "One of the things we've learned this past year is that we have to empathize with what's going on in people's lives and how that affects their thinking, their availability and other factors. There's a shift to a more caring style of leadership. That's what I saw in SWE and AWG, and it's exciting to now see this actually be the core of how companies like Chevron foster our own workforce."