Philanthropy
Ask Me About Giving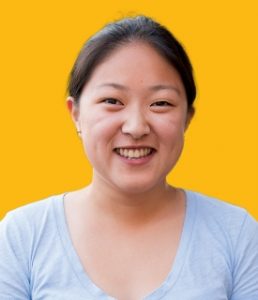 Marissa Lee '18 is a shining example of someone who consistently gives back to her community. What started as involvement in HMC's annual Student Philanthropy Campaign as a first year has evolved into a series of post-graduate, recurring contributions to the College that support various campus initiatives.
Students involved in the Student Philanthropy Campaign identify an underfunded area on campus and then raise student awareness and funds for the targeted program while instilling a culture of engagement and contributing to the campus community.
"It is a cool way for students to get involved in defining areas that we can improve in our community and tangibly help support those initiatives," says Lee, now a grad student in mechanical engineering at Stanford University who studies human health and mobility using biomechanical and statistical modeling.
After graduation, it was only natural that Lee continue her campaign of giving back while gently encouraging her alumni friends to do the same. As a volunteer, she began serving on the Alumni Association Board of Governors, lending her expertise to the committees of admission (she's interviewed prospective students), executive and outreach. During 2018–2019, she was the only AABOG representative for all of the class years after 2010, and one of 32 young alumni volunteers. Now, thanks in large part to her leadership, there are five AABOG representatives and over four times as many volunteers serving from the young alumni classes.
In addition to being AABOG secretary, Lee currently chairs the Outreach Committee and is instrumental in the development of Alumni Perspectives, a small-group virtual discussion series that connects alumni and students around various themes pertaining to careers, life and more. As a focus group member, she helps shape new young alumni initiatives, and she's hosted alumni virtual game nights.
As an HMC donor, Lee's contributions initially went to the general fund. A few years ago, she started giving a portion to the Department of Engineering and, this year, she plans to help support the Homework Hotline, which she was involved in as an undergrad. As her contributions have increased depending on her financial situation, Lee has switched from annual to monthly donations. She encourages fellow classmates to follow her lead by giving a few dollars a month instead of a big sum annually.
"I continually have conversations with people," says Lee, who's adept at introducing the topic of giving as part of a friendly chat. Lee also contributes time and energy connecting alumni to students and helping support students in general.