Alumni Profile
Bringing Sustainability Home
For Fernando Salud '17, climate change is not an abstract concept. He lives in the Philippines, which consistently ranks among the countries at greatest risk from climate change. "We're a nation of more than 7,000 islands, so sea-level rise is going to be a huge problem," Salud says. "We're also in the danger zone for super typhoons, like Super Typhoon Odette that struck last December. It's only going to get worse. That is driving my passion for sustainability." 
Salud works in the Manila area as a data strategy consultant for Thinking Machines, a data technology consultancy that builds enterprise cloud data platforms and deploys custom AI, along with consulting, training and coaching. The company recently began building data products for climate change mitigation and adaptation for Southeast Asia. 
"The Philippines has had a huge brain drain," he says. "I'm helping reverse that a bit by bringing here what I learned at Mudd."
Salud's passion for sustainability has motivated his career and academic pursuits ever since he watched the Al Gore climate change documentary An Inconvenient Truth when he was younger. "I was shocked," he says, "but I was also shocked that other people weren't as shocked by the facts as we needed to be." 
He was drawn to Harvey Mudd not just by its exceptional academics but also by its mission of educating leaders who have a clear understanding of the impact of their work on society. "That was really important to me," he says.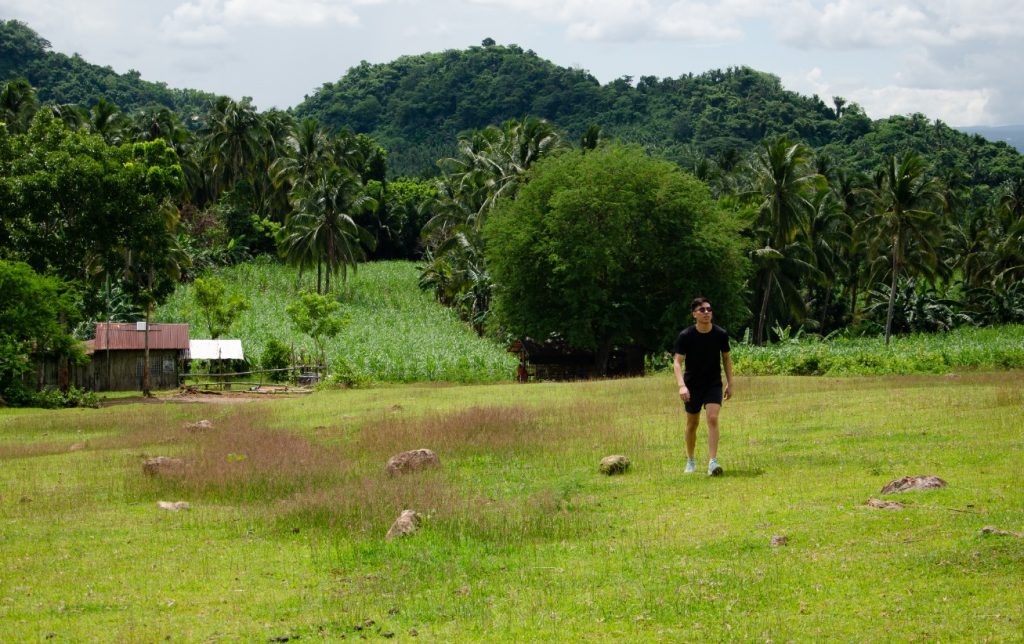 He appreciated the synergy between the engineering department's focus on problem solving and the need for green design solutions. "The class that opened my mind was Life Cycle Assessment," he says. "It was the first time I was able to add rigor to my thinking around sustainability." 
Former HMC professor Tanja Srebotnjak, the inaugural director of the Hixon Center for Sustainable Environmental Design (now the Hixon Center for Climate and the Environment), guided students through a product's entire value chain, from its raw material source through production, distribution, use and disposal. "It's a powerful tool," Salud says. "You can quantify the environmental impacts across the different stages and see which stages are the worst offenders so you can be more targeted in your interventions." 
During his senior year Clinic project for the Mission Rubber Company, he installed internet of things sensors and created a unified dashboard to evaluate energy usage of the company's huge aging molding machines. "When they put in new energy-reduction initiatives, they'd have a testing and tracking system to monitor its effects," he says. "I liked it because it was a clear business case for sustainability." 
He approached sustainability from a different angle as part of the inaugural cohort for EnviroLab Asia. This 5C-wide initiative took the student and professor research fellows to Borneo and Singapore to study the proliferation of oil palm plantations and develop potential policy interventions to conserve forest cover and provide alternative livelihoods for farmers. 
At the end of 2019, Salud moved to the Philippines, where he was born and spent part of his childhood. "The Philippines has had a huge brain drain," he says. "I'm helping reverse that a bit by bringing here what I learned at Mudd." 
He joined the consultancy Business for Sustainable Development and worked on the Zero Waste to Nature by 2030 initiative. The Philippines is among the top countries contributing to ocean plastic waste. "The trash problem is very in-your-face in the Philippines," Salud says. "We have these beautiful beaches, but there's a lot of plastic trash on them." 
When the Philippine government threatened to issue a sudden blanket ban on single-use plastics, multinational corporations and members across the waste value chain banded together to launch the initiative and develop a plastic credit exchange. "It's modeled on greenhouse gas emissions trading," Salud says. "If a particular company puts out 1,000 tons of plastic in one year, they have to pay another organization to collect and recycle an equal amount." The proposal is still being reviewed by the Philippine legislature; there's public pressure for its passage. 
In October 2021, Salud joined the growth team at Thinking Machines, which has a mission of solving high-impact problems with AI and data. Among its current projects is a climate smart aquaculture collaboration with Conservation International and Arizona State University School of Sustainability. They were awarded a research grant by Climate Change AI, a global nonprofit combatting climate change with machine learning. Thinking Machines will use its Eco-Intelligence Solution to produce open-source code, datasets, interactive maps, analyses and research to help identify the top 40,000 most suitable hectares in Southeast Asia for a "Climate Smart Shrimp" program. The initiative will help shrimp farmers produce more food using less land area, freeing up ponds to be replanted with mangroves, which are excellent carbon absorbers, coastline protectors, erosion controllers and havens for sea life. 
"Thinking Machines reminds me of being at Mudd," Salud says. "We're a bunch of nerdy engineers who all want to apply our particular skills to solve problems that matter."