Alumni
Lights! Camera! Navier-Stokes Equation!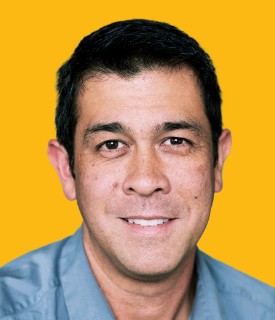 As chief technology officer for Animal Logic, one of the world's leading digital animation studios, Darin Grant '96 helps make movie magic. His credits at Animal Logic include The Lego Movie 2: The Second Part and Peter Rabbit 2. At Digital Domain and DreamWorks Animation, he worked on Fight Club and How to Train Your Dragon.
What is your role as a technologist?
Ultimately, I'm helping to create art. Every single pixel and all the data behind it that goes into an animated feature film relies on technology. Every character, every environment, every piece of clothing, every explosion all have a significant amount of technology involved in their creation. And while the technology is complex and amazing, ultimately my role is a support role. If there was no technology, then we couldn't make the films that we do today, but we don't build technology for technology's sake.
How has technology changed in the last 20 years?
When you think back to the early days of film, whether it was live-action movies or 2D animated films, there was a lot of manual labor that went on in creating effects. But nowadays, much of that work is done completely on the computer. Scenes of crashing waves or gigantic explosions are now computer simulations using the Navier-Stokes equations that you might have learned in upper-level physics classes at Harvey Mudd. It's easier and safer to have actors running away from a digital floods or explosions than to actually have a real flood and put their lives in potential danger.
What does the future hold?
Technology always gets better, faster and cheaper. As a result, we are able to create imagery that is more complex than anything we could imagine when I graduated. But even now, there's a lot of sitting and waiting for results to be generated. New technology and machine learning will allow us to make changes instantly, changing not just the speed at which we work but how we work.
How did your career aspirations come about?
When I was growing up in Cupertino, I was surrounded by computers, and I wanted to be a Disney animator and Alex P. Keaton from Family Ties—technology, animation and business. But I can't draw worth a damn so I focused on computer science and economics. When I was a junior, Jill Sakata Melosh '96 orchestrated a tour of a company called Digital Domain that was working on Apollo 13. On that tour, I saw that I could use computer science to help others create art, or even create that art myself. That was kind of the light-bulb moment.
Where do you find inspiration?
I find inspiration from my teams. Ultimately, this is a management job, and I'm responsible for the welfare of over 100 people who support a much larger organization. Professor Gary Evans was a massive influence in this. I had a class with him early on, and he said, "All of you are smart, but you're going to be stuck following instead of leading if you don't know how to communicate." It was a scared straight moment for me, and significant in terms of knowing that success was about more than building technology, it was building teams.