College News
Alumni Gift Enables Paint Booth
HMC has quite the bustling, hands-on, experiential culture. Courses, such as Introduction to Systems Engineering and Experimental Engineering Lab, as well as many engineering science courses and electives, now have significant hands-on components with a need for ventilated spaces for adhesives and painting. Students use cleaning solvents and coatings, such as spray paint, as well as 3-D printers and cast and cured resins, all of which require ventilation as outlined by the Materials Safety Data Sheets, which describe how to work safely with chemical products.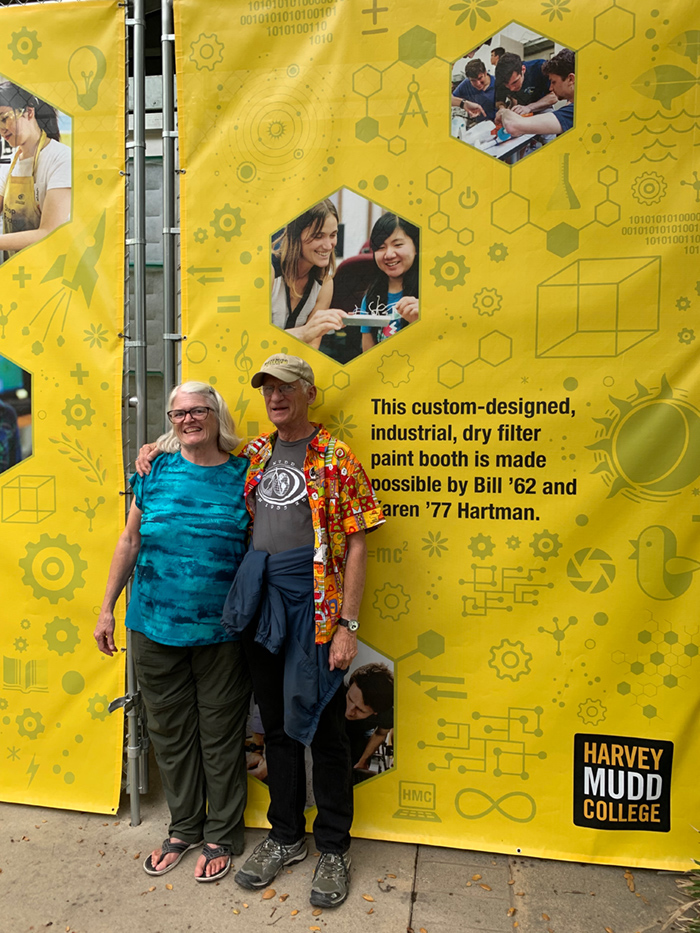 A paint booth is planned for the new makerspace in the Scott A. McGregor Computer Science Center, but the College needed a more immediate way to provide the dedicated space for laying up composites, using epoxy to attach parts and spray painting large objects such as rockets, vehicles and stage props. Bill '62 and Karen '77 Hartman, makers themselves, saw the project as a perfect opportunity to give back.
"Karen and I wanted to fund something for the makerspace that would be useful now and also useful after the new makerspace is established in the new CS building," says Bill. "We worked with Liz Orwin '95 [chair, Department of Engineering], and she suggested the spray booth. We felt this was a great idea and went for it."
Both were active makers during their time at HMC. Bill recalls buying a small sailboat that needed painting. "I put the boat in an unused dorm room in West and painted it there. It would have been really nice to have had a spray booth."
Karen took a stained glass class at Pomona College and has since been a member of Make Ventura makerspace, where she learned to use a laser engraver, taught a glass ornament fusing class and built a plywood storage system for glass sheets she uses for fused glass.
HMC's custom-designed, industrial dry filter paint booth is located temporarily between Kingston and Keck buildings. It will be moved to a permanent space in the McGregor Center once the building is completed in 2021.
Mariah Ewing '21 is one of the machine shop proctors in charge of the paint booth. Proctors check students in and out to ensure that they know the safety procedures and wear the proper attire. She says, "The students are very excited to work in the new spray paint booth. Our fume hoods are too small to spray paint in, especially when there are other students' components drying that one must avoid when spray painting. This new booth allows us to properly spray paint larger things in a safe manner."