College News
Building a Curriculum Around Data Science
Administration and faculty consider programs to help meet the demands of a data-driven future.
The Claremont Colleges' Office for Consortial Academic Collaboration (OCAC) was created by the presidents and deans of the 7Cs to work on and strengthen shared academic programs and curriculum initiatives with a focus on two initiatives: justice education and data science.
Data, and the knowledge we gain from it, is growing faster than ever before, and it continues to change the way we live. The working group of 7C faculty members, which includes HMC professors Susan Martonosi, Matina Donaldson-Matasci and TJ Tsai, seeks to structure curriculum, faculty expertise, research and student learning outcomes to help meet the demands of our data-driven future.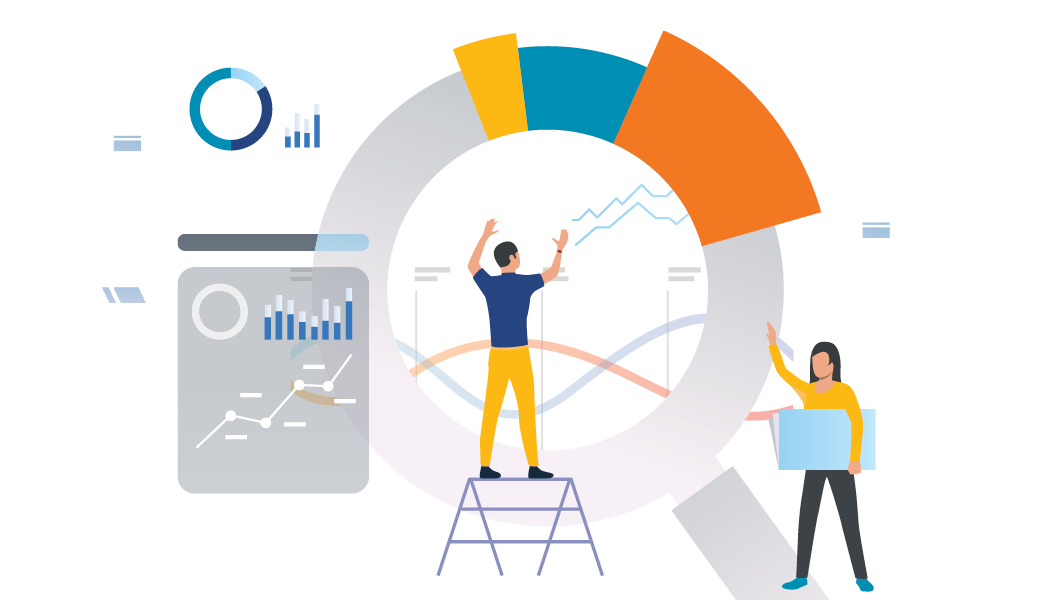 Tessa Hicks Peterson, a Pitzer professor who has led OCAC's efforts since 2018, described the work and vision of the data science working group during a workshop sponsored by the HMC Office of Computing and Information Services in collaboration with the Library of The Claremont Colleges. OCAC working group participants are examining what exists and what is needed at The Claremont Colleges with a vision to include innovative data methods and instruments into a course of study in the liberal arts tradition.
Data science is the creation, application and critique of tools and processes that enable users to extract and communicate meaningful insights from data drawn from across the disciplines. Data scientists make useful diverse types of data and data analytic tools.

– Working definition of "data science," OCAC
"We view data literacy as a core and common competency across each of the colleges," Peterson says. Two areas of focus for OCAC are determining how to create creative data science programs at each institution (a minor, certificate or sequence in data science in a variety of disciplines) and cultivating capacity within the faculty to teach data science.
During the first year of the data science initiative, the working group identified rationales, courses and student learning outcomes for a 7C data science curriculum, surveyed data science staff and faculty and presented a Data Science Faculty Development conference. Honnold Library has created a website of data science resources.
The group is studying best practices around the country and is continuing to explore how to implement different curriculum programs—minors, majors, sequences or certificate programs—on each of the campuses. A proposed curriculum includes introductory courses in coding, statistics, foundations and applications in data science, as well as data science ethics and society.
In addition to the foundational courses, the OCAC working group is looking at both disciplinary-specific course development, or tracks, as well as systematic ways to direct students to the best courses for their disciplinary interests. There's both a need for and growing response to incorporating data science course offerings in master's programs (across disciplines, such as psychology, economics and politics), where specialized analytics and data interpretation are integral to the discipline.
Claremont Graduate University offers the already popular master of science in data analytics, a four-plus-one program for students who complete four years at one of the undergraduate colleges and continue another year at CGU for a master's. Peterson sees this as just one example of the 7C's drawing on the assets and abilities of each other.
"We feel that there is a great interest and need for data science from what we hear from our students," says Peterson. For example, a fall 2019 workshop offered by HMC's Computing Information Services, "Hands-on Machine Learning," received 100 student signups within three days. "The presidents of each of the colleges recognize this need. They see that if we don't have our undergraduates graduating with some level of data literacy and acumen, then we are going to be far behind."