I'm on My Way
Mathematician, software developer and musician Jennifer Lindsay '02 follows an unorthodox path and arrives at the world's most prestigious opera house.
Jennifer Lindsay '02 is on stage at the Metropolitan Opera House, lowkey eating Swedish Fish.
"How did this happen?" she asks herself. "How did I get here?"
To be fair, how she got there is pretty unorthodox—but we'll circle back to that. What about the gelatinous candy she's sneaking into her mouth mid-performance of the Gershwins' Porgy and Bess? How did that happen?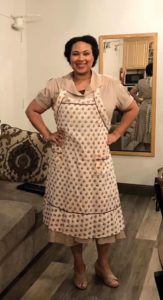 "A bunch of women in the first act are supposed to be snapping freshly picked string beans, and they had the bright idea of adding green jelly beans to the mix so they could eat during the scene without breaking character," Lindsay explains, chuckling. "My part of the stage is the 'fish shop,' and we fish shop workers wanted scene-appropriate candy, too, so we got ourselves a bag of Swedish Fish. So, at the top of the opera, right there in the middle of the Metropolitan Opera stage, they're eating jelly beans and, we're eating Swedish Fish.
"It's so crazy because in one minute you're thinking, 'Oh my god, I can't believe I'm at the Met!' And the next you're thinking, 'Do I have time to eat another Swedish Fish before my next cue,'" she says, laughing. "In one sense, it becomes very normalized—just another day of work—but in another sense, it's absolutely mindblowing."
She's right—it is pretty incredible. After all, if you make it to this stage, you have arrived.
"It's the biggest, most prestigious opera house in the world," says Lindsay, a senior developer for Diamond Web Services in Los Angeles whose encore singing career landed her a role as a second soprano in the 68-person chorus for the Met's production of Porgy and Bess, which ran from November 2019 to February 2020 and even broke box office records, prompting the unheard-of addition of three extra shows. "The Met is huge, and this is one of its bigger shows. There are 90 cast members and a couple dozen stagehands and stage directors in the wings, and it's an incredibly complex show. I'm just one tiny piece of the whole puzzle, but I'm very glad to contribute to this humongous spectacle, even though the magnitude of it can be overwhelming."
For opera singers, of course, the Met is the destination—the stage everyone strives to get to, though very few make it.
"There are artists who go their entire careers and never get to sing on the Met's stage," says Lindsay, who got to this stage not with a music degree or a network of connections in the world of opera, but with degrees in mathematics, computer science and operations research, and a good job in the world of software development. "It's very difficult to break into the opera business without conservatory or music school credentials and all the connections that come along with those. So, it's all the more exciting for me to have managed to get to the Met without taking the extra step of going back and getting my music degree."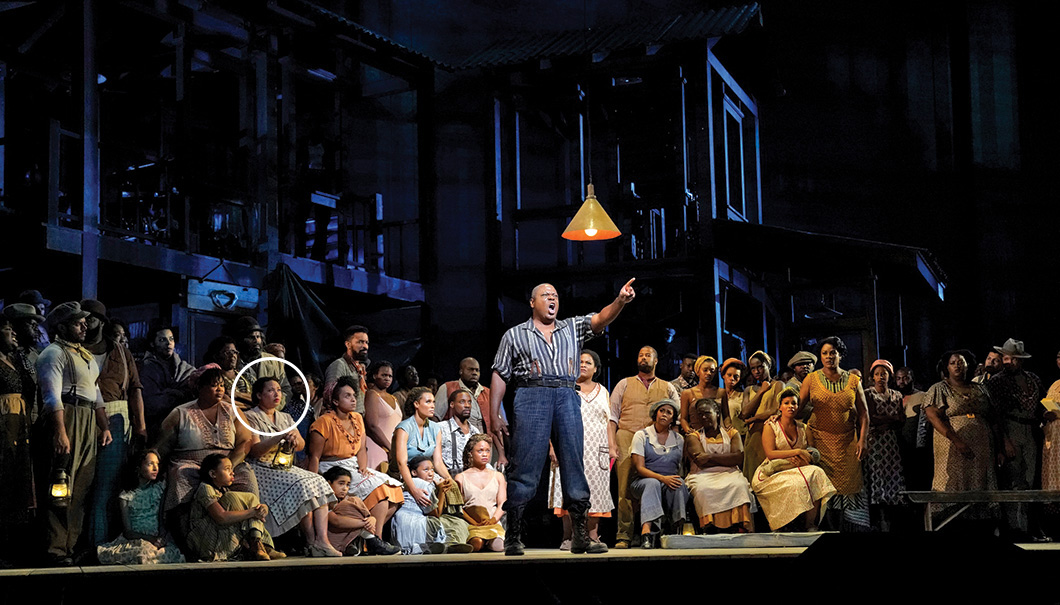 She may not have taken that extra step, but her talent gave her pretty solid footing. She'd begun playing Suzuki violin around age 3, which gave her a head start. And when she first sang along to the Magic Flute's "Queen of the Night" aria at age 8, her parents realized this was the direction she should go.
"I did have a private musical education growing up, and I have a very well-trained ear because of that," says Lindsay, a founding member of the Disney Young Musicians Symphony Orchestra by the time she was 11, a guest soprano soloist for the Loren L. Zachary National Vocal Competition by 14 and a second-place winner in the Opera Pacific singing competition for high schoolers. "Just through my musical upbringing and the opportunities I pursued as a kid, I learned all the sort of things that you're taught in a conservatory."
Indeed, Lindsay received much of her education in informal, nontraditional settings. She was homeschooled high school, which she skipped, opting to go straight into junior college instead.
By then, Lindsay knew she wanted to study "something STEM-related" in college, and when she stumbled onto the Harvey Mudd campus, she knew it was exactly where she wanted to be.
"I remember thinking, 'OK, this is the small, close-knit environment I'm looking for, where I will be taught by actual professors, not grad student TAs, and I can receive the attention and assistance I need to succeed,'" she says, adding that the fact that Harvey Mudd students could pursue musical opportunities at Pomona and Scripps made the decision even easier.
What did eventually get lost, though, was her interest in music. She continued taking private lessons from the late Gwendolyn Lytle, who directed Pomona College's voice department at the time and, by the time she graduated, was first violin chair and concertmaster of the Pomona College Orchestra and recipient of several music awards, including a Renaissance Award from the National Alliance for Excellence.
"But it had become sort of a burden by that point," Lindsay admits. "After I graduated, I quit. Period. I was like, 'I just don't want to do this music thing anymore.'"
And so she dove into her STEM career, earning a master's in operations research from Columbia University and a master's in computer science from Johns Hopkins University, eventually landing a job as a programmer and analyst for the Department of Defense and, later, for a defense contractor in Los Angeles.
"I spent my 20s just basically plowing ahead in my career in math and computer science and really neglecting my musical talents except on rare occasion," she says. "They lay dormant until about six years ago when I was laid off in the recession. That's when I started wondering if I'd gone in the wrong direction."
If Lindsay's career in software development had side-tracked her from pursuing music, the part she landed in a community production of Verdi's Macbeth got her back on course.
"I got to dress up as a witch and act very bizarrely and eccentrically while singing this fantastic music, and I absolutely loved it." she says. "For the first time, I got to create a character and interact with other characters and be part of an overarching narrative, instead of simply singing an aria or two out of context. I thought, 'Well, now I actually want to be an opera singer!'"
"Don't quit your day job," her mom said when she announced her newfound passion.
She needn't worry. Lindsay loves her day job. It gives her a sense of balance and grounds her. Even during the run of Porgy and Bess, Lindsay continued to work her remote job full-time from a sublet studio apartment in Washington Heights, flexing her hours around scheduled rehearsals and performances. "I'm lucky to be working for a company that places a high priority on work/life balance," she says.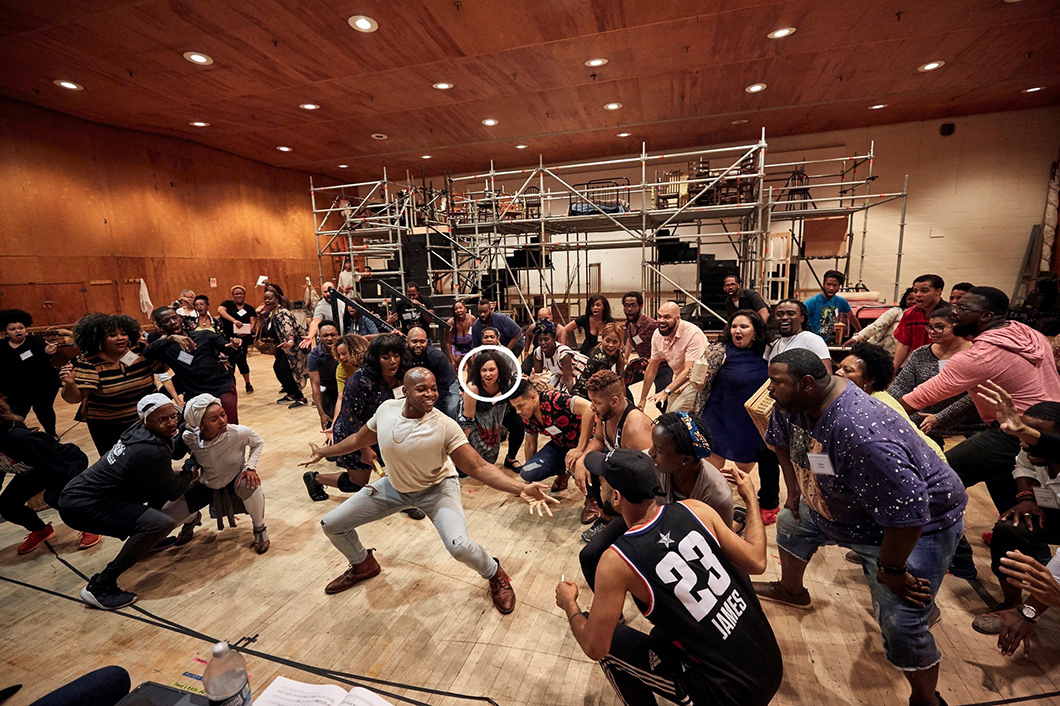 "I'm also a rather extreme introvert as far as performing artists go. I actually enjoy being alone in a room, designing and implementing features, debugging code and collaborating remotely," she says. "There's a part of me that really needs that sort of work in my life. But there's a part of me that also wants to get up onstage and sing my heart out. I don't want to be a full-time professional musician, but I also don't want to give up singing professionally, so I guess I'm just blazing my own path."
When she started down this path six years ago her technique was rusty, but after six months of voice lessons, she was cast as an understudy for a small production of Cosí fan tutte
"And I've been bootstrapping my way through the opera world ever since," she says, admitting that—while she has done many productions since then—she's seen a lot of rejection, too. "Pursuing this career path has made me very resilient, and I've developed a really strong failure tolerance. I'm generally much more resilient now, which has carried over to my tech job, too, making me stronger there."
There are, she insists, quite a few similarities between her work onstage and her work behind the keyboard.
"They both draw on a similar set of skills, and there are lots of parallels, especially when it comes to problem solving," she says. "Of course everyone knows there's problem solving in math and computer science, but getting through a performance also requires problem solving, because in live theater nothing happens the same way twice. Maybe I have a cold, and my neck is sore, and someone unexpectedly improvised part of their staging, and there's a set piece that's not quite in the right place, and the conductor is taking a slower tempo than usual. I can't break character or miss a cue or flub a line while I'm dealing with all this. The part of me that likes coding and debugging absolutely loves these kinds of challenges onstage."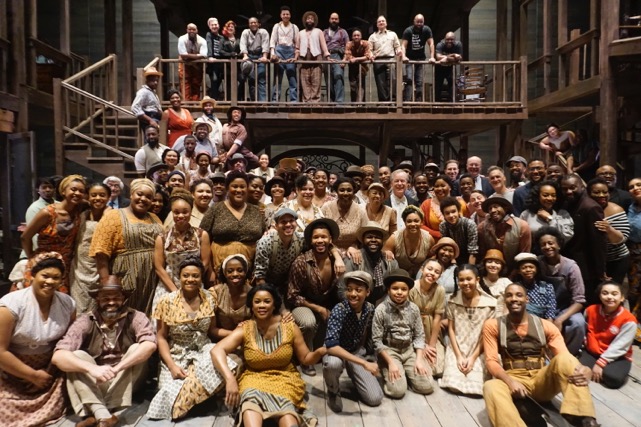 And, she says, the stage always presents a challenge, regardless of how long you've been in the business.
"Every rehearsal and every moment onstage is a learning experience," says the winner of the National Opera Association's 2016 Vocal Competition, who also worked as a resident artist in Opera Naples in Florida after debuting with the Los Angeles Philharmonic's Green Umbrella recital series in 2015. I especially relish learning by observing artists who are better than me."
Safe to say: Lindsay's learning a lot at the Met.
"I haven't felt this average since I was a student at Harvey Mudd," she remarks, laughing. "I have absolutely become a better singer simply by sharing the stage with these extraordinary performers. They challenge me to become a better artist, and that's the experience I really enjoy. It's the primary reason I want to keep doing this: to sing alongside the best voices in the business. You can't help but improve when you're part of a cast of people who are all at the top of their game.
"It's wonderful to be at the Met because of what the Met represents, of course, but for me it's more than just a grand, famous opera house," she adds. "It is an operatic nexus where the best of the best congregate, and I am absolutely privileged to share the stage with them."
And sometimes even some Swedish Fish.
UPDATE | April 1, 2020
"I was looking forward to making my role debut as Despina in Mozart's Così fan tutte with Pacific Opera Project based in Los Angeles, but thanks to the COVID-19 pandemic, that production was cancelled on the second day of rehearsals. In the meantime, I've been staying quite busy as a developer; I was already working from home so not much has changed there. It has been very sobering to see months' worth of contracts vanish almost overnight for my colleagues who are full-time opera singers, and it has given me a deeper appreciation for the flexibility that I have with my dual careers in programming and music."