College News
Aeronautical Library Special Collection Up Close
Over the past two years, Bates alumni Bruce Worster '64, Walt Foley '69 and John Norin '90/91 have worked to raise funds so that professional librarian Michael Palmer could work alongside Instructor of Aeronautics Emerita Iris Critchell to preserve the College's collection of aero history, which includes historic books, photographs and other items. Last year, they raised $67,000 to move Palmer from part time to full time, and this past December, Bates alumni and friends responded generously to a $50,000 matching gift challenge by Eileen SCR '67 and Jude Laspa '65, and Bruce and Susan Worster to raise $144,383 to continue supporting Palmer's work. This treasured Bates Library Collection is well on its way to being properly preserved and will remain readily accessible to students, faculty, aviation historians and enthusiasts well into the future.
Here are a few gems from the collection.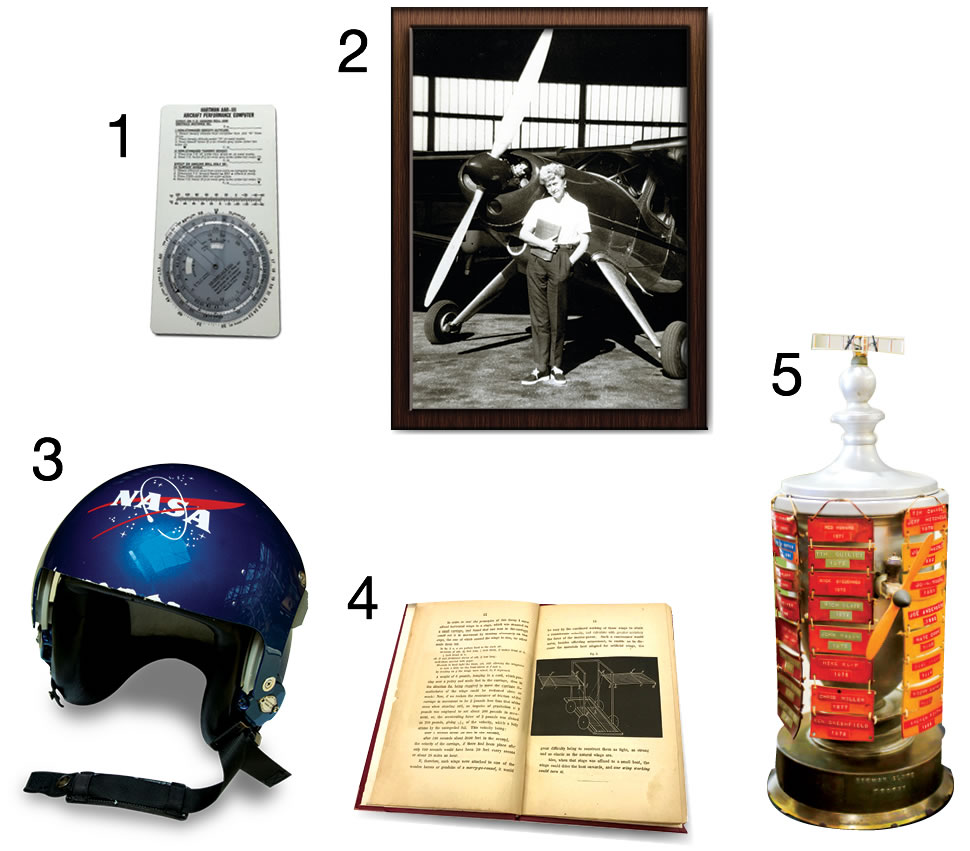 Does Compute. This computer was conceived, designed and produced by Richard Hartman '67 to perform flight computations, such as true airspeed and fuel consumption, among other information, and to be "rapidly available in the practical situations where the owner's manual is virtually useless."
Bates Legacy. One of more than 5,000 photos in the collection, this image shows Isabel Bates by her plane at St. Etienne Airport, France. She established the Bates Foundation for Aeronautics and Flight Training program at HMC in 1962. The Bates Program provided flight instruction to hundreds of HMC students for 28 years.
Love in Space. This flight helmet was worn by physics/Bates Aeronautics alumnus and NASA astronaut Stanley G. Love '87, best known for being a mission specialist on Space Shuttle flight STS-122 (2008).
History of Flight. A page from Danish author C.J.L. Krarup-Hansen's The Flight of Birds, Bats and Insects (1869)—the oldest book in the Bates collection—shows his human-powered flight machine.
Grit and Glutz. The Herman Glutz Trophy, named for a fictitious WWI pilot "who had much understanding and a soft spot in his heart for the student pilot who made mistakes," was awarded to selected Bates graduates for "exploits and humorous happenings" they experienced during their learning stages.