Choreography in the Sky
Madeleine Ong's career is looking up.
The Intel® Shooting Star™ drone is a bit heavier than a volleyball, its plastic frame flexible enough to feel flimsy to the untrained handler. Yet when a remote pilot at a single computer sends hundreds or more of these drones into flight, their LED lights capable of generating more than 4 billion color values fill the night sky with spectacular digital fireworks.
Madeleine Ong '11, a licensed drone pilot and member of Intel's drone light show team since its formation in 2016, has done this many times over. Even after working on more than 100 show flights, first as a project manager and more recently as the execution lead for Intel's drone light show services, the Harvey Mudd College engineering graduate remains as enthralled by their kaleidoscopic pageantry as a first-time viewer.
Putting on a show: Ong has been instrumental to drone light show performances that include the Super Bowl, Wonder Woman home entertainment release, Coachella Valley Music and Arts Festival, and the Opening and Medal Ceremonies of the 2018 Winter Olympic Games held in PyeongChang, Korea. The show at the Winter Olympic Games broke a world record, with 1,218 drones in a performance made more challenging by the frigid temperatures and harsh winds. Ong's team nonetheless executed successfully, delighting viewers around the globe.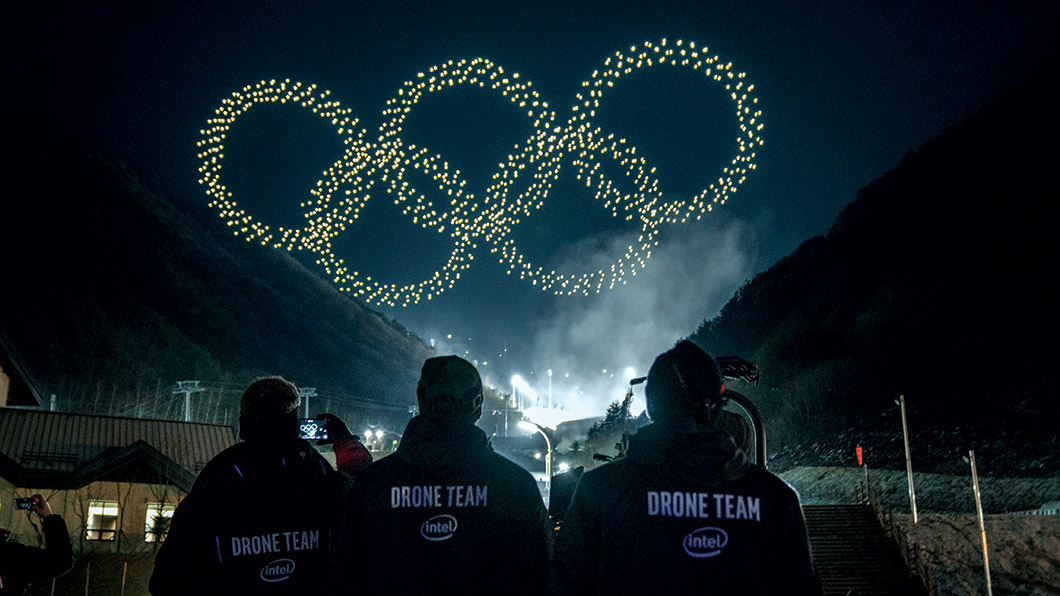 Getting the details right: Intel built the hardware and software for the drone light shows from scratch, enabling Ong and other pilots to observe drones in 3-D and monitor and diagnose their performance. But her work begins long before the show and calls for close coordination with in-house teams—legal, finance, marketing, engineering and others—as well as external customers and public agencies. She also attends to the small details—a power plug location, the drone storage area temperature—essential to a seamless show.
Creating joy worldwide: Ong focuses on technology and logistics but also on how viewers respond to a drone light show. She explains, "I watch people's faces as they react to it for the first time. A show is mesmerizing. We're bringing a completely new experience to people around the world. It's like seeing fireworks for the first time, but with a new dimension of aerial entertainment we can control and customize. Our animator tells our customer's story with light, and the drones perform their choreography in the sky with the pilot as the show's conductor."
Choosing Intel: The company wasn't on Ong's radar until her senior year of college, when Professor of Engineering Design David Money Harris encouraged her to attend a lunchtime visit by Intel's vice president of human resources. That ultimately led Ong to Intel's Rotation Engineering Program after graduation, enabling her to explore three different areas before settling into systems engineering and then platform architecture. She says of Money Harris, whom she assisted with integrated circuit design research while a student, "He's the reason I get to work here now!"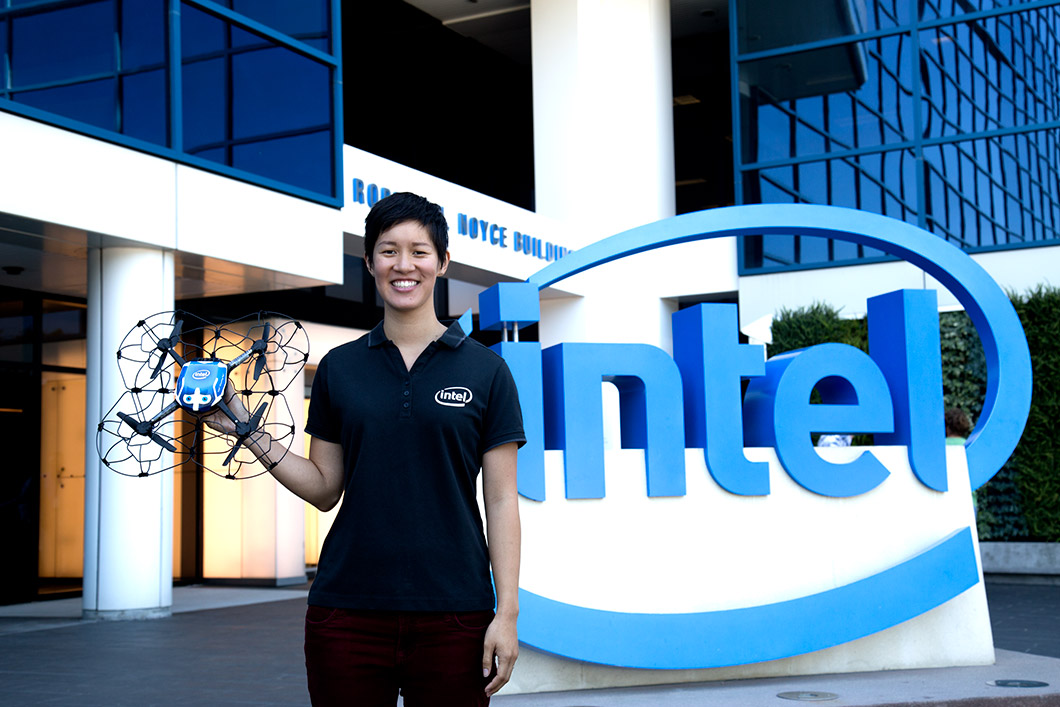 Applying what she learned: The breadth of Harvey Mudd's engineering program as well as involvement in dorm leadership, blues dancing, Mudders Making a Difference and the then-new Autonomous Vehicles course for first-year students influenced what Ong does today. She explains, "As a Mudder, you gain technical knowledge—that's how I was able to go into platform architecture—but you also dabble and grow. I learned I like coordinating different pieces, working with people, and solving complex problems. Because of my education, I was able to do my first rotation in the laptop battery division and adapt to different roles as I rotated around Intel. Now I'm applying that work to drones."
Diving into drones: After a couple years as a platform architect, Ong knew she wanted to expand her operations and execution skills and jumped at the opportunity to be part of Intel's drone team. Her knowledge of drones was limited, but being a project manager would involve interacting with teams across a multitude of departments within Intel, draw on skills she gained organizing professional networking events for Girl Geek Dinner's Bay Area chapter and accelerate her exposure to operations. She also recalled the example of Sarah Harris, the former Mudd professor who taught a chip design course for students with no prior background required. Ong says, "She was a strong technical female who made me realize there were no limitations."
Exceeding expectations: Working on drone light shows has been even better than Ong anticipated. She says, "My role is not characterized as engineering, but it's not strictly operations nor marketing either. It's a mix of creative, technical, and management. I thrive when I can look at different aspects. It's rare as a technical person to have so much visibility and exciting to be part of the changing face of Intel."
Relying on team spirit: Ong describes the drone light show operation as a "small startup with the resources and brand of a large company behind it." Her team has grown over time, the challenges along with it. Ong explains, "No one has done what we're doing before; Intel is the first to scale drone light shows. But we're a really tight team with amazing camaraderie. Everyone is extremely passionate and completely invested. We do this because it's an intensely satisfying experience."
Staying grounded: After traveling the globe for shows throughout 2017, Ong finds herself at Intel's headquarters more often now that she has become the lead for light show services, contributing to strategy and overseeing project managers. Her job remains far from 9-to-5 or stress-free; however, it definitely makes Ong appreciate the support her husband and former Mudd classmate Michael Leece '11 provides. Ong says, "He reminds me why I do this and is extremely encouraging. As a sounding board, he's indispensable to my not just surviving, but thriving."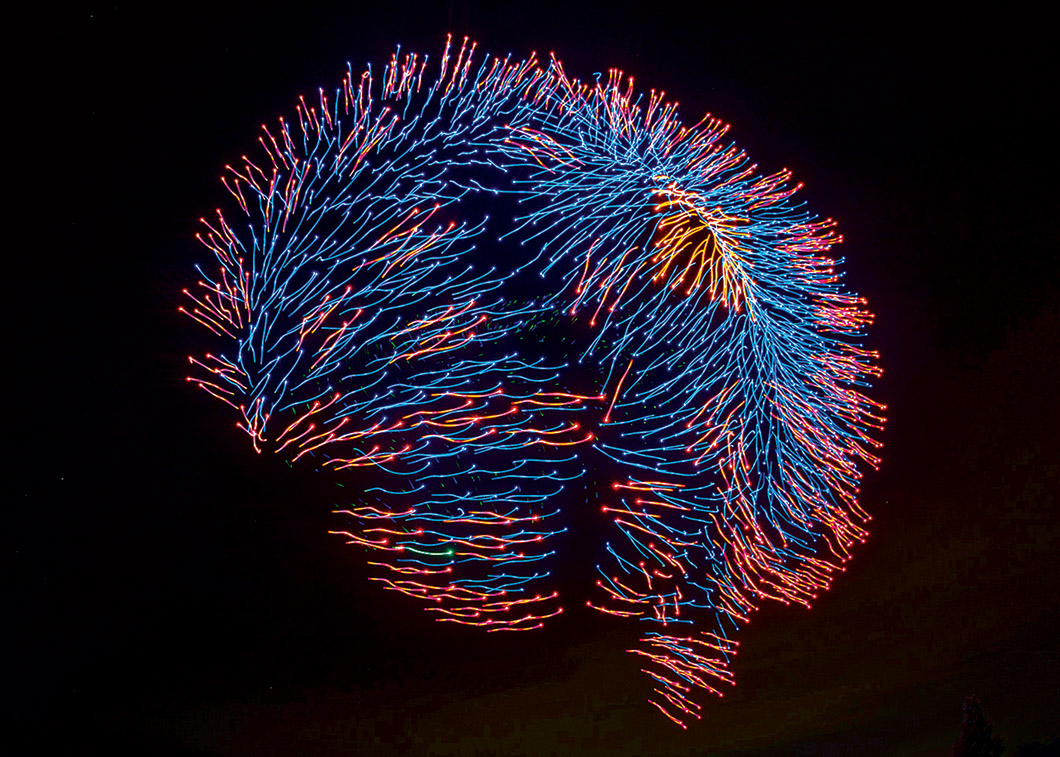 Striving for bigger and better: Intel's 50th anniversary celebration that occurred this past July allowed Intel's drone team to reclaim the world record for the most drones in a single show: they launched 2,018 drones in celebration. But that was just a short-term goal. Ong explains, "We always want to push the envelope, to do something new. Now it's a matter of how we perform light shows at more places and for more people and introduce our innovative ideas to make the shows even more mind-blowing. There are a lot of directions we can grow."
Looking ahead: As for where work on the drone light show team might lead her career next, Ong says, "I've never been able to predict my next job description; instead, I focus on the skills I want to grow. I just started doing management, and that's a whole new adventure."