College News
"We Are the Problem Solvers"
James Bean '77 is the third alumnus to chair the board of trustees
James Bean '77 has served in higher education since 1980 and has held academic leadership positions since 1993 at the University of Michigan, the University of Oregon, and at Northeastern University, where he was provost and senior vice president for academic affairs. In addition to his degree (mathematics) from HMC, he has an M.S. and PhD from Stanford University in operations research. His academic career has spanned multiple disciplines, including business and engineering. Bean is a widely published scholar interested in genetic algorithms, integer programming and infinite horizon optimization who has received grants from federal institutions and industry.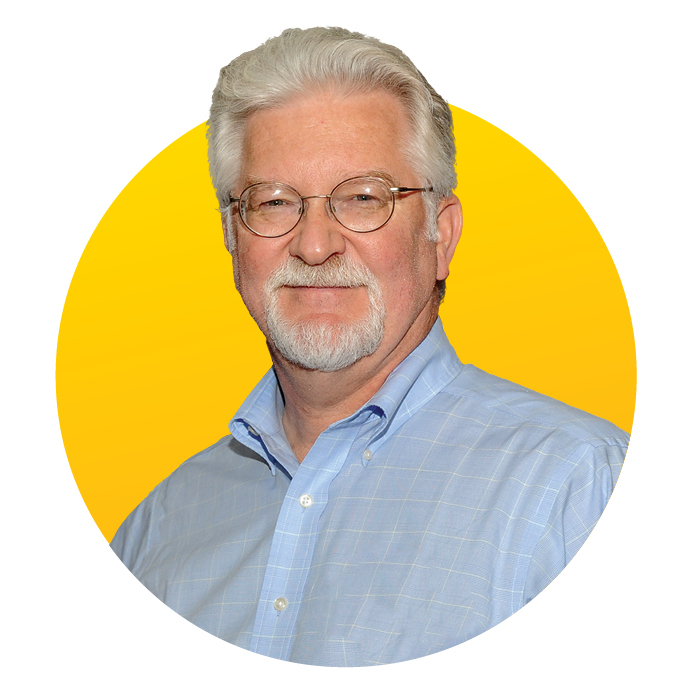 A number of organizations have benefited from his expertise, including General Cable (production control), Penford Products (production scheduling) Homart Development (divestiture scheduling), General Motors (scheduling and equipment replacement/capacity planning), Michigan Consolidated Gas Company and IBM (equipment replacement), Bethlehem Steel (capacity planning) and Tektronix (forecasting).
Bean received HMC's 2017 Outstanding Alumni Award for his commitment to improving society and for exemplifying the mission of Harvey Mudd College. Now, as board chair, Bean is leading his alma mater with a problem-solving mindset.
You've been on the HMC board since 2011. What led you to join? What accomplishments are you proud of?
I spent most of my career in Michigan, so being engaged with the College was not so easy. I had moved to Oregon just before Maria asked me to consider the board. It was the right opportunity at the right time.
I am most proud of the many years as chair of Budget and Financial Planning Committee. Due to the great work of the administration, faculty and staff, we have had a surplus every one of those years. Our board committee provides oversight, asks questions and helps us keep aligned in budgeting philosophy.
How might your prior history at HMC and career in academia inform your work as board chair?
Having been a student at Mudd, then a board member for nine years before becoming chair, I have a good sense of the Mudd culture, mission and values. Our culture, mission and values will be critical to Harvey Mudd's problem-solving during the upcoming, difficult year.
In my role as provost at Northeastern University I had a leadership role in preparing them for reopening in the fall. That experience has helped my understanding of the challenges facing Harvey Mudd this fall.
What should the HMC community know about the board?
The board is a complex group with varied talents and perspectives that help enrich the conversations on the campus. Roughly half are alums or parents. The entire board brings experiences in business management, higher ed, the law, finance, investing, biotech, human resources and other areas. The College could not afford to hire these people as consultants, yet they are so committed to the mission and the community at Mudd that they volunteer their time, treasure and talents for the good of the community. I have always been impressed with their level of commitment and concern for the College.
From the legal perspective, the board owns the College. The board hires the president who is the chief executive of board policies. The president executes the shared governance culture with faculty, staff and students that is the Mudd culture.
You have assumed leadership of the board during a challenging time. What are your thoughts about this moment and the role the board will serve in guiding Harvey Mudd College through uncertainty and change?
We are in uncharted waters. No one knows how to solve the problems we face this coming year since we have not faced them before. But we cannot simply quit. The crisis will be with us for several years, and we must find solutions to these challenges and accomplish our mission while keeping everyone safe. This is a perfect opportunity for Harvey Mudd to lead. We are the problem solvers. This is not time for talk but a time to find solutions and share them with others.
In a small college like Mudd, the lean administration, while spectacularly talented, just needs more help with the large number of issues presented by the crisis. During this time, the board will play a crucial role in being a sounding board, adding our experiences to the conversation, and participating in the many committees working on the problems. I have great confidence that the Harvey Mudd community; faculty, staff, students, administration and board, will help our higher ed community find the new normal.
What are your long-term goals for the College?
Foremost is the commitment to the mission laid out by the founders. It is more important today than it has ever been. In these unusual times, out next primary goal is to make sure that Harvey Mudd uses the current crisis as an opportunity to become stronger and more relevant in the new world that follows the crisis.