We Celebrate the Class of 2020
The HMC community joined forces to deliver best wishes to seniors, who found their own special ways to celebrate graduation.
In a show of love, respect and admiration for the class of 2020, the Alumni Association gathered written and video tributes to the class from alumni around the world, who joined together to offer a heartfelt virtual embrace. Academic departments held receptions via Zoom to reflect on seniors' accomplishments, President Maria Klawe created personalized congratulatory posters upon request, and there was a Senior Celebration webinar May 17.
We also wanted to hear about the creative ways families celebrated their student's graduation from Harvey Mudd. Thank you to everyone who shared comments and/or photos of their events; this is just a small sample from our 208 spring graduates. We look forward to when we can gather with the Class of 2020 on campus for the traditional HMC Commencement ceremony.
Alex Moody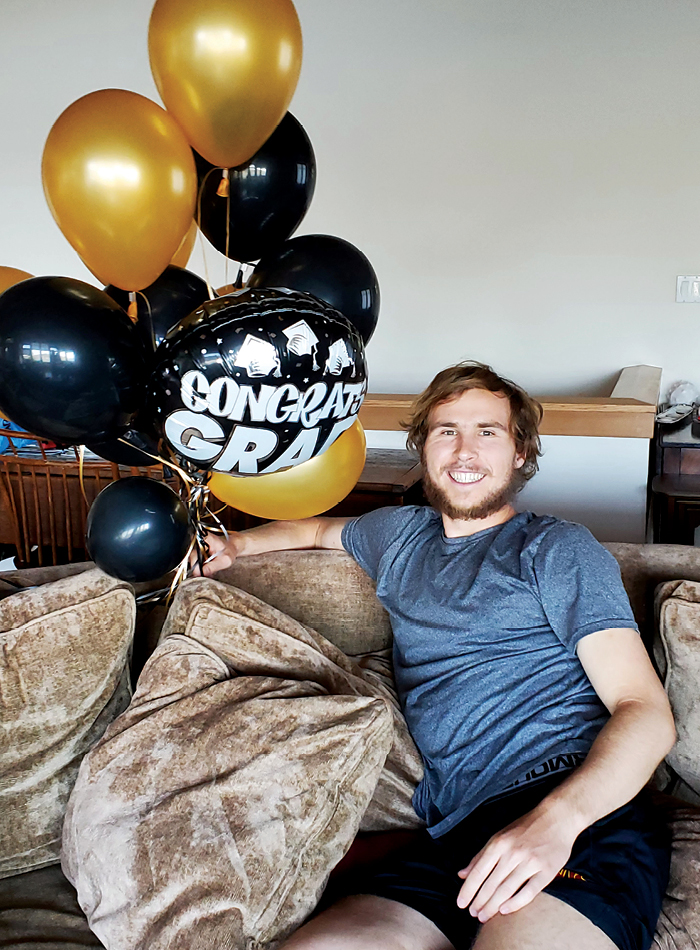 "We played 'Pomp and Circumstance' while Alex opened the diploma he received in the mail. We had a Zoom party where family and friends gave him advice. It was very nice— four relatives over 93 years old and six under 30 and all ages in between. And, he had his good friends from HMC and CMS swim team 'shelter in place' with him for two weeks to celebrate graduating."
– Lucy Carrico P20
Anant Kandoi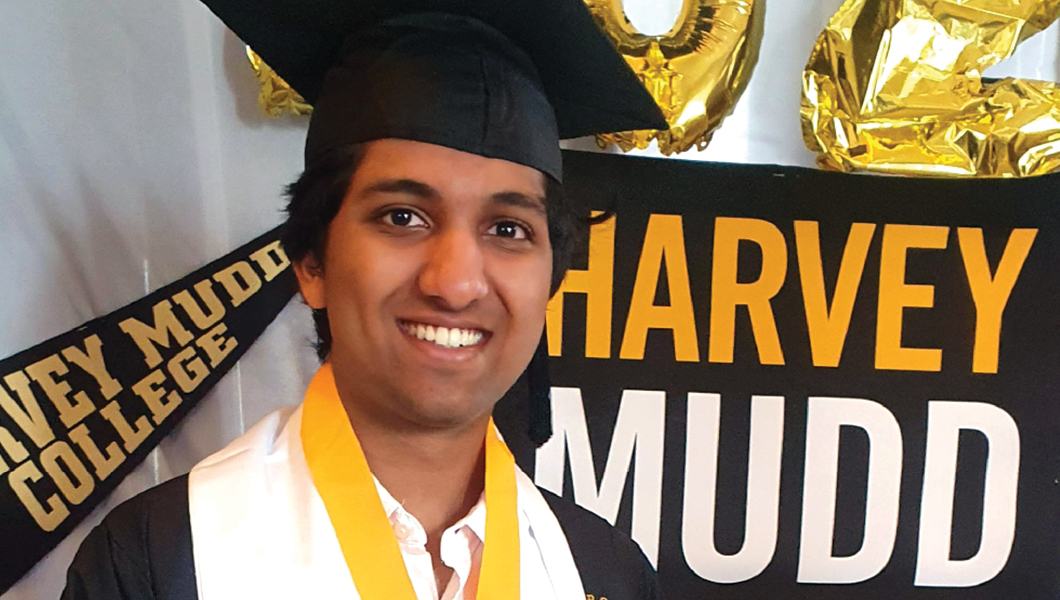 "Thank you HMC for giving a wonderful four years to Anant and imparting invaluable knowledge and overall development to him. We celebrated Anant's home quarantine graduation ceremony in Mumbai, India, by decorating our house with photos of Anant's memories of the time spent at HMC. We had a couple of friends over to celebrate the occasion. We had requested messages from some professors, and they were extremely kind to send their personal congratulatory video messages for Anant. Anant's friends from HMC made a very nice video of their time and journey of four years. We popped a celebratory champagne and had a celebration cake and lunch for Anant."
– Prashant Kandoi P20
Elena Romero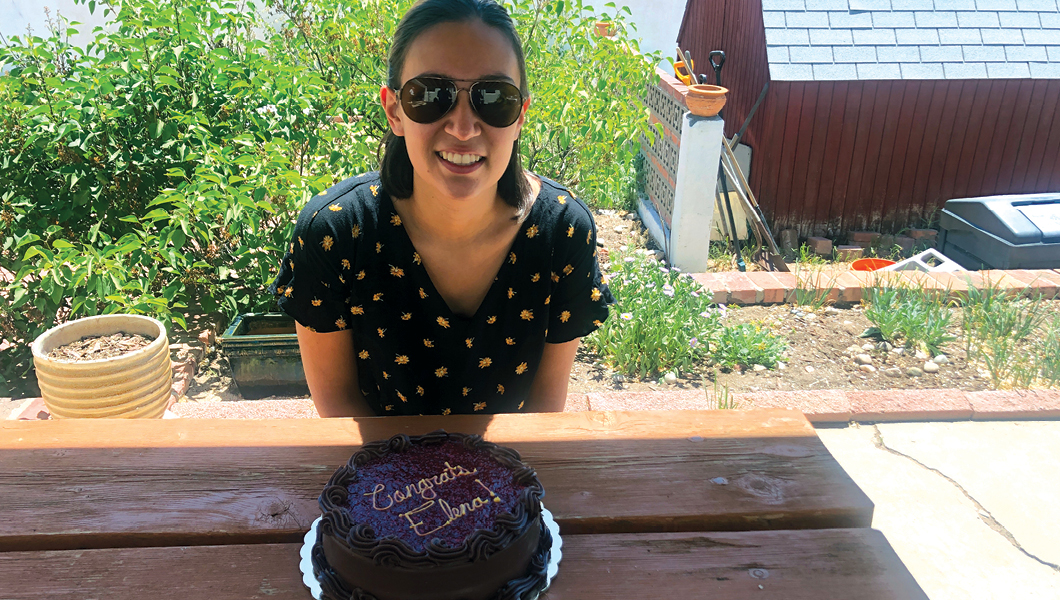 "We had a small celebration with local family and a champagne toast in a Zoom get-together with family in other states."
– Bryan and Christina Romero P20
Daniel Bashir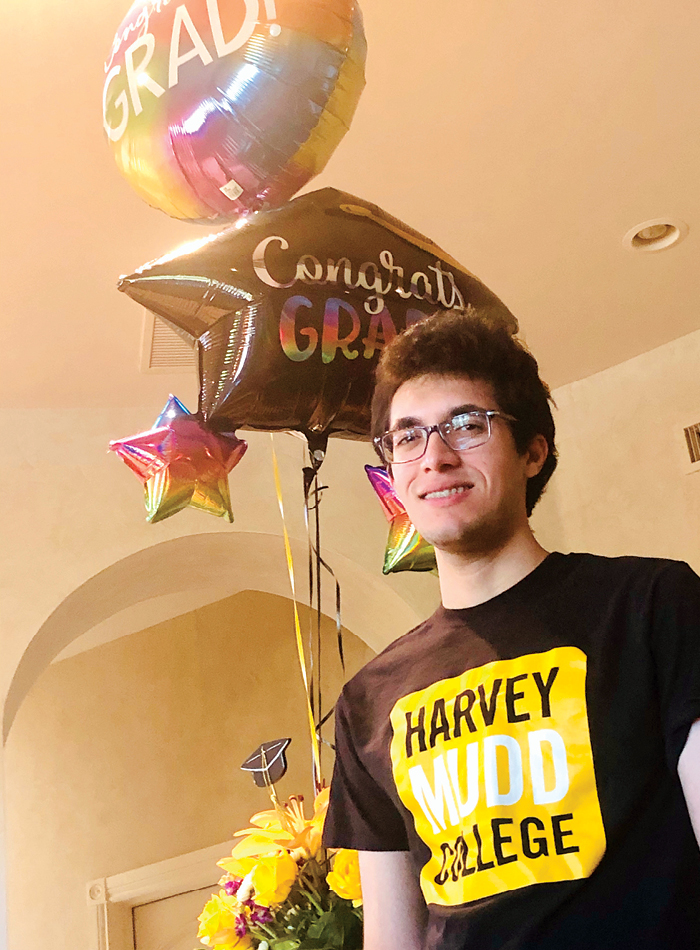 Michelle Lilly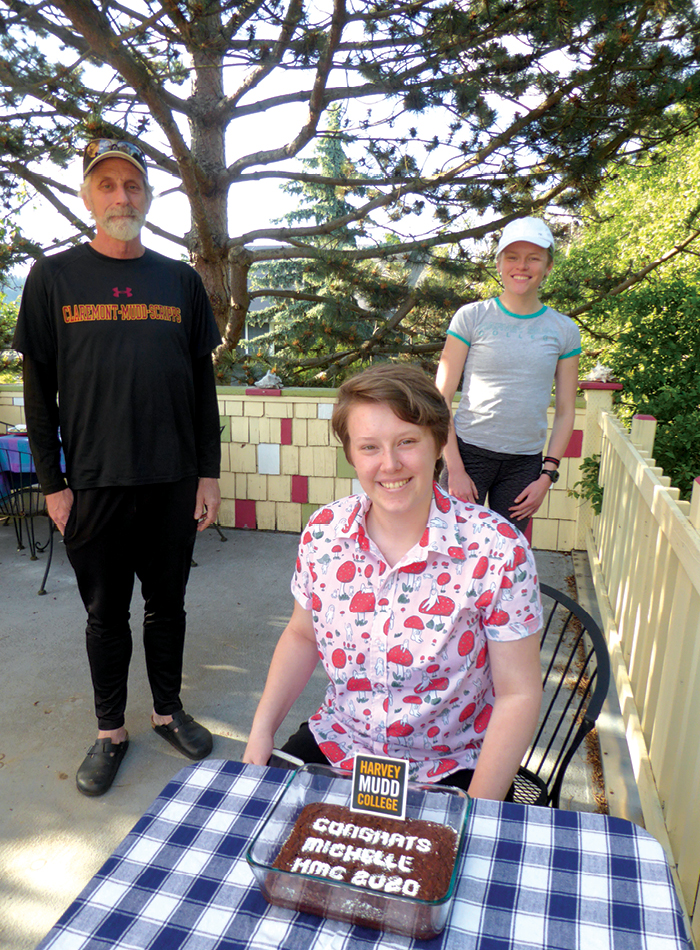 "We celebrated Michelle's HMC graduation with a surprise drive-by of family and friends. We put out an HMC banner and congratulations balloon bouquet and sent Michelle out to the front of the house at the designated time. It was a great success! Lots of honking, waving and signs and her favorite surprise: her twin sister, Kate, cycling by (after an 18-mile ride from her house)!"
– Heather Allen-Lilly and James Lilly P20
Cole Kurashige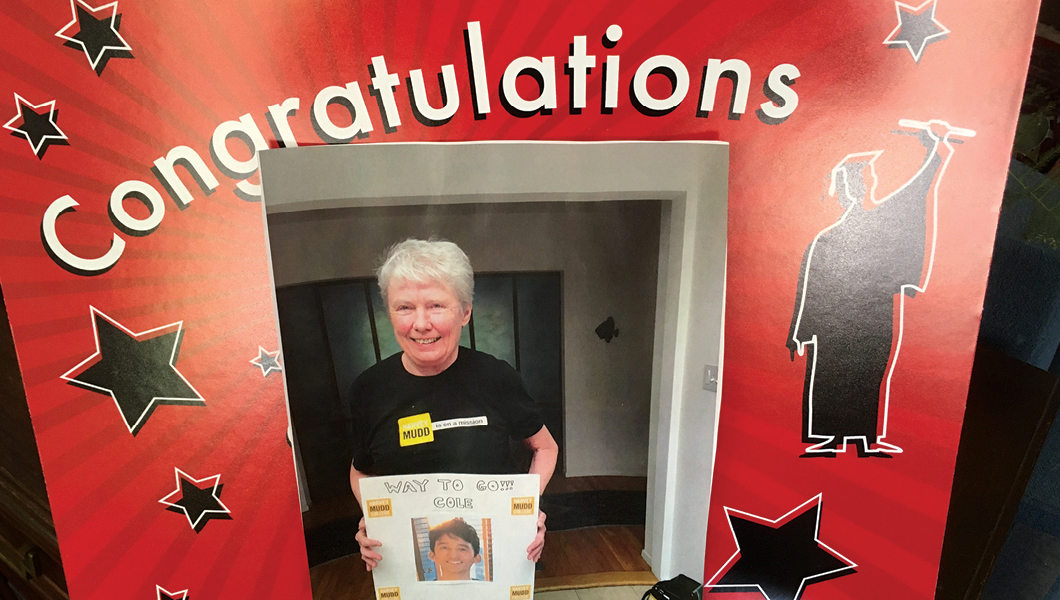 "Celebrating our graduate Cole in the time of COVID– 19! We watched the two programs online, and I had tears whenever I saw his name or his picture. Decorations, a special dinner, cake and, of course, gifts!"
– Anne Kurashige and Reid Kurashige P20
Meenakshi Venkatraman
"Meena's cousins in India planned a special treat by getting everyone to dress up just as we would have for graduation. We had a Zoom meeting with family in Bangalore, Mumbai, San Diego and Singapore. We each talked about our memories of her and her achievements at various stages in her life. It was a very special moment for her knowing everyone was there cheering her on and celebrating the momentus occasion!"
– Pushpa Venkatraman P20
Madeleine Carolyn Kerr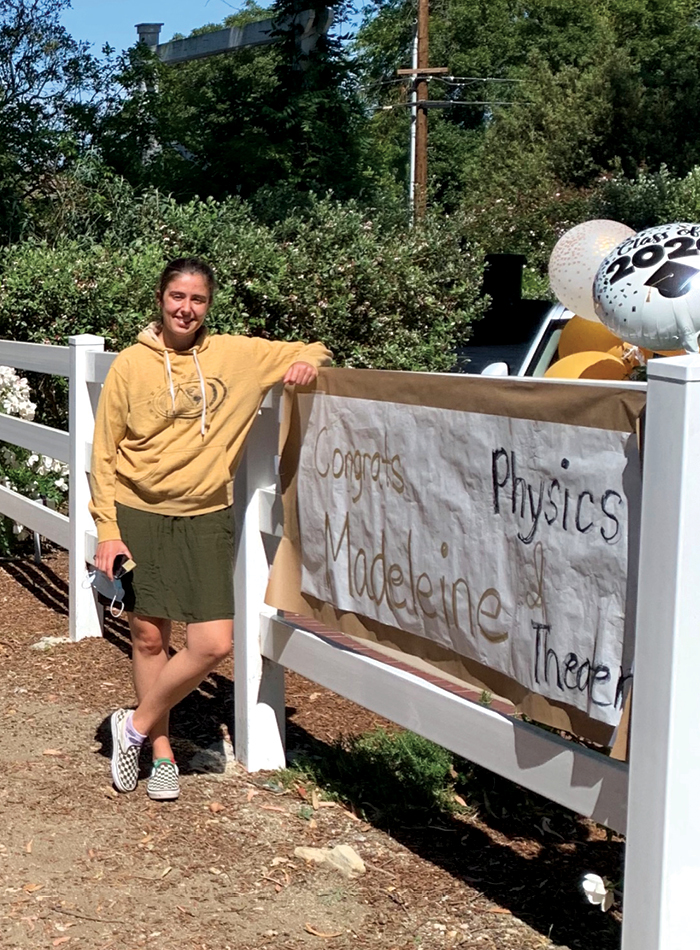 "Madeleine's sisters and brothers celebrated a two-day party in honor of their sister. Beaches reopened, and we took a shoreline walk from the Hermosa Beach Pier to Malaga Cove Market to have an iced coffee and dolmas. Afterward, we enjoyed Madeleine connecting with the physics department and her fellow classmates. The following day, we surprised Madeleine with a decorated home and entryway with balloons and huge picture posters of Madeleine in action as a physicist and actor. We watched President Klawe's address and later enjoyed an outdoor meal with grandparents and masks, detailing our favorite memories of Madeleine's college life. We unanimously agreed: 'Isaac's Eye' and Madeleine as Macbeth at Pomona College were top experiences. Thank you, Mudd and The Claremont Colleges!"
– Stephanie Culver P20
Stephanie Blankley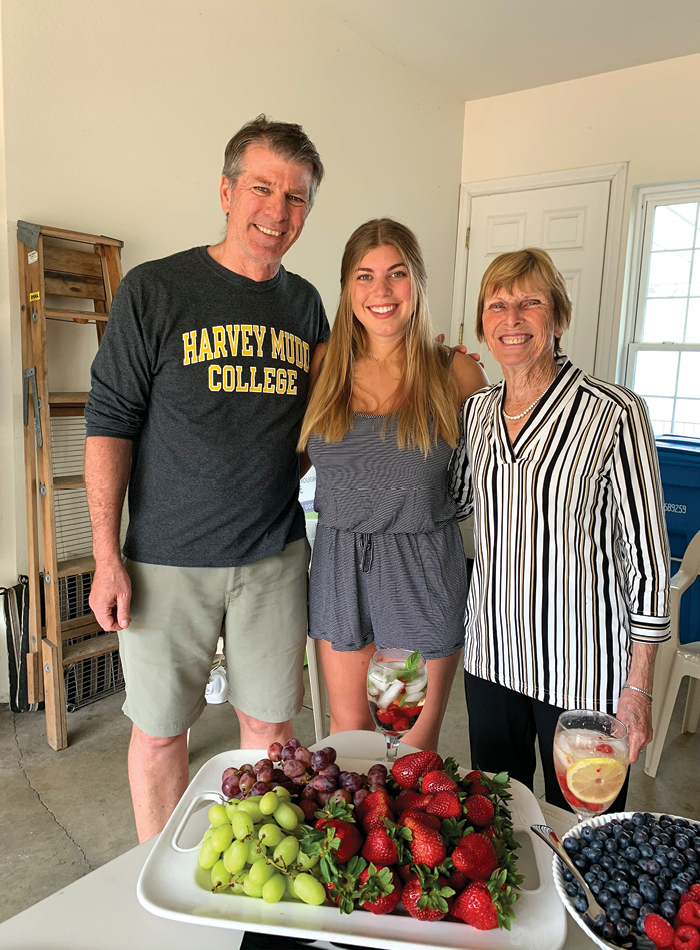 "We hosted five additional HMC students who shared Easter, Mother's Day and Stephanie's graduation with us. Sangrias and mojitos were the graduation theme, with an 'open house' staggering of guests outdoors and plenty of food throughout. Three dogs and a pool added to the celebration on a gorgeous sunny day. "
– Marie Blankley P20
Miles President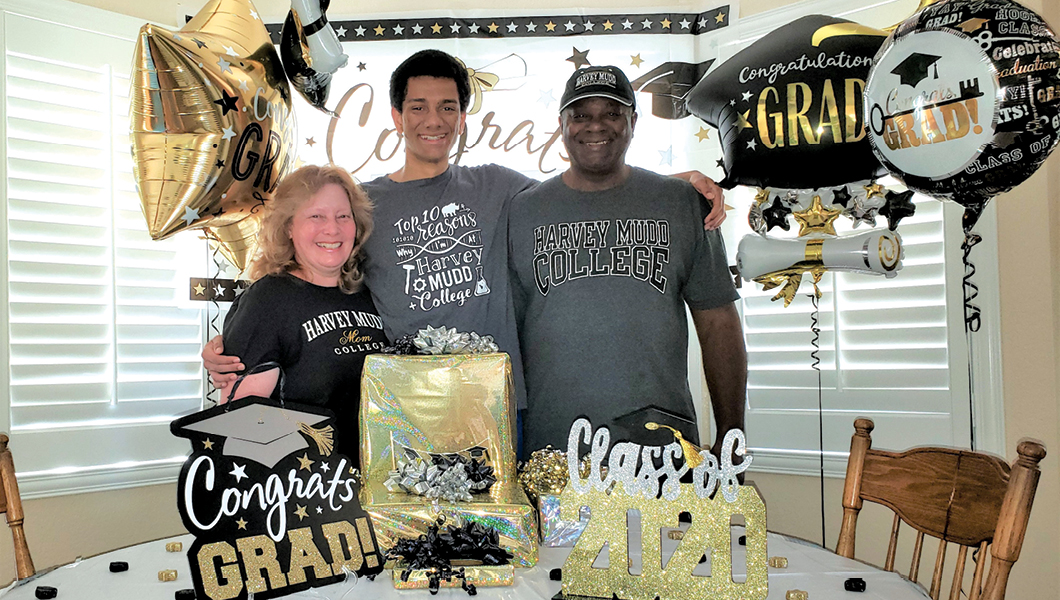 "As Miles' parents, we made an extra effort to ensure Commencement weekend was made particularly special for him. We decorated the inside of the house as well as the outside (to Miles' mild embarrassment), and I made his favorite dinner and dessert. We had not played a board game in ages, so we played Monopoly on Saturday night. That was very much appreciated by Miles as he always enjoyed playing board games with us when he was younger. There was lots of laughter that night. A few family and friends joined us on Commencement day to celebrate while maintaining social distancing in our backyard. Our nextdoor neighbors also stopped by with balloons, a 'congratulations' sign and sprayed silly string on Miles while playing Kool & the Gang's 'Celebration.' It was a happy and memorable weekend."
– Jitske De Groeve P20 and Kevin President P20
Forest Kobayashi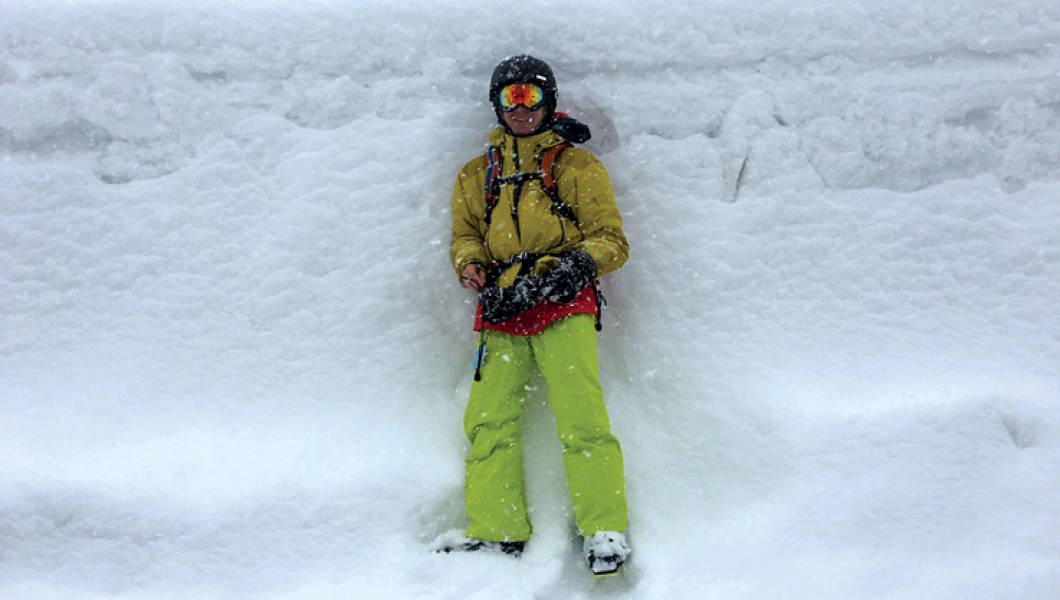 "The highlight was the math department's Zoom celebration for the seniors! And, we made pizza."
– Richard Monkman P20
Jenna Kahn (and Isaac Zinda, Syndey Wallace, Prakarsh Pandey)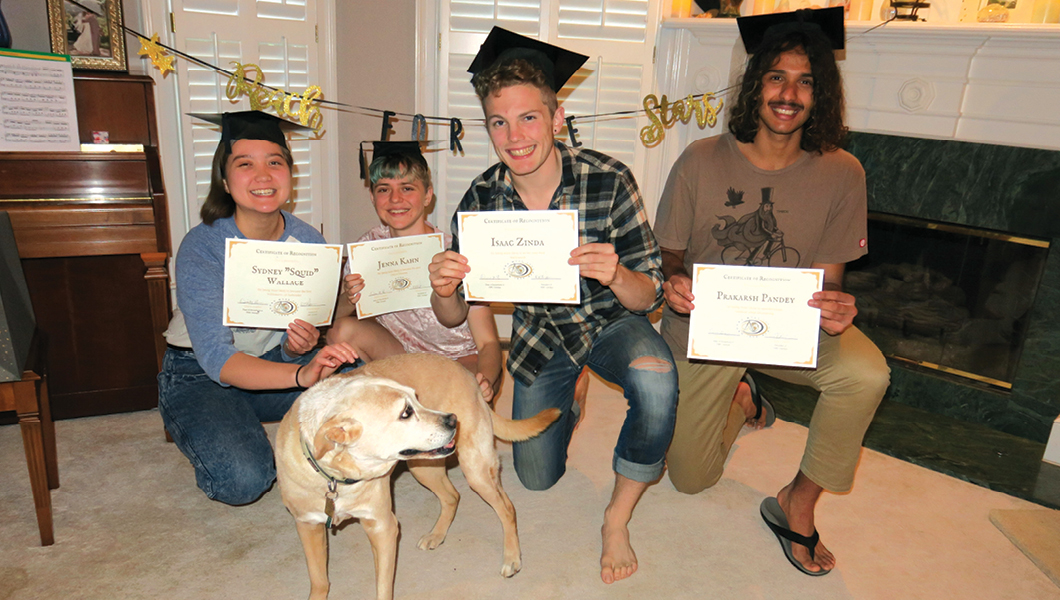 "When HMC closed, our daughter, Jenna, returned home to Georgia—with three friends. The four Mudders completed their classes living in our basement. We held our own little graduation ceremony in the living room with 'diplomas' we made ourselves. Danny officiated in his own graduation gown from his MBA ceremony. Even the dog, Honey B, participated. Each Mudder also received a cool cutting board adorned with a 'steampunk' brain and inscribed with Harvey Mudd Class of 2020 (awesome Etsy find). We completed the celebration with a home-cooked feast and champagne in our dining room festooned with graduation decorations. Congratulations HMC Class of 2020!"
– Diane Harris, Danny Kahn, Maya Kahn P20