Students
Challenge Accepted
Upward Bound graduate discusses fitting in, standing out and giving back
Upward Bound taught Leonardo Huerta '17 some very important lessons, like the value of hard work and the importance of relying on friends to help one succeed in school and in life.
These lessons sustained him through high school and during his years at Harvey Mudd.
"Nothing can really prepare you for Harvey Mudd," Huerta says, "but I think Upward Bound helped me take on the challenge. The rigor and pace make you really ready to work fast and work hard. It also prepared me to rely on my peers more than anything. Here, that's the only way to survive: by making friends, studying with friends and struggling with friends."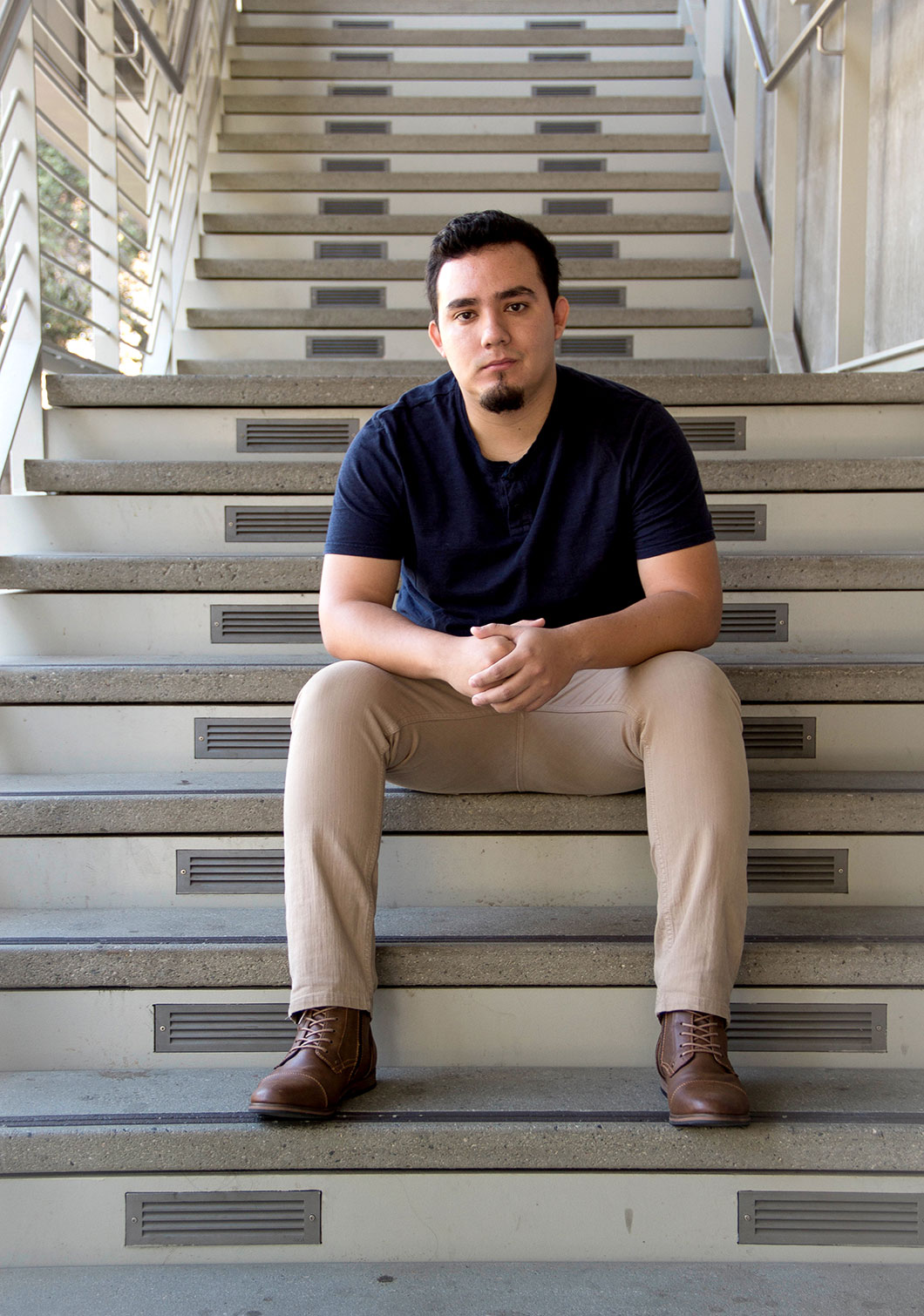 Huerta, an engineering major, is one of hundreds of students who have participated in Upward Bound at Harvey Mudd College. Now in its 40th year at the College, the federally funded program serves students from schools in El Monte, La Puente and South El Monte. Students are recruited as ninth graders to participate in the free, three-year program that includes tutoring sessions, SAT prep courses and two, six-week residential summer programs on the HMC campus and at other college campuses.
Upward Bound helped me take on the [Harvey Mudd] challenge. The rigor and pace make you really ready to work fast and work hard.

– Leonardo Huerta '17
The experiential learning design of Harvey Mudd's Upward Bound program was developed by Octávio Bubión, HMC Upward Bound's first director, and Sam Tanenbaum, emeritus engineering professor and dean of faculty. Courses typically are taught by Upward Bound alumni like Huerta. He was a math tutor last summer and volunteers as an Upward Bound tutor on Saturday mornings.
Started as one of President Lyndon B. Johnson's War on Poverty programs, Upward Bound celebrated its 50th anniversary in 2014 having enrolled more than two million students nationwide. A 2005 study by the U.S. Department of Education found that 65 percent of Upward Bound students enrolled in college.
Among Harvey Mudd's Upward Bound alumni, those who enrolled in college ranged from 72 percent for the high school class of 2010 to 98 percent for the class of 2014. And, 83 percent of program alumni from 2010 to 2014 are currently enrolled or have already graduated from college.
While Upward Bound graduates go on to college at high rates, very few have matriculated to Harvey Mudd. Since 1966, the College has graduated just one Upward Bound student: Dan del Rosario '92. Huerta is on track to be the second. Upward Bound student Karen Perez enrolled at the College in 2009, but after a year, she transferred to USC where she graduated with a bachelor's degree.
Huerta's Upward Bound experience convinced him to apply to Harvey Mudd even though he knew how competitive the admission process is. His other top choices were Stanford, MIT and Caltech; all three rejected him. Then, the day after he received a rejection letter from UCLA, Huerta received a "big envelope" from Harvey Mudd.
"I was ecstatic!" Huerta says. After attending the Admitted Student Program, he was sold. I thought, 'This is home, this is what I want.'
Unlike his time as a student in Upward Bound, when he arrived at Harvey Mudd as an undergraduate, Huerta was one of very few Latino students on campus. He was part of a small group that included several non-Latinos who established a Harvey Mudd chapter of the Society of Professional Latinos and STEMs (SPLS) to promote Latino culture on campus. Since then, membership has grown, along with the number of Harvey Mudd's Hispanic/Latino students, which has nearly doubled since 2010 (from 53 to 104). Huerta served as SPLS president last year and has taken on the role of "elder", sharing his experiences and struggles with the younger students. "I have high hopes for the club; it's in good hands."
Academically, Huerta is enjoying his work in the Clinic Program and the insight it provides.
As part of Engineering Clinic—in which students solve timely, technical problems for high-profile companies—Huerta's team worked with City of Hope to develop devices to assist cancer patients with metastatic tumors that often weaken bones. One of their devices is a titanium nail that can help prevent fractures in the femur.
"Engineering Professor Gordon Krauss always emphasized the importance of what we do, how we are improving peoples' lives," Huerta says. "These patients have metastatic cancer, so they may not have too many years to live. We just want those years to be as good as possible."
City of Hope liaisons were pleased with the team's work, and Huerta now has his name on three patent applications. During fall semester, he worked on another City of Hope Engineering Clinic project to improve the lighting and camera systems associated with laparoscopic surgery so they are more portable and cost effective, which would make them more accessible in Third World countries.
"These experiences really put me at a crossroads," Huerta says. "Do I want to go into product development or do I want to help people live longer and have a better life?"
While Huerta feels drawn to a biomedical career, he's still weighing his options. "I'd like to go out into the field, make some money and find out what I want to do with my engineering degree," Huerta said. "Then, maybe I'll go to graduate school so I can be really good at whatever I decide to do."