Clear for Takeoff
Innovative, noninvasive products influenced by aviation are ramping up the way doctors monitor patients.
Who knew a pilot could teach doctors  a thing  or two about advancing the practice of medicine? Steve Barker '67, a licensed aviator, professor and anesthesiologist, uses his knowledge of physics and aeronautical engineering to improve the way physicians perform in the operating room.
"I'm taking what people have learned in aviation and applying it to medicine," says Barker, who graduated from Harvey Mudd with a bachelor's in physics and recently earned the College's Outstanding Alumni Award.
For example, he compares the displays of a patient's vitals in the operating room to a pilot's cockpit instruments.
"In aviation, we can display everything digitally, but the brain registers analog information better. You can understand the position of a needle faster than digesting numbers," says Barker, who holds a PhD in aeronautical engineering from Caltech. "Aviation realized that years ago. Instrument displays show a picture of a needle (gauge), and if it's abnormal, you'll know in less than a second. Then you can look at the digital number."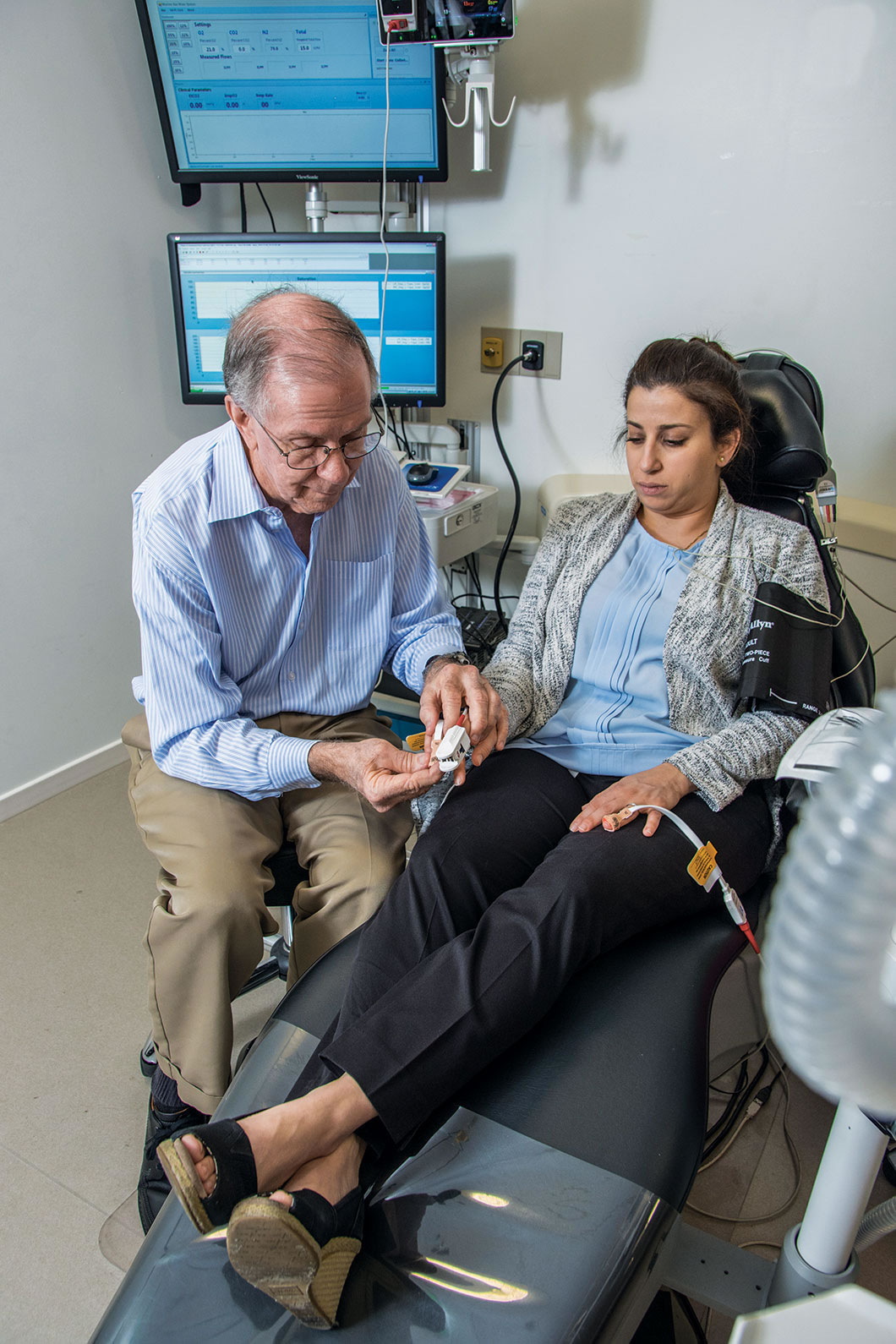 Barker helped make these ideas into reality by partnering with Masimo, a global medical technology company. The resulting product is called Root, a patient-monitoring platform that helps doctors instantly interpret the patient's vital information. Hospitals across the nation already use the display along with other innovative, noninvasive products Masimo has developed with Barker's help.
One of Masimo's most well-known and widely used products is a pulse oximetry technology that accurately measures a patient's arterial blood oxygen saturation despite motion and low perfusion. When Masimo's founders Joe Kiani and Mohamed Diab learned of Barker's extensive research on pulse oximetry, they asked him to study their new idea.
At the time, pulse oximeters couldn't accurately measure oxygen in the blood if the patient did not remain perfectly still—nearly impossible for most people—resulting in many false alarms and missed true alarms. Barker looked at the technology through the lens of an engineer, as well as a researcher and clinician, and helped Kiani and Diab refine their pulse oximeter idea into the product it is today. At its release in 1995, after six years of research and development, Masimo's pulse oximeter won the Excellence in Technology Innovation Award.
"Steve changed the landscape of what's possible with pulse oximetry," Kiani says. "He was a huge contributor to Masimo's success. His reputation was stellar, and his research is one of the reasons we're here today."
Pilot projects
In addition to the pulse oximeter and the Root monitor, Masimo continues to develop new products with Barker, a consultant who serves as the company's chief science officer, chairman of its Scientific Advisory Board and a member of its board of directors.
"They listened to my crazy ideas and tried them out," Barker says. "That's gratifying to see."
For example, something he is currently pushing is improving the alarm system in the operating room. Again, he brings his knowledge of aeronautical engineering to the drawing board.
"When something goes wrong, the alarm just beeps," Barker says. "You can't tell where it's coming from or what measurements it's alarming. There's no useful information.
"In modern airplanes, alarms don't just beep. They say 'too low' or 'collision alert' for example," he says. "There's no reason we can't have those kinds of alarms in the operating room."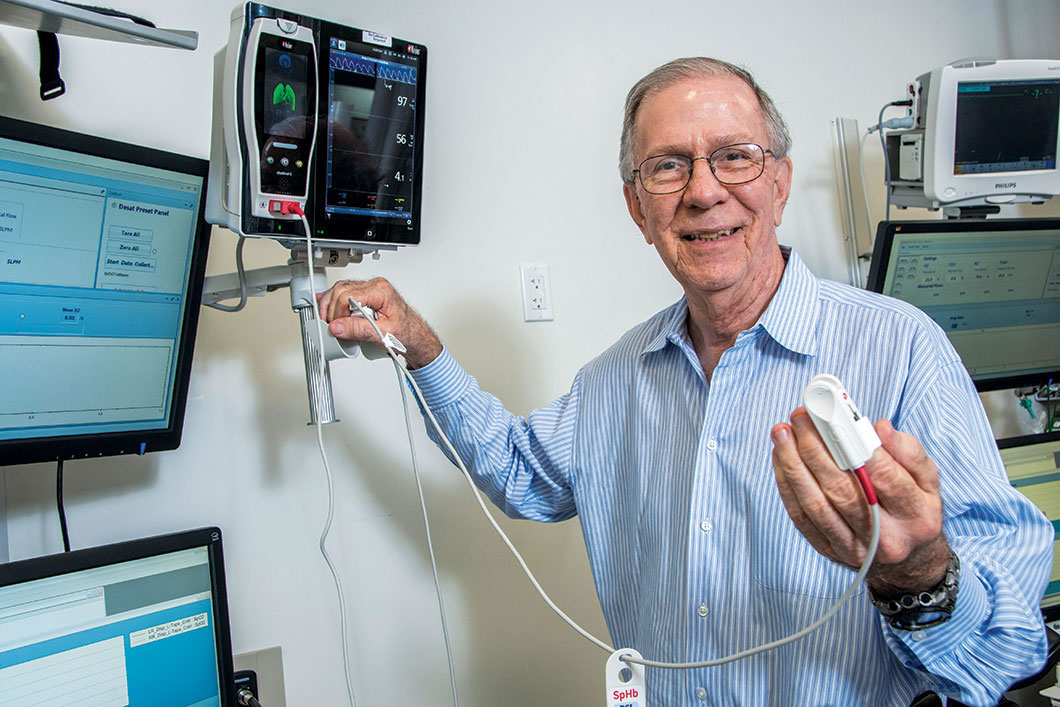 Another idea, in its very early stages, comes from the heads-up displays projected onto pilots' helmets. Barker proposes surgeons wear goggles that display monitors in the corner of the doctor's vision. This would give the surgeon constant access to a patient's vitals and prevent the need to turn around to check monitors.
"Imagine trying to market an airplane where the pilot has to turn around 180 degrees," Barker says. "But that's the way it is in the operating room. All instruments are in the opposite direction of where the patient is."
Operating a simulator
Even before he teamed up with Masimo, Barker found connections between medicine and aviation. While he was a professor at the University of Arizona, he persuaded the dean of the department of anesthesiology to buy a simulator to allow students to practice their skills.
"When a pilot is upgrading to a (Boeing) 747, the airlines aren't going to let you take it up and put it into a tailspin," he says. "But you have to know how to recover from that, so you learn in a simulator."
During residency, he says, students can train for a variety of situations in the operating room. Some of these they will never encounter, but they must know how to respond in case of emergency. "They can 'fly that plane' in the simulator," Barker says.
I realized how medicine was crying out for more engineers. I wasn't throwing away my engineering background. I was combining the two."

– STEVE BARKER '67
Academia to medicine roundtrip
Medicine is a longtime passion for Barker that started in high school, but he put that idea aside and began his career teaching engineering students as a tenured professor at the University of California, Los Angeles.
After about five years, Barker had what he calls an "identity crisis" teaching the same classes every semester. So when he discovered the University of Miami offered an accelerated M.D. program for people with doctorates in the hard sciences, he seized the opportunity to follow his suppressed interest in medicine—and never looked back.
"I wanted to work with my hands, so I thought I'd be a surgeon," he says. "But after my first year of residency, I noticed what people were doing on the other side of the drapes was more fascinating to me, so I switched to anesthesiology.
"I realized how medicine was crying out for more engineers," he says. "I wasn't throwing away my engineering background. I was combining the two."
With his M.D., Barker went to the University of California, Irvine where he earned tenure and chaired the department of anesthesiology for several years before moving to the University of Arizona, where he again earned tenure and chaired the anesthesiology department, while also teaching aerospace and mechanical engineering.
Though he ended his chairmanship in 2013, he still loves teaching, which he continues to do for physicians getting continuing education credits as well as educating Masimo employees about being a physician and what a cockpit is like.
"If I'm remembered for bringing medicine and engineering together, that makes me happy," Barker says. "That and the teaching that goes with it."