Moon Shadow
Alumni gather for eclipse events across the U.S.
The crowd howled just as totality occurred. Over 80 Harvey Mudd alumni, family and friends expressed their frustration as the eclipsed sun disappeared behind a bank of clouds.
The weather prediction for Charleston, South Carolina, on the day of the 2017 total solar eclipse had been upgraded to "partially cloudy" from "light rain." As the group gathered atop the Stars Rooftop and Grill Room, the sky was a brilliant blue threaded with puffy white clouds. During the early phases of the eclipse, the occasional cloud cover added both beauty and excitement to the event. Would the clouds fill the sky at totality? Or remain only partially obscuring the sun? Everyone was speculating. As the moon began to pass between the sun and Earth, a delicate swirled filigree of clouds was visible on the uncovered portion of the sun's surface.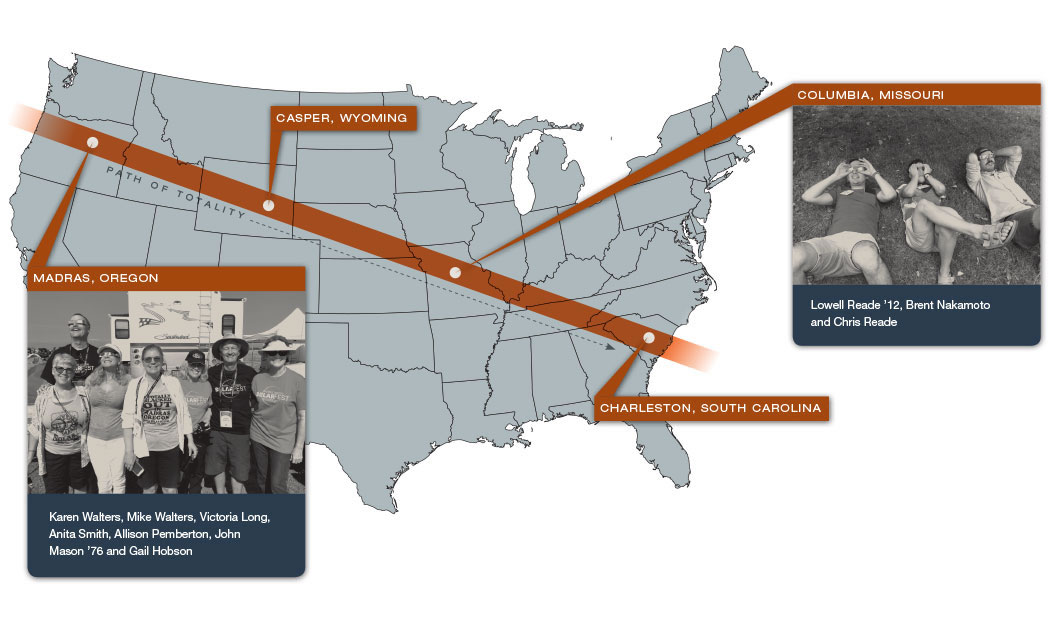 When not staring at the sky with eclipse glasses pressed tightly to their faces, the attendees mingled and enjoyed sliders, crudites and numerous hors d'oeuvres. Their motivations for attending were as varied as the Charleston weather predictions. Many came just for the eclipse. But one group— alumni who graduated in the mid-1960s and their spouses, all of whom have known each other since their college days—came because they live on different coasts and don't get to hang out enough with each other. John Tiller '69 and his wife, Denise, stopped by on their way from Florida to Virginia, where they planned to do some genealogical research about their families.
As 2:46 p.m. EDT neared, most of the group stood, holding their eclipse glasses over their eyes, necks craned to look up toward the southwest. The precise dark curve of the moon's edge nearly cut off the entire sun. The remaining crescent had turned from yellow to bright white. The air temperature dropped abruptly. The wind picked up. And just as the sun's crescent thinned to nothing, the clouds blocked the view.
Fred Hollinger '65 remarked it was "one of the coolest things I've ever seen, and it took me until my mid-70s to see it." Hollinger felt that even reading up on the event didn't prepare him for what he experienced.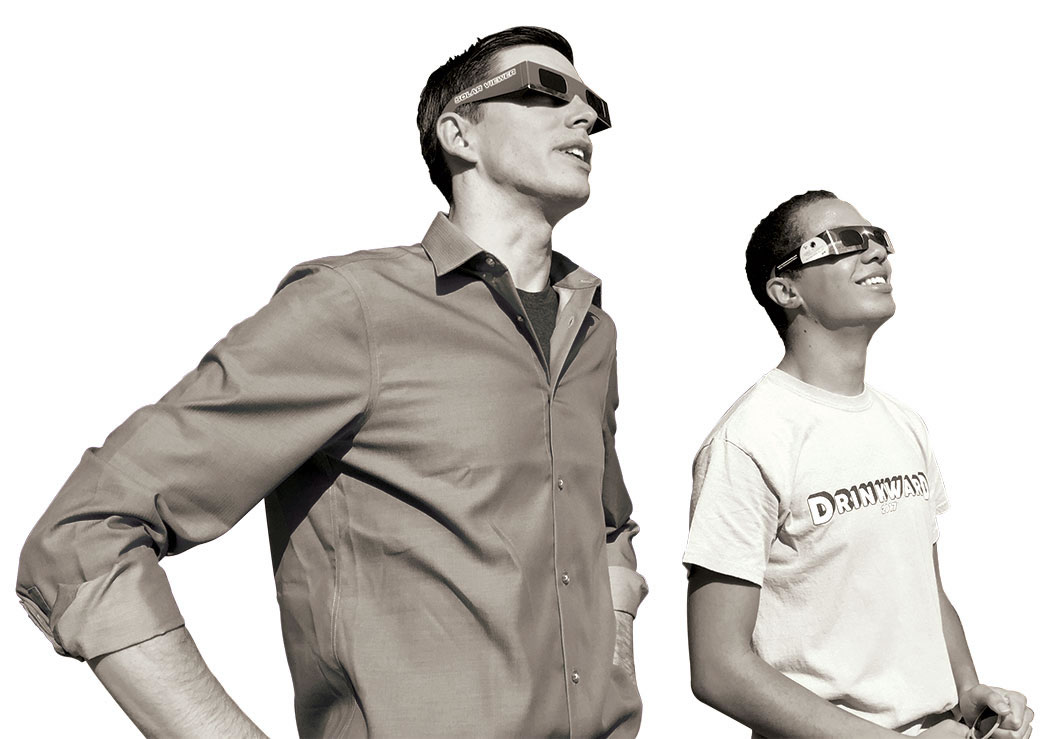 Bruce Worster '64 had a response which other attendees echoed: "I thought it was great—except for the clouds." Both he and Dan Nelson '64 were disappointed not to see either the corona or stars. Denis Moskowitz '95 was sorry to miss totality. "But seeing a crescent sun was really a unique experience."
Priya Donti '15 said, "It was really cool to have the 360 sunset and also lightning on one side." Natasha Parikh '14 agreed. Both alumni admitted to taking small peeks without their glasses just before totality when the sun was an amazing copper-colored crescent hemmed in by clouds on all sides and a bright contrast to the dark sky looming over the rooftop.
As the event came to its end, it was clear that the attendees weren't letting the weather get the best of their experience. The group was unanimously thankful to the College for organizing the get-together. Caitlin Furjanic '08, one of a group of a dozen alumni and friends who came down from Washington D.C., spoke about how wonderful it was to have plans made in January, to the envy of her coworkers. Patrick Allen '77 appreciated the alumni association's attention to detail, especially having the ISO-approved glasses. Blane Howell '97, a Charleston resident who attended with five of his family members, summed up the afternoon's experience, "It was an amazing event. What was true when we were in school is still true: Mudders throw the best parties."