Student News
The Writer's Way
A CS student rediscovers her love for writing while learning about her heritage.
At age 12, Giselle Serate '20 self-published a book, and by the time she entered junior high school, she had become a frequent contributor of online book reviews. She was sure she'd make her career as a writer, that is, until she tried writing code. "Then I discovered CS and was like, wow, this is really cool. So that's what I'm doing now."
Serate is very much a California girl, having spent most of her childhood in Rancho Palos Verdes, near Los Angeles. She wears her long hair loose and straight, has an affinity for band T-shirts, jeans and Converse sneakers, and she sometimes punctuates her conversation with "fer sure," that linguistic trademark of SoCal speech. She glides across the Harvey Mudd campus on her scooter and plays guitar and sings in an all-Mudder band. She's learning to play Ultimate Frisbee.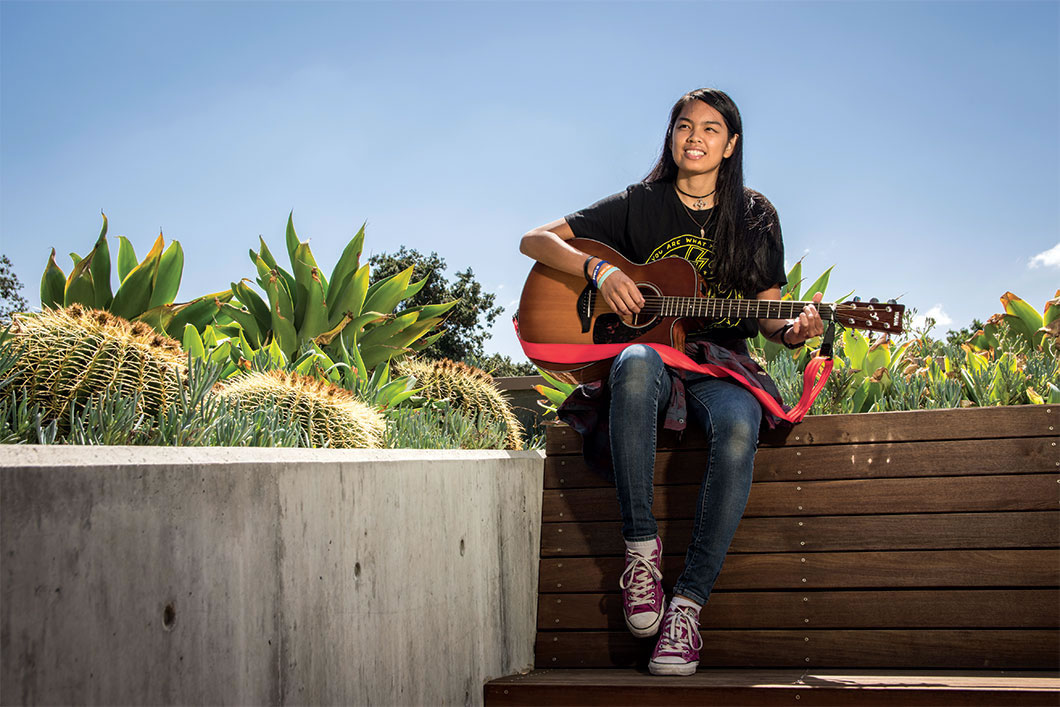 She is also a passionate computer scientist—she practically beams while describing a summer project in which she learned about partner programming. At Harvey Mudd, she's been happy to find ways that computer science crosses over into her other classes, like biology and engineering. However, while working on a paper for a humanities class, Serate rediscovered her interest in writing as well as a new interest: researching her cultural history.
Serate wrote "The invisible Asians: Filipinos in America" for a course she was taking with Professor Hal Barron called I Love L.A. "I saw 'Filipino Americans in Los Angeles' on the topics list and thought it would be cool to learn about my heritage while also getting my homework done," says Serate, who is Filipina American. "I hadn't really thought about that part of me very much before coming to Mudd."
As it turned out, the paper won the 2017 First-year Writing Prize in the Humanities, Social Sciences, and the Arts, and the experience of writing it did, in fact, lead Serate to find another side of her already multifaceted self. Though both sets of grandparents were born in the Philippines, for Serate, that cultural identification was "very far removed," she says. As with a lot of immigrant populations, Serate suspects that her grandparents wanted to raise their children as Americans, so they had fully embraced their new culture. "You're coming to America, and you want to assimilate because that's what you're there for," she says.
Still, she was surprised to learn things about Filipino Americans that she'd never known before. "I had no idea that Filipinos were so prevalent, not just in L.A., but in the country. We're the first most populous group in California and second in the U.S. How did I go 19 years without knowing this?" she wonders.
One reason might be that those first 19 years were really busy ones for the Serate family. Serate began taking courses at L.A. Harbor College at age 10, and a couple of years later, Serate's parents, both mechanical engineers, decided to move the family to Reno, Nevada, where Serate and her younger brother (also a pre-teen college student) enrolled in the Davidson Academy, a public school for profoundly gifted middle and high school students. The rigorous academic schedule was part of the family lifestyle.
Now that she's at Harvey Mudd, Serate has found a cultural community as well as an academic one. She joined the Asian Pacific Islander Sponsor Program at Mudd (API-SPAM) when she arrived at the College and began to think about her Asian identity as a whole. This gave the experience of writing her paper even more significance. "Getting in touch with that side of me was interesting because I had never really thought about that before," she says.
Even though Serate writes less now than she did during her prolific early days, she admits she's still drawn to it. She's done some blogging for her parents' information security company, and she and her Mudd bandmates have begun writing some original songs. In any case, the experience of writing her paper has reminded the multitalented Filipina-American computer scientist that, among all the other things she is, she's a writer, too.