Flight School
Inside the highly technical–and highly intimidating–art of trapeze with Jake Kimball '00.
A novice flyer stands atop a trapeze pedestal, anxiously gripping the bar. "Listo!" he shouts, indicating he's ready to take off. With a "Ready, hep!" in reply, the inverted catcher swings to and fro, timing the arc, calculating the contact. The flyer takes a deep breath and leaps uncertainly from the pedestal for a first adrenaline-fueled swing. One swing, two swings, then the flyer's moment of truth: letting go. Catcher and flyer connect in mid air, the flyer releasing not only the bar but that fear, now conquered.
This aerial dance plays out ad infinitum at Twin Cities Trapeze Center in St. Paul (TC2 for short), where on nights and weekends Jake (Walker) Kimball '00 lives out one of his life's passions: teaching high-flying trapeze. Kimball, a manufacturing engineer by day, co-owns and operates one of just two dozen schools in the United States devoted to the mesmerizing performance art.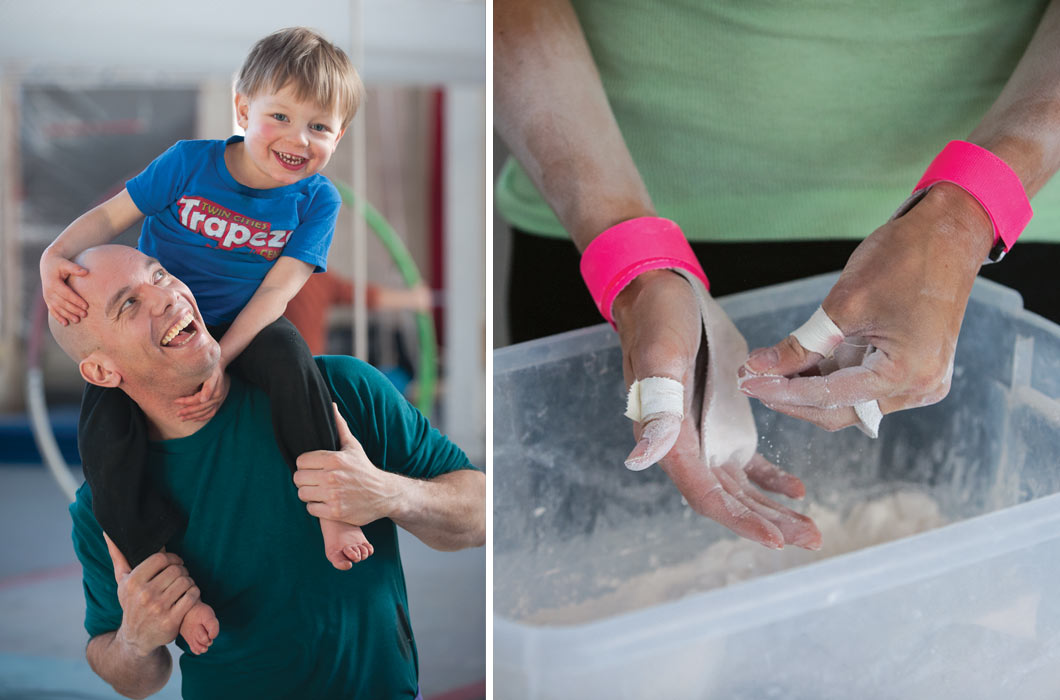 A traditional flying trapeze class is run with three instructors. The most prominent is the catcher—Kimball's primary duty—who grabs the approaching flyer in mid air. If flyers are the artsy right brains of flying trapeze, then catchers, Kimball says, are the left—a great personal fit. "I think I picked up a lot of things like height and timing by way of intuition and technical mindset," says the engineering alumnus. "I can look at what a flyer is doing and assemble their maneuver or trick into components, and each component may add or subtract the amount of time it takes them to get to the catch point, or may add or take away height." A lot of the catchers Kimball knows are highly technical people—engineers, software developers— and motorcycle enthusiasts, like him.
A second instructor on the ground, called a linesman, operates safety lines connected to the flyer's harness—much like a belay in rock climbing—controlling speed and height. The third instructor accompanies students up to the pedestal, checking safety belts and lines, handing over the trapeze bar and installing and removing risers to adjust for student height.
"That's called 'working the board,'" says Kimball. "It's probably the most psychological of the three positions." That person holds students by their safety belts right before they jump off the platform. "So they're the one that literally talks them off the edge."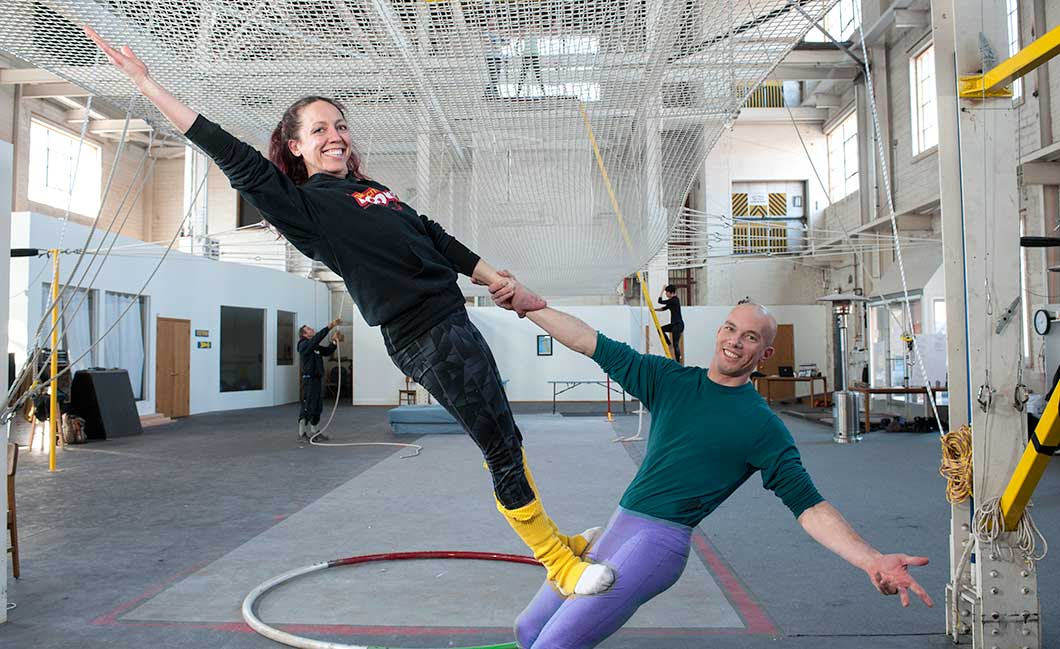 Sound scary? It's more popular than you might think. Since opening TC2 in 2012 with business partner Katie Kimball, Kimball has instructed hundreds of flyers, from adrenaline junkies and adventurous children to aspiring circus professionals and regular folks in need of a reset. He's caught more than 1,000 since 2004. And for first-time flyers, he says, there's one special commonality: presence.
The trapeze summons physical acuity and mental focus that many beginners are surprised to find they possess, he says. "On their first jump on a flying trapeze, nobody's thinking about their phone."They have to be present in a way that no other activity has made them be," says Kimball. "Trapeze brings out deep things from people." For many, it's visceral, like conquering a fear or demon. The joke in trapeze instruction—though there's truth to it, he says—is that instructors should earn honorary degrees in practical psychology.
"We talk with people when they're very afraid," says Kimball. "People have told me, 'I knew I had trust issues, but not this bad,' or, 'I thought I had dealt with this issue, but clearly I haven't.'"
To control that fear, Kimball and the other instructors employ constant communication: during ground training, on the ladder climb, even while they're swinging ("especially while they're swinging," says Kimball). It's about letting students know it's OK to trust the catcher, that what they're about to do is physically possible, instructing new flyers on timing and technique and helping them turn their fear and anxiety into an artful, fulfilling experience.
I've had people say, 'I can't do that,' … and three seconds later do exactly what they thought they couldn't. It's incredible."

– Jake Kimball '00
"Most get farther than they expected," he says. For some, it's nothing short of a transformation.
"Countless people say, 'I don't know if I'll be able to do that.' They might be referring to climbing the ladder or making a catch. I've had people say, 'I can't do that,' while swinging back and forth, and three seconds later do exactly what they thought they couldn't. It's incredible."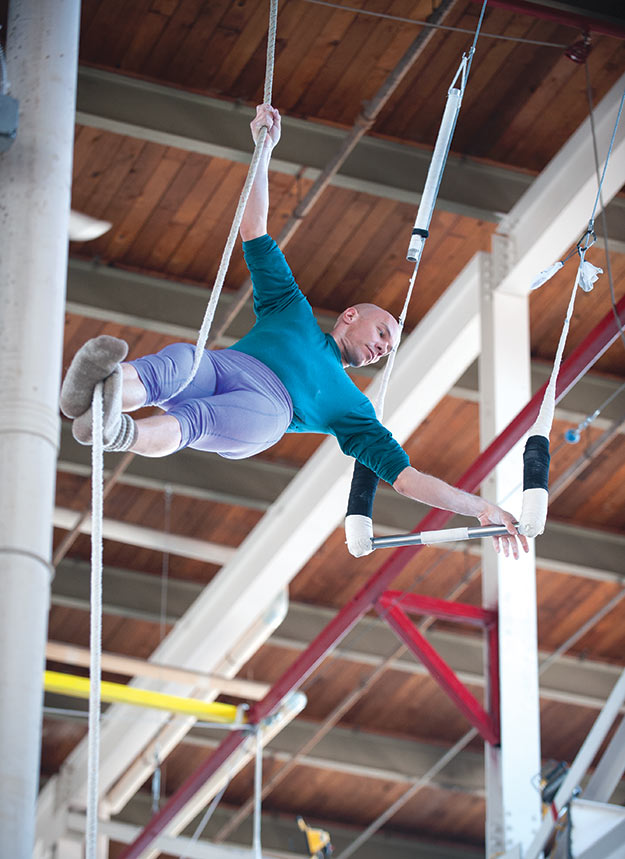 Given his predilection for trapeze and motorcycles, Kimball says he is often mistaken for a daredevil. But he views himself as "cautious, calculated and risk-averse." In fact, he admits he took his first class at Oakland's Trapeze Arts in 2003 only to appease his then-fiancée. He didn't expect to become hooked. Months later, he wasn't just flying—though that will always be his first love— but also catching, working the board and developing a mastery of the overall mechanics of the rig. Kimball devoted years to teaching in the Bay Area before finally moving to Minnesota and opening TC2 in a portion of the old Hamm's Brewery.
Professionally, Kimball has worked in manufacturing and new product introduction engineering for much of the past 15 years, engineering concepts from design to final product, testing protocols and helping to develop highly technical instructions for product assembly.
It's work that proved useful in starting TC2, since the giant indoor rig had to be constructed with utmost care and understood piece by piece. With the guidance and assistance of longtime friend and Oakland Trapeze Arts owner Stephan Gaudreau, Kimball designed and engineered the TC2 rig from the ground up.
"Stephan taught me how he maintains his own rig, what things he looks at, what things he replaces," says Kimball.
Safety is paramount. In a niche industry with no governing body, camaraderie with other trapeze school owners is crucial, and he's thankful for the information sharing that enabled TC2 to launch safely and efficiently. "Everything that affects one of us affects all of us, whether it's an injury or equipment failure or insurance issue."
With his partner, Katie, handling the business side of TC2, and Kimball handling rigging and equipment, both are afforded ample time on the rig. At one point, had he devoted himself fully to flying trapeze, Kimball believes that he may have been able to reach the level of a professional catcher. But it's never been his singular passion or pursuit. Father to a 3-year-old son, a successful engineer and an avid motorcyclist, Kimball is all about balance these days. This includes the trapeze, as long as he can swing it.