Collaboration
The Theorem of Everything
Mohamed Omar was drawn to Harvey Mudd College two years ago by the opportunity to work with young, energetic undergrads who are interested in doing cutting-edge mathematics.
"One of the things I love about Harvey Mudd students is that they are intrinsically motivated to learn mathematics and genuinely excited about it," says Omar, assistant professor of mathematics. "When you have students who are inquisitive about a subject area, it naturally leads to a gratifying research experience for them and for me."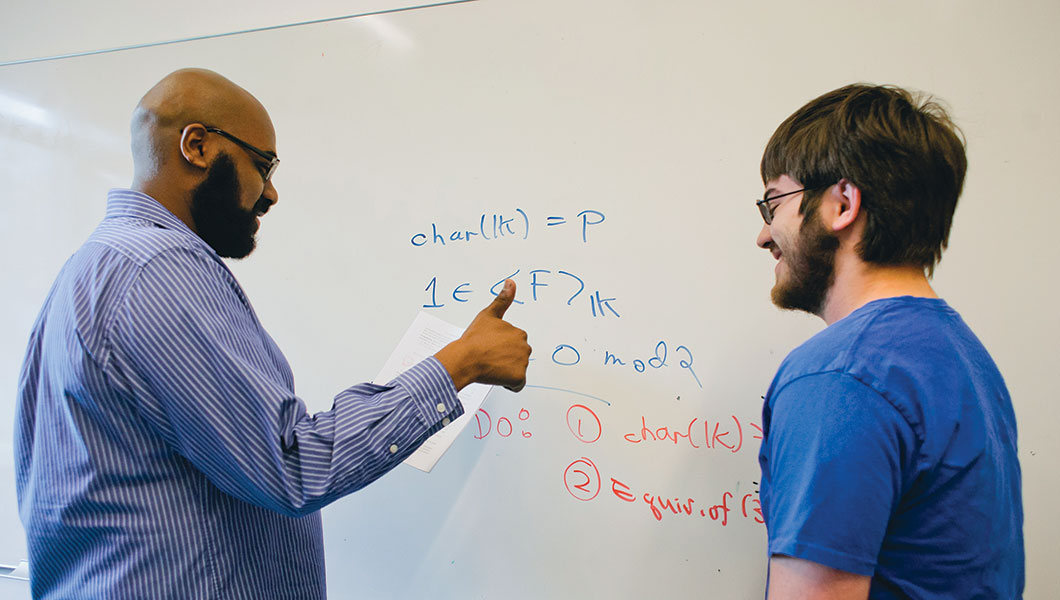 Omar earned his bachelor's and master's degrees in pure mathematics, combinatorics and optimization at the University of Waterloo in Canada and his PhD in mathematics from the University of California, Davis. Before joining the Harvey Mudd faculty, Omar completed a two-year postdoctoral fellowship in the mathematics department at the California Institute of Technology.
Omar has loved mathematics since he was a child. When he was in 11th grade, one of his teachers recognized his keen interest in math and sent him a notice about a summer research program at the University of Toronto. "Those three weeks shifted me from someone who had an intrinsic interest in mathematics to someone who actually wanted to pursue it as a career," Omar said.
One of the things I love about Harvey Mudd students is that they are intrinsically motivated to learn mathematics and genuinely excited about it.

– Mohamed Omar
Last summer, Omar worked with six different students on five separate research projects all related to the applications of algebraic geometry to discrete mathematics, the branch of mathematics dealing with objects that can assume only distinct, separated values. Discrete mathematics is the mathematical language of computer science, and thus it is now more important than ever.
Maxfield Comstock, a junior majoring in mathematics and computer science, worked with Omar last spring as an independent study student and then applied for Omar's summer research program.
Comstock enjoyed the freedom that Omar gave the students to focus on aspects of the projects they were particularly interested in and to work at their own pace. When they had questions, Omar encouraged the students to work out the solutions among themselves.
"He really wanted us to pursue the problems on our own and to follow our own interests instead of trying to push us to be interested in something just because he is," Comstock says.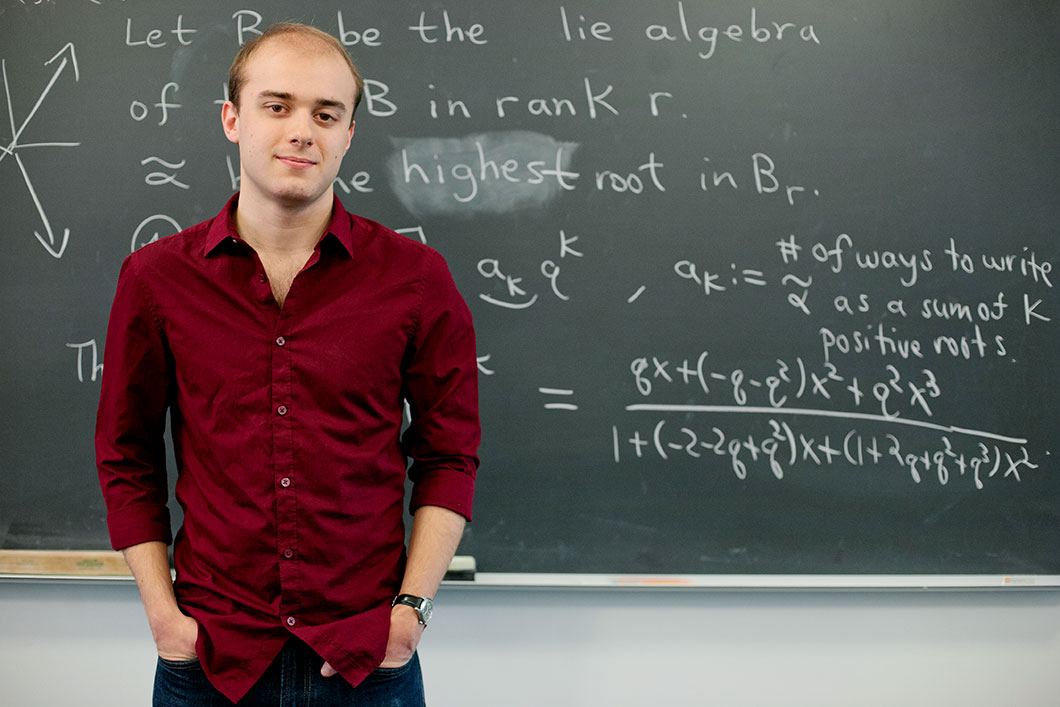 Benjamin Lowenstein, another junior majoring in mathematics and computer science, explored algebraic refutations of graph 3-colorability. Based on their research, Omar is preparing submissions to several publications.
"It was great just to be working on a project with Professor Omar; to have something actually come out of it is even better," Lowenstein says.
Lucy Lu, a senior majoring in mathematics and computer science, starts her PhD this fall. She worked closely with Omar last summer exploring one of his novel ideas on the problem of nonnegative polynomials and sums of squares.
"It was an interesting and exciting experience for me to explore something that no one really knows about. It was even nicer that Prof. Omar shared my excitement throughout the research process," says Lu.
She appreciated that Omar had all of his research students keep a daily research journal, because it helped her document and organize her research ideas.
"Besides the journal, I spent quite a lot of time formally writing up proofs, examples and the final tech report," Lu says. "I think it was definitely worth the time because in academia, your research is nothing if you can't clearly express your ideas."
Omar says collaborating with students allows him to engage the students in pedagogy that extends well beyond mathematics.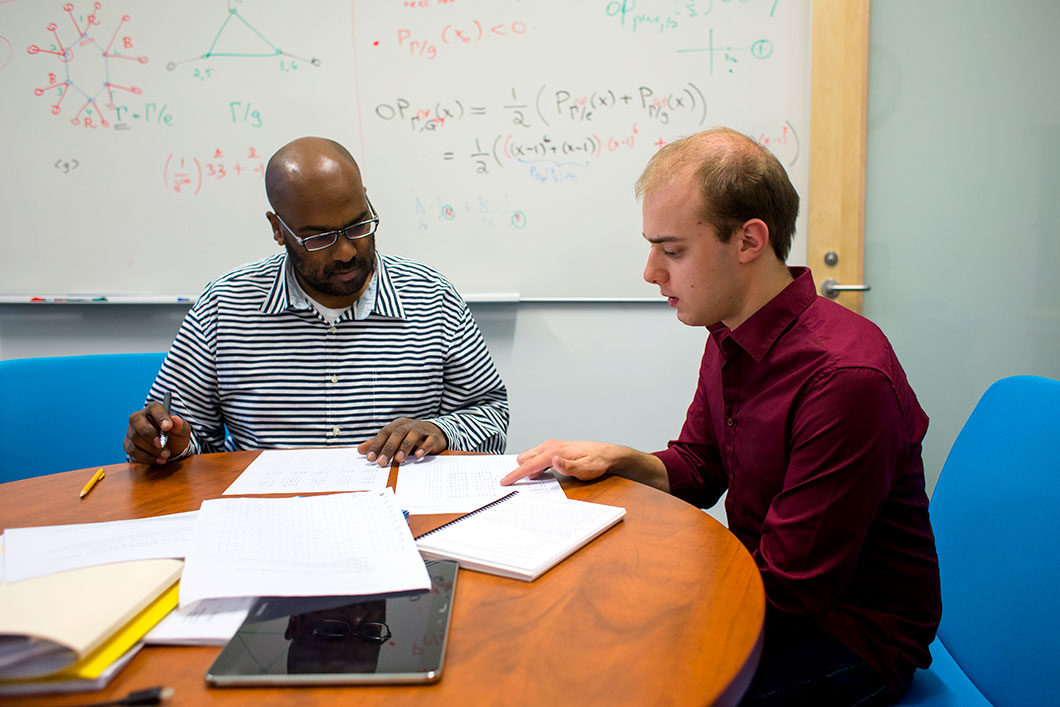 "They learn about writing, expressing them-selves through presentations, communicating their ideas effectively through various media, and I think the opportunity to lead them in that light is also something I appreciate and enjoy a lot," Omar says.
The experience also has helped move his research program forward. Omar says the students are extremely diligent and experienced when it comes to computation, which is a big help in formulating and testing conjectures. Beyond that, they have very insightful ideas and follow through on his directions and insights even when they are not clearly stated.
"They are definitely partners in my work, and I appreciate them tremendously for that," Omar says.