Students
Mudd, Sweat and Cheers
Precision, skill, balance: three traits that provide an edge to successful Harvey Mudd scholars who just happen to be athletes. Mudders who choose to participate in sports through Claremont-Mudd-Scripps, intramural or club activities are continuing longtime pursuits or, sometimes, trying something new. Balancing it all requires a strategy, and each student has a different one. Meet two outstanding CMS athletes who seek both mental and physical prowess.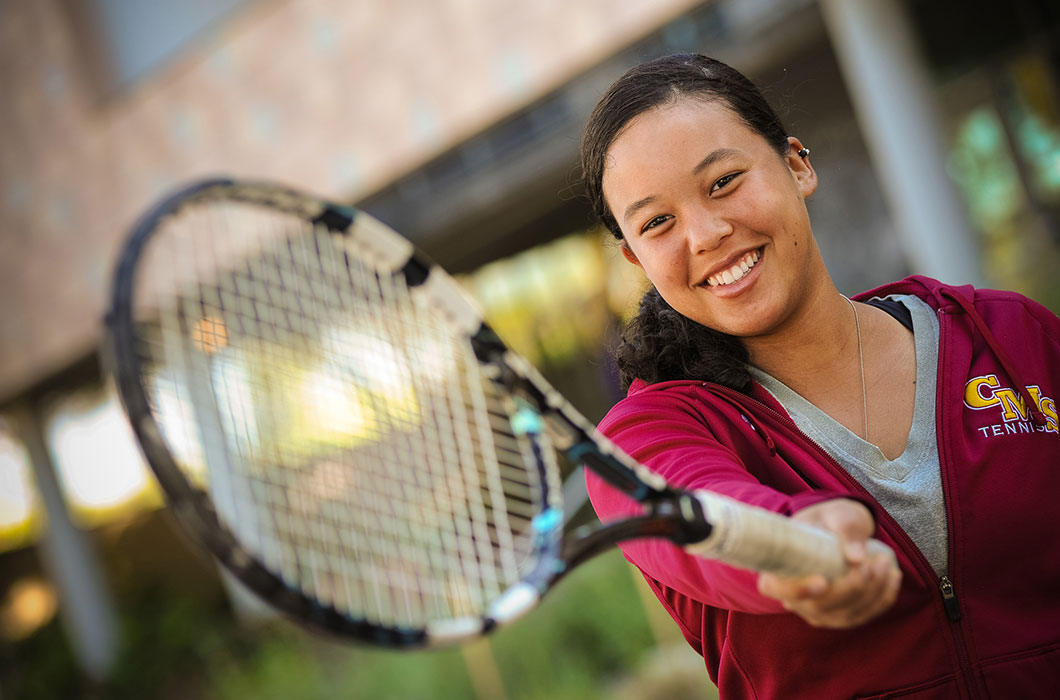 Kyla Scott '18
Undecided (maybe computer science or physics); Irvine, California
Tennis: No. 5 singles and No. 2 doubles
Recent results: Team 8-0; Scott 12-1 in singles matches; 13-2, doubles
Other activities: Playing tennis with her family (dad was the No. 2-ranked junior player in Jamaica, mom played in high school, and older sister, Kyra, a junior chemical engineering major at Marshall College, UC San Diego, is ranked No. 22 nationally and plays for UCSD); playing pool, eating, watching movies with friends
I chose Harvey Mudd because I'm a pretty goal-oriented person, and I felt like Mudd would make me work hard. The small school aspect was interesting to me and was very different from other colleges.
I've been playing tennis since I was 4. Tennis is a family thing. I played all four years for University High School in Irvine, which has a really good tennis program. We made it to CIF finals three years in a row and did pretty well. In CIF individuals, I made it to semifinals my senior year. It was a lot of fun. I wanted to keep doing team tennis after high school.
It's pretty hard since there aren't a lot of Mudders on the team. But I've had a lot of practice playing tennis and doing well in school. My parents emphasized that school always comes first. I've had to learn to prioritize and get my work done.
In the locker room, I have a set of speakers, and I'm always in charge of the play list so I blast music in the locker room and while warming up to pump us up. I really like having that job because I like playing the girls' favorite songs—including "Lose Yourself" by Eminem, "Uptown Funk" by Bruno Mars, "Remember the Name" by Fort Minor—and keeping things upbeat and inspirational.
In doubles, I never feel quite as stressed or get quite as down because I know I have to stay positive for my partner or at least look like I'm confident to keep her calm as well. In singles, it's a little harder because you're there by yourself. You have to focus on little things to keep you in the moment and calm and not think about past points. I'm still working on that; sometimes I get overwhelmed, but it's getting better.
I just really like the atmosphere at Harvey Mudd. I'm always really excited when there's pre-frosh here. I've hosted quite a few and hopefully some end up coming here.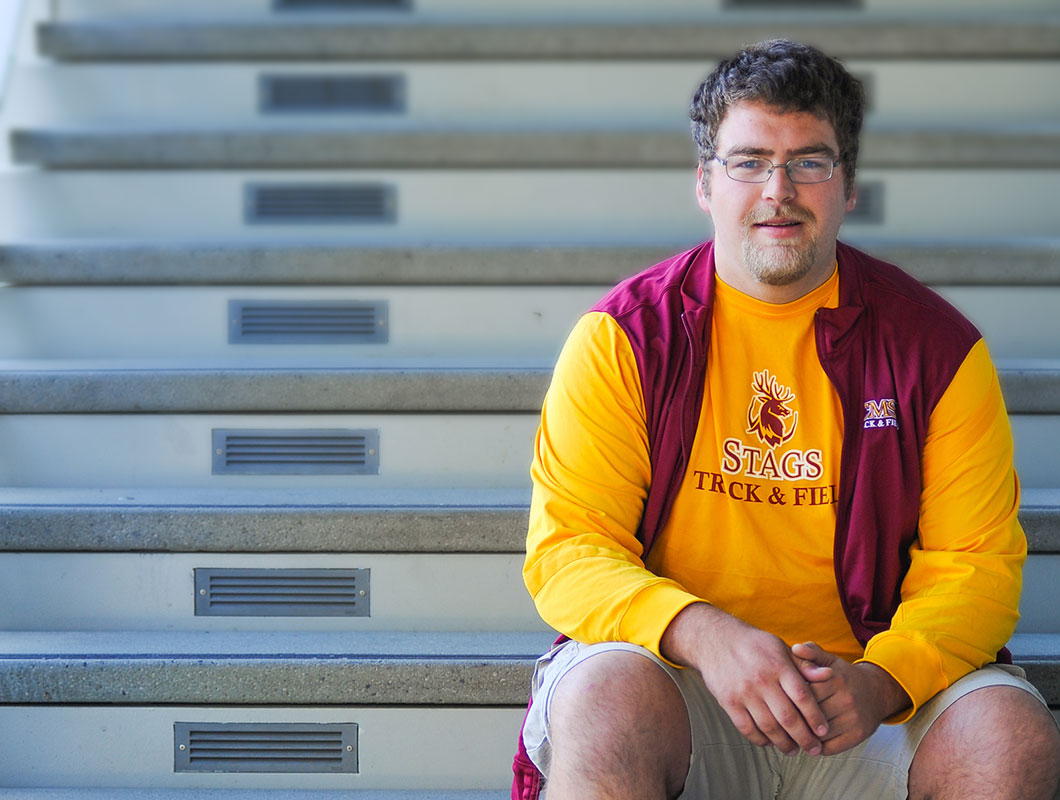 Alex Rich '16
Engineering; Fremont, California
Track and field: shot put, hammer, discus
Recent results: Dual Meet (Occidental/Redlands) March 7, 1st place hammer throw (50.83m [166-9]); 19th Annual Rossi Relays, Feb. 28, 1st place hammer throw (49.32m [161-10]); 2014 SCIAC runner-up (hammer), 3rd place (discus)
Other activities: Dos Muchachos, DUCK! improv member, Muddraker co-editor, Homework Hotline Mentor Tutor, shop proctor, Admission tour guide, Awesome Things Competition organizer; Intro to CS grutor, Case Dorm president, and proctor for 2015–2016
I liked the idea of joining the track team in high school but don't have the same build as my older brother, who is a really good runner. So it was natural for me to join the throwing team. A good friend and I wanted to get really good so we trained all year and during off-season to prepare ourselves for the next season. I went to state finals in discus my senior year.
Throwing is a really mental sport, and you can easily let small things get into your head and that'll send you into a nosedive. But I think I'm good at keeping things in my head that I want there and getting things out that I don't. I think throwing is as much mental as it is a physical sport.
CMS is one of the best parts of being in sports. On the team, you get to meet different people, and it breaks down the stereotypes that you have of the other colleges. I have really interesting discussions with my teammates because they come from different backgrounds and, spending so much time together, you get to know each other. CMS is like a family—a really tight community.
Even though I'm an engineering major, I enjoy computer science. This summer, I'll be doing a software internship at Salesforce in Silicon Valley. I'm also building a customizable bingo app on my own.
If I get busier, I get more efficient. I have interest and enthusiasm for the activities I do; I think it's all really fun. The thing about Mudd is, I just can't say no.