Collaboration
Building STEAM
A strategic partnership builds confidence and competence among local youth
Twice a year, some 20 high school girls from the surrounding communities spend eight days on the Harvey Mudd College campus learning computer coding and using what they learn to develop projects, like a gene-editing comb design or original music.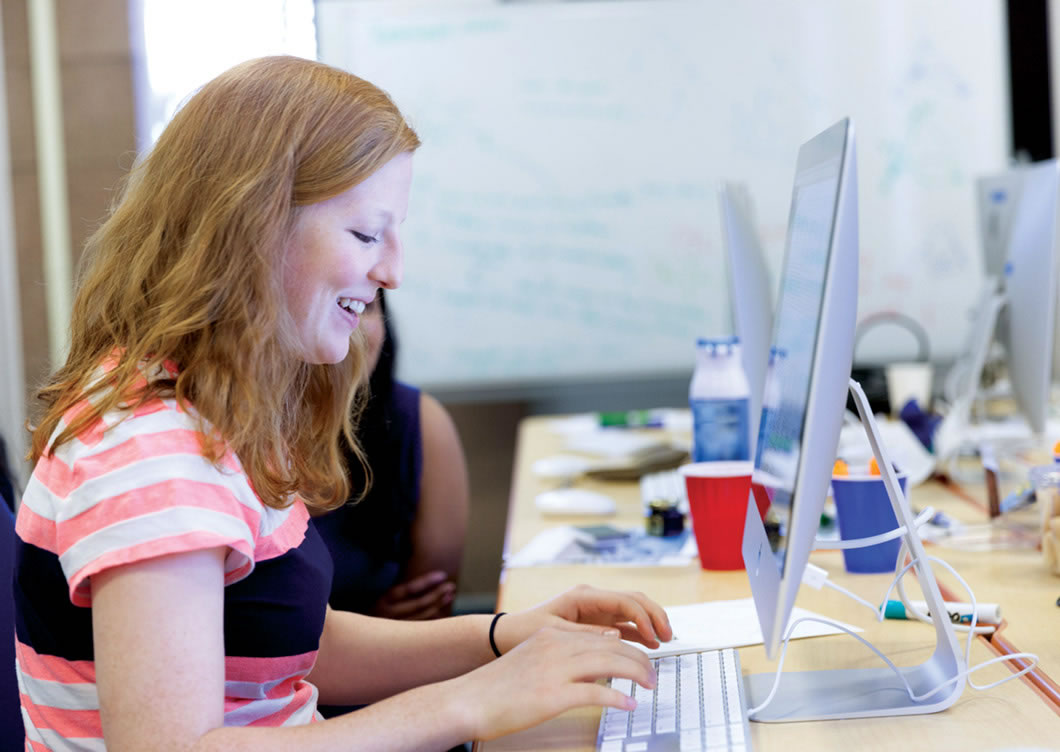 The effort is a partnership between the College and STEAM:CODERS, a Pasadena-based non-profit dedicated to educating and inspiring youngsters from underrepresented and underserved families through science, technology, engineering, art and mathematics (STEAM).
The eight-week Saturday sessions in fall and summer are taught by HMC students and funded by various grants and endowments through the Office of Community Engagement to ensure that the program remains free for participants.
Raymond Ealy, executive director, founded STEAM:CODERS in 2014 to introduce students to the STEAM disciplines and give them access to technology. Since then, more than 8,000 students in kindergarten through 12th grade have participated in the program that offers a combination of hands-on activities, field trips and classroom instruction designed to spur imagination and innovation.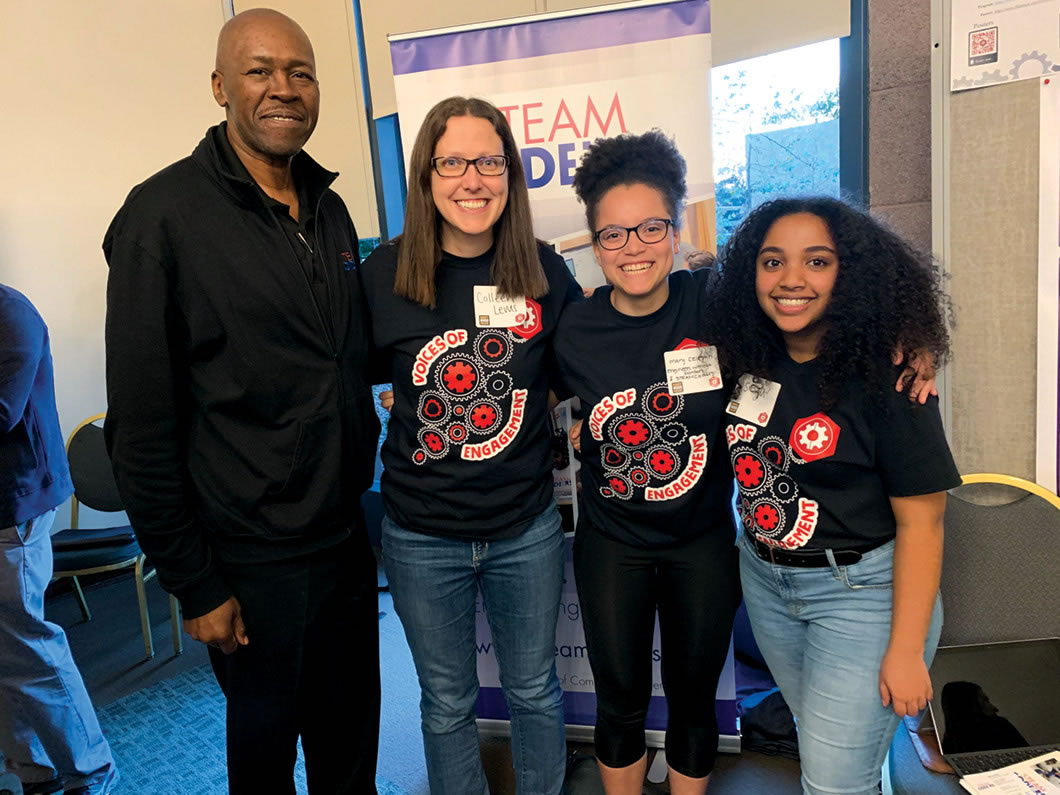 The partnership between STEAM:CODERS and HMC began when Colleen Lewis, McGregor-Girand Associate Professor of Computer Science, joined the nonprofit's board. Initially, HMC students traveled to Pasadena to teach the classes. Then, based on conversations with Gabriela Gamiz, director of community engagement, Lewis approached Ealy about offering the classes at Harvey Mudd. Since then, HMC has hosted eight sessions on campus to serve students from the surrounding communities.
"The thing that has been really magical about it is each time I've been able to hire students to both run and teach in the program," Lewis says. "It's been fantastic, and it's been really exciting to me to just get out of the way and let students take ownership over this." STEAM:CODERS executive director Raymond Ealy with Colleen Lewis, Mary Celestin '21 and Yeabtsega Birhane'20.
At first, the HMC program was open to anyone and attracted primarily young men. The few young women who did enroll seemed reluctant to speak up, voice their ideas and openly share their opinions. Gamiz says they noticed the limited participation of young women and wanted to address this and take action." So, Gamiz and Lewis decided to limit it to young women only. A turning point came after Gamiz discussed her concerns with HMC sophomore Mary Celestin, who shared her experiences from Girl Scouts where she developed a program for elementary school girls to get involved in STEAM as part of her Gold Award project. Gamiz invited Celestin to teach one of the sessions.
Celestin loved the flexibility of being able to develop her own curriculum. She was impressed by the impact STEAM:CODERS has had on thousands of kids in the Pasadena and Los Angeles areas and wanted to be part of that.
"I really wanted to focus on introducing girls to the power of computer science not only as a career, but also as something that is a tool for any type of career or hobby that they're interested in," says Celestin, who incorporated hands-on and teamwork activities into each session.
Each lesson focused on prominent women in the field that they were studying.
"The big thing for them was to see people who looked like them in STEAM and seeing women—women of color—doing really amazing things in all the different fields," says Celestin, whose father is from Haiti and whose mother is Cape Verdean.
Enthusiasm from the students was evident on the last day when they presented their final projects to classmates and parents.
"They were super excited to present to their parents and to express their newfound interest in computer science not only as a career but something they could use all the time, every day and show to their friends as something that is cool and exciting," Celestin says.
Feedback from parents has been positive as well. "They talk about how empowering it has been to their young daughters to know they can have a voice and can express themselves, develop ideas and see them from start to finish and the level of confidence they have gained as a result," Gamiz says.
Gamiz works with community partners in Claremont, Pomona, Ontario, Montclair and Upland to recruit students for the STEAM:CODERS program. She also sends out emails blasts, uses social media and taps a list of area teachers with whom she has worked in the past.
"It takes a lot of different people to come together to make something like this happen and to recognize the value of having something just for women," Gamiz says. "So, I'm super thankful for these kinds of partners that listen to one another and take action to implement programs that best serve young scholars."
Ealy said Harvey Mudd is one of the first campus locations for STEAM:CODERS and has become a model for other partnerships. The collaboration with HMC has been a win-win for everyone involved. Not only does the arrangement provide instruction for the students, it exposes their families to the college experience. "We want the students and parents to dream big," says Ealy.
"Most of the parents who bring their kids to campus for a STEAM:CODERS class never attended college, so they get to see what college is like and see how much their children enjoy participating in the program. Now, they have a mission to help their kids fulfill their dreams by preparing them for college and getting them more information on how to do that," Ealy says.