A Perfect Pairing
Engineering graduate Diana Hawkins '08 excels as an atypical sommelier.
Growing up, Diana Hawkins envisioned building cars and robots, not wine lists. But, that's exactly what she does today as a sommelier in Chicago.
"From the time I was 8 years old, I wanted to be an engineer," says Hawkins. "I had an aptitude for science and math. So engineering seemed like a natural fit and was something I wanted to practice. I was on my high school robotics team and loved working in the machine shop."
Hawkins came to Harvey Mudd fully expecting to become an engineer and earned her B.S. degree in 2008. By then, however, she had strong doubts about her career choice. Sitting in a junior-year systems engineering class, Hawkins came to a realization: she didn't want to build cars if it meant doing this every day. "I absolutely hated it," she says. But what would she do instead?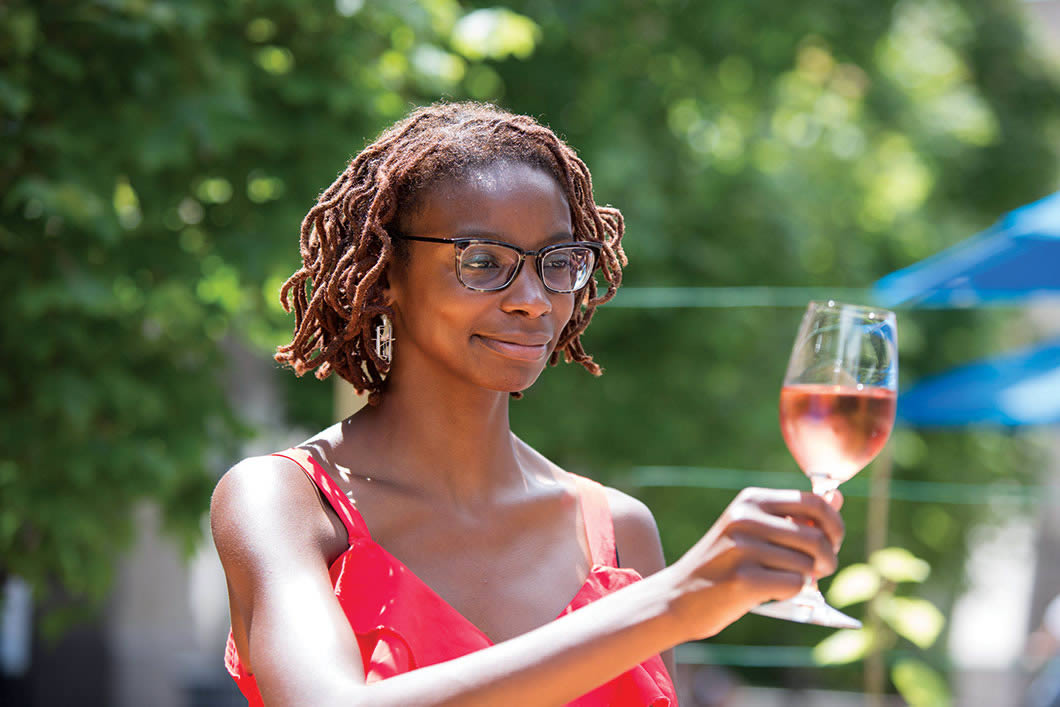 The immediate answer was technical sales, although there were already clues that wine would figure in her life. As a senior, Hawkins helped start a wine club at Mudd. She and other students who had reached the legal drinking age sampled wines from Vons supermarket and the sponsoring professor's wine cellar. She visited Santa Barbara County wineries and discovered how exciting Napa cabernet could be. "I remember the wine was from the late '80s and was totally unlike anything I'd ever experienced. After that, I was hooked."
After college, she joined an Ingersoll Rand sales and leadership training program and traveled to factories and production lines instead of wineries. She sold air compressors and pneumatic tools to engineers. Later, she shifted to selling business hardware and software for Softchoice, an information technology company.
"At the time, wine was something for relaxing, a hobby," says Hawkins. "Whenever I went on vacation, I would go to a wine region. It was equal parts vacation and learning. I would meet the people who made wine, hear their stories and pester them with questions."
Soon, she was working a few nights each week at a Chicago wine shop and spending another evening in a wine class through the International Sommelier Guild. Hawkins came to a new realization: She should quit her technical sales job—with its constant stress and buzzing BlackBerry—to work in wine full time.
"I realized I liked wine far more than I did sales. My company and its competitors were always hiring, so it didn't feel like a big risk to leave," says Hawkins. "I never really worried about making the change, and luckily it all worked out."
Within a few months, Hawkins was a wine captain for Chicago's newly opened City Winery, responsible for knowing the nuances of 400 different wines and keeping the wine cellar organized for the dining and entertainment venue. She says, "I got lucky. It was my first real restaurant wine job. I loved the pace. I loved the hours. And I loved the people."
Tasting and smelling are so subjective, and everyone's so different. The challenge comes with breaking that smell-memory down so you can describe the wine to others.

– Diana Hawkins '08
Hawkins was quickly promoted to the position of floor manager and also became a certified sommelier. Through involvement with the Court of Master Sommeliers and Guild of Sommeliers, she learned more about wine and met others passionate about the beverage.
"I do a lot of studying and a lot of tasting. I'm training my palate. I drink wine I don't like just to bond with it. I'll drink a bottle of wine over two or three days to see how it develops," says Hawkins. "Tasting and smelling are so subjective, and everyone's so different. Smell often triggers memories: Sometimes a bottle of Viognier from the Northern Rhone smells like Nair [hair removal lotion] to me. It's bizarre. The challenge comes with breaking that smell memory down so you can describe the wine to others."
She has proven to have a notable palate. By the time Hawkins joined Lula Café in 2015—less than five years after changing careers—she had become a standout in the wine world, in Chicago and nationally. The publication Chicagoist included her on its list of "10 Most Buzz-Worthy Sommeliers in Chicago of 2015." And Food & Wine magazine featured Hawkins and her favorite wine picks in an article published earlier this year.
Hawkins attributes her success in part to her engineering education. Aside from understanding the science behind winemaking, she says, "Going through the process of becoming an engineer teaches you how to study and apply what you know to something totally new. There are always new technologies coming out, and the same is true about wines. I'm constantly questioning and constantly learning. Working in a restaurant, I use my critical-thinking skills to see problems from multiple perspectives and come up with optimal solutions to make processes more efficient. Our system to ring in orders is a good example. It's basically a computer science project for me."
Wine and nightly sommelier duties remain her primary focus. "I feel some kind of way about it, but people often describe me as a hipster sommelier." Her preference for eclectic offerings include such oddities as orange Pinot Grigio and sparkling wine from the Canary Islands.
Hawkins is also somewhat of an anomaly among sommeliers: an African-American woman with an engineering and corporate background in a role traditionally dominated by men. She says, however, "What's more challenging for me is that I look like I'm 22. Guests at the restaurant sometimes joke if I'm even old enough to drink. But the real challenge is clothing. If I could find a classic dress with pockets for my wine key, I would be really happy."
None of this deters Hawkins' enthusiasm for her work. She says, "Wine is the ideal blend of art, science and vice. I like the knowledge aspect and breaking down perceptions about what wine is supposed to be. I try to make wine approachable. I may literally have peers from Mudd who are building rockets that are going to get us to Mars, but helping people connect with wine is so uplifting. There's this moment after I pour the wine for guests and they have this sublime look on their faces—it's a perfect moment."
As homage to West Dorm, Diana Hawkins '08 presents some bonfire-friendly wines from the West Coast.
Brooks Pinot Noir Rose 2015, Willamette Valley, Oregon
"I'm a sucker for Rose and BBQ—cherry, pomegranate and watermelon with a finish of tart raspberry and rhubarb. This is what you want to keep you cool while the fire's blazing bright."
Cruse Ultramarine 2011 Pinot Noir Rose, Sonoma Coast, California
"Ditto to sparkling Rose. This particular wine gets snapped up quickly for a reason. Champagne style using California grapes. A luxurious mouth-feel with black raspberry, strawberry, fresh herbs and cherry blossoms all on a thick slice of toasted brioche."
Presq'uile Syrah 2014, Santa Barbara, California
"Saying Syrah goes with fire is like beating a dead horse, but Santa Barbara's cool climate makes this a great Syrah to drink when it's hot outside. Tart blackberries and blueberries combine with a hint of smoked meat and cigar box all in a wine that's light on its feet and quaffable to boot."
Forlorn Hope Que Saudade Verdelho 2014
"Not super well known, Verdelho is a white grape native to Portugal that also does well in California. It's medium bodied with tons of ripe citrus— lemon curd, pink grapefruit, mandarin orange—and a faint aroma of honeysuckle. Silky in texture with a refreshing minerality, this is a wine perfect for contemplation while watching dancing flames."
Mouton Noir Knock On Wood Chardonnay 2014, Yamhill-Carlton, Oregon
"This ain't your mother's chardy-party. An all-stainless-steel production with no malolactic fermentation makes this wine super lean and crisp. Pear, melon, orange, lemon zest and a ton of stone makes this wine a perfect gateway to the Old World."