Career Directed by GPS
John Lavrakas '74 uses curiosity and persistence to find his way.
John Lavrakas '74 nearly flunked out of Harvey Mudd because he was too busy reprogramming elevator buttons and throwing water balloons from the top of North Dorm.
In fact, he says he shouldn't have been accepted into the College at all. He was on the waiting list when Bill Arce, then coach for the Claremont-Mudd baseball team, was holding baseball clinics in The Hague, Netherlands. Lavrakas' father, a diplomat living with his family in The Hague, arranged an interview with the coach, which led to Lavrakas being admitted to Harvey Mudd and playing briefly on the Stags' baseball team—before physics labs interfered with practice.
When I get pushed on something, I see it as an opportunity to overcome the problem. I'm not put off by being told I can't do something. I rise to the occasion.

– John Lavrakas '74
When Lavrakas' GPA dropped to 1.9 at the end of his sophomore year, the dean of students suggested Harvey Mudd probably wasn't the right place for him.
That conversation lit a fire under Lavrakas, and he improved his GPA to 3.48 by the second semester of his junior year. He earned bachelor's and master's degrees in mathematics as the first student to enroll in a five-year, 4+1 accelerated mathematics degree program through Harvey Mudd and (then) Claremont Graduate School.
"When I get pushed on something, I see it as an opportunity to overcome the problem," he says. "I'm not put off by being told I can't do something. I rise to the occasion."
That challenge-accepted outlook has permeated Lavrakas' life, contributing to career milestones and influencing his professional relationships.
"What I appreciate most about working with John is his can-do attitude," says Karen Van Dyke, the director of positioning, navigation and timing for the U.S. Department of Transportation. "No matter what challenge we present, he is always willing to take it on with a professional and pleasant demeanor. I don't think the word 'no' is in his vocabulary."
Van Dyke met Lavrakas at the Institute of Navigation (ION) Symposium on the Global Positioning System more than 25 years ago. Lavrakas continues to work with Van Dyke at the DOT to help ensure the government meets its GPS performance standards. His work extends internationally to the United Nations, as he works on the U.S. delegation to the International Committee on Global Navigation Satellite Systems.
Although Lavrakas has dedicated the past 35 years of his career to all aspects of GPS, the diversity of applications still amazes him. When he first learned about GPS, he knew it had wide-ranging potential.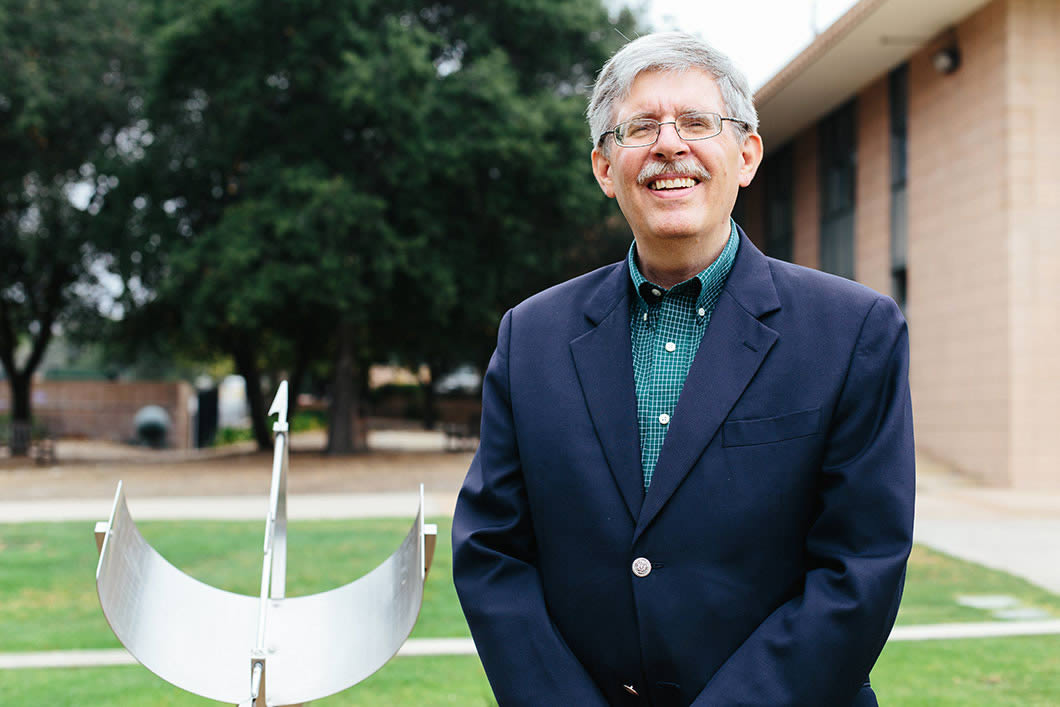 "Because of GPS," Lavrakas says, "our skies are safer and more efficient, crop yields are up and pollution is down due to reductions in overuse of pesticides and herbicides, high-bandwidth digital telecommunication services are enabled and people don't get lost as often. Except me—I still get lost all the time."
In 1980, a colleague asked if Lavrakas would be interested in working with GPS, a new project in the company. Lavrakas jumped at the chance, bringing his undying persistence with him, frequently pursuing ideas that others deemed insignificant. Like when—as a young engineer contracted by a GPS manufacturer in California—Lavrakas introduced himself to the software lead, who dismissed his work.
"He told me, 'The testing you're doing is of no value to this project,' and I thought, 'Well, I'm going to prove you wrong,'" Lavrakas says. "I'm not a cocky person. I just liked to learn, and he ended up embracing what I was doing and applying it to other programs."
In addition to setting up processes to safeguard against mistakes, Lavrakas was part of the team that developed the ground-control system at Schriever Air Force Base in Colorado Springs that carries out the commands of the master control station. It is here that just eight people run the entire worldwide utility of GPS, which includes billions of receivers and thousands of applications.
"What surprises me most is the elegance of its design and operation," Lavrakas says. "It is a fine-tuned, multiply-redundant system that operates 24 hours a day, silently and effectively, providing positioning, navigation and timing services to users around the globe. It is the ultimate in a fully scalable service, requiring no more effort to operate for a billion people as for one."
Colleagues, like Brent Renfro, the program manager at Applied Research Labs at the University of Texas at Austin, appreciate Lavrakas' expertise and thoroughness.
"John's diligent in getting the details right," says Renfro, who has worked regularly with Lavrakas for nearly 15 years, primarily on GPS performance monitoring. "Folks will always say, 'Oh, that's not important.' But John's good about bringing those things to people's attention until they get resolved."
After many different jobs and working in nearly every aspect of GPS—development and maintenance, user applications and tracking, commercial applications, performance assessment and policy and more—Lavrakas decided it was time to navigate a new path: entrepreneurship.
He established Advanced Research Corp. in 1993, working on projects like tracking trains for General Motors, weather balloons for the National Oceanic and Atmospheric Administration, ocean sensors for Oregon State University, as well as tracking molten steel and stolen jewelry. He also worked at an international level, designing a system to track thousands of vehicles for a Venezuelan telephone company. A PC-based GPS tracking system he developed, StarWatch Asset Location System, had excellent potential. But there was a problem.
"It was 1995, and no one knew what GPS was, so I couldn't sell it," Lavrakas says. "One client said, 'Why do I need a satellite tracking system? I can just call my driver on his cell phone and he'll tell me where he is.' Eventually I had to get a regular job because I needed full-time income."
Though he took an engineering position to support his wife and children, he returned to his company in 2006 and hasn't looked back. Today, he works on a wide range of projects, like developing fishery information systems to track salmon and reef fish, and doing research on mobile technology for data collection at sea. He also serves as a GPS expert in both criminal and civil cases.
Beyond his technical contributions to the field, Lavrakas helps keep the GPS community connected. He served as president of ION for 2007–2008 and also as chairman of its satellite division, and he continues to give presentations at international satellite navigation conferences. His contributions haven't gone unnoticed—Lavrakas received the ION Distinguished Service Award in 2008 and was named an ION Fellow in 2010.
His impact is felt locally as well. He was named the Oregon Small Business Person of the Year in 2011. Since 2015, he's been sharing his business acumen with the Newport Symphony Orchestra as president of its board, practically a second career, he says.
Though he enjoys his avocations, retirement is still several years away. He says there's never been a single day that he hasn't loved his work.
"GPS is used by every nation on earth," Lavrakas says. "I've had the privilege of working on one of the most significant technological achievements of mankind. "It's pretty amazing."