College News
A Tale of Two Awards
This year's winners of two prestigious College awards have a lot in common. Both have worked at Harvey Mudd for more than 20 years in the Office of Admission and Financial Aid. The history of their awards is also intertwined.
Henry T. Mudd (1913–1990), the son of Harvey S. Mudd and founding trustee and chair of the board for 23 years, was instrumental in the creation and early development of the College named for his father. So it was fitting that an award was created in his name in 1992 to recognize faculty and staff for their extraordinary service to Harvey Mudd College.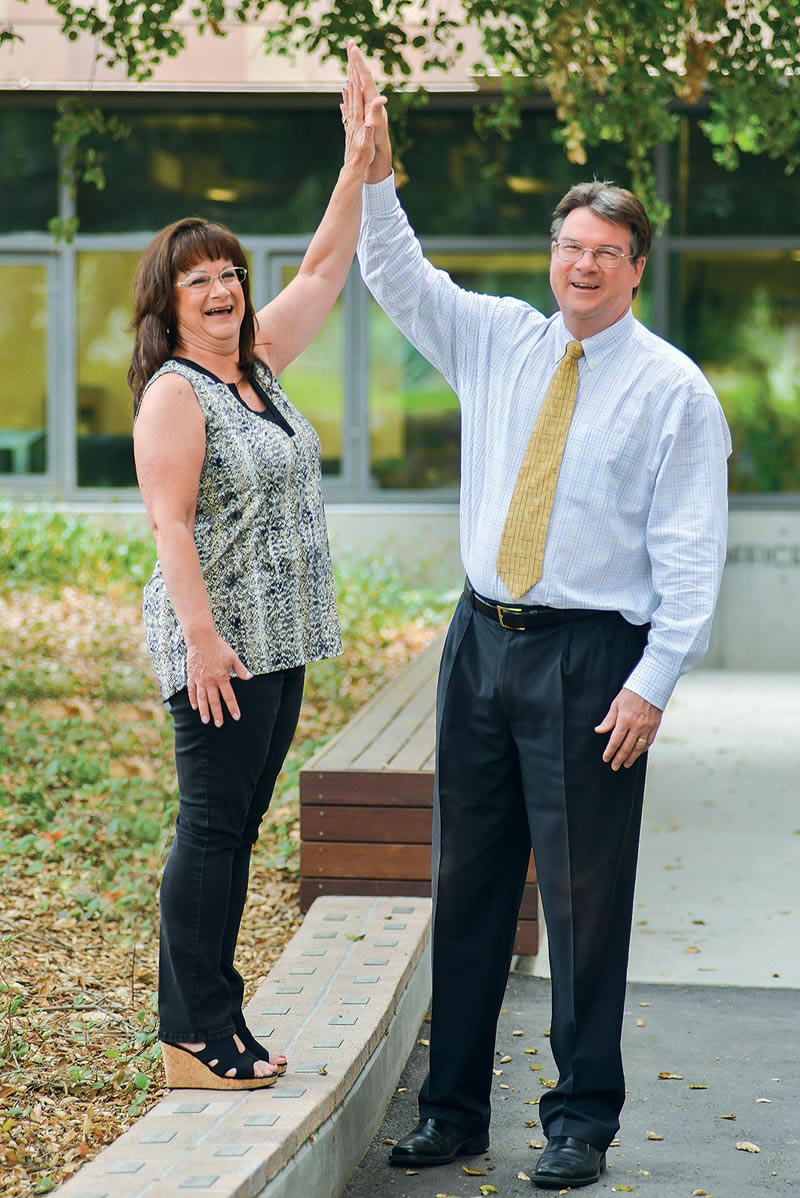 The recipient of the 2016 Henry T. Mudd Prize is Peter Osgood, director of admission, an integral part of the team that recruits, reviews, admits and enrolls students who are the best fit for HMC. He was lauded for his dedication, mentoring, leadership and for being a champion of diversity. Osgood is in good company: Mudd Prize recipients include Founding President Joseph Platt, facilities and maintenance Senior Director Theresa Lauer, and Professor of Life Sciences and Engineering Dean Emeritus Samuel Tanenbaum. It's Tanenbaum who brings these two awards together.
The Mudd Prize, which Tanenbaum received in 1996, comes with a $4,000 prize, $2,000 of which is designated for use within the College at the discretion of the recipient. Tanenbaum and his wife, Carol, decided to honor Carol's mother and, with the prize money, established the Mary G. Binder Prize for staff. Other Mudd Prize recipients have directed their funds to scholarships, student organizations, courses and even bikes (see sidebar). Osgood directed the College portion of his award toward the President's Scholars Program.
Admission and Financial Aid Operations Assistant Judy Givigliano received the 2016 Mary G. Binder Prize, which includes a $750 award and certificate, for combining "a record of exceptional service with a truly helpful and friendly attitude toward students, faculty and fellow staff members all across the College." She began working in College Advancement in 1988 and transferred to Admission and Financial Aid in 1989, so she is familiar with the Binder Prize and all of its recipients, one of whom is her co-worker, Senior Receptionist Patricia Lewis. "I am honored to be among the many Mary G. Binder Prize recipients," Givigliano says.
Osgood and Givigliano briefly celebrated their respective awards before returning to the job of recruiting the next entering class. They both agree that these awards inspire even more enthusiasm for their work at an organization where relationships really do matter.