College News
Phase Change
There have been quite a few firsts lately for Harvey Mudd College. Women now make up the majority of department chairs; the College welcomed its most diverse entering class thus far in 2015; more female than male engineering majors graduated in 2014 for the first time in HMC history. And now this.
Despite dwindling numbers of women earning physics degrees nationwide, Harvey Mudd graduated its first majority-female physics class this spring (52 percent). Recently, President Maria Klawe spoke with Theresa Lynn, professor of physics and the first female chair of the Department of Physics—where 38 percent of the faculty are women. The two discussed what Harvey Mudd has done to encourage more women to pursue physics in an interview published by Forbes in May. Here's an excerpt.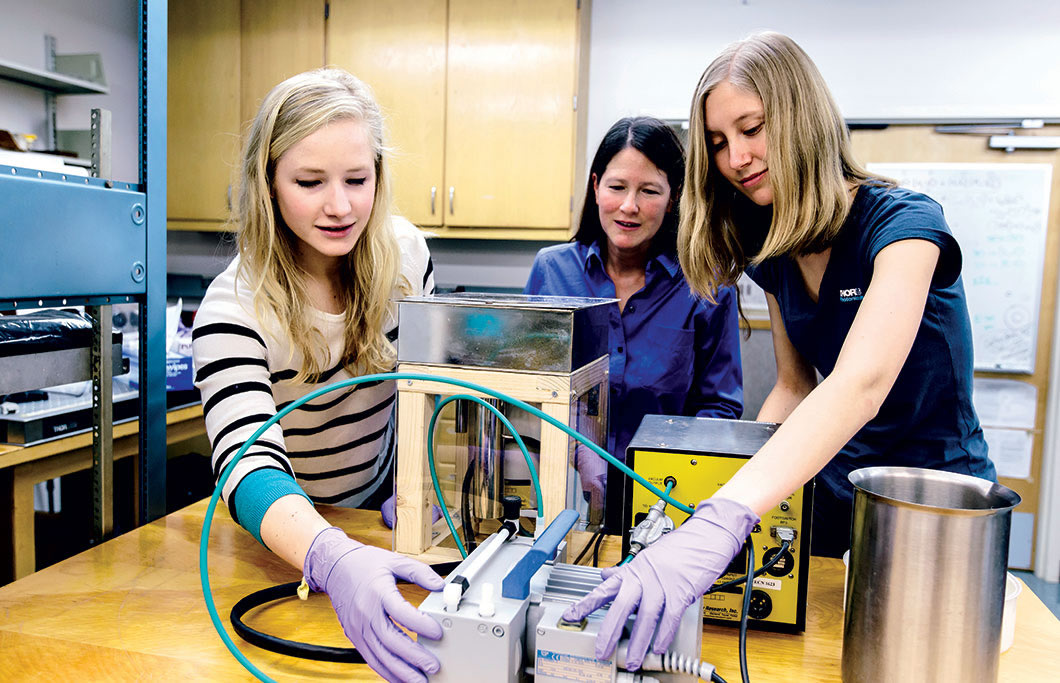 Klawe: Has the department been working in certain ways to become more female friendly?
Lynn: When our female students talk about barriers to their becoming physicists, they talk about high school experiences, about expectations and attitudes of older relatives, and things like that. So, it's about issues that they bring with them.
We have tried to be sure that the gender diversity of our faculty is out there for students to see. In our core courses, in recent times, we've tended to have one man and one woman splitting the lecture. I think that's something that makes an impression early on for students. I've had students comment that it was important to see different people, different genders, different personalities up there in front of the whole freshman class or the whole sophomore class, giving the lectures and answering the questions.
We've been thinking and working hard the last year or two on the topic of climate in the department—the extent to which we foster community, welcome those coming in from the outside, and nurture a strong sense of belonging. I think those efforts will also help us recruit and retain great students who are women or from underrepresented minorities.
Klawe: What are some of the initiatives that have supported improving our climate for women in physics?
Lynn: The Women in Physics student group, which is a student-led initiative, has done some welcoming things, such as community homework nights. Those have been nice climate events and not exclusively for women, which I think is exactly right. They might have an eye toward what is welcoming or encouraging to female students, but their membership doesn't exclude men. And, some of the men who participate are there because they believe so strongly in the need for physics to become more welcoming to women. We also send students every year to a Conference for Undergraduate Women in Physics, and that has been a great experience for our female students.
Klawe: Why is diversity important in the classroom?
Lynn: A lot of companies in the U.S. say that it's hard to hire enough qualified employees who are interested in certain STEM fields, including physics. Under those circumstances, I think it's important that we, as a field, don't lose students simply because they didn't feel that physics was a field that accepted or welcomed their color, their gender, their sexual orientation, or what have you.
There are many possible, successful approaches to the world's problems. And one of the key steps in solving important problems is choosing the best questions to ask. As we expand this field with people from very different backgrounds, it will inevitably enrich the range of questions we are asking and the types of problems we can solve.
Physicists play an important role in so many areas of technology. Physics graduates tackle critical energy issues such as solar power and how to develop new technology to reduce energy consumption. They design computer hardware as our society continues to demand more advanced and innovative types of portable, wearable technology. One of the most amazing things to me is that these students are going to begin confronting problems that we've never even imagined. Their generation will discover new questions as technology evolves, and they will be there designing the tools to equip us for the future.
The bottom line is that we need more physicists. It would be crazy not to welcome as many people as we can from as many different backgrounds as possible to help us address these critical issues.