A World Away
HMC Watson Fellows describe life-changing experiences from their year abroad.
Building more humane and effective leaders has been the goal of the Thomas J. Watson Fellowship for the past 50 years. Established in memory of the founder of IBM and available to graduating seniors at 40 private colleges and universities across the U.S., the fellowships have allowed nearly 3,000 young men and women to "test their aspirations and abilities, view their lives and American society in greater perspective and, develop a more informed sense of international concern."
Harvey Mudd College nominated its first students for the fellowship in 1976 and has had one or more students selected for the honor nearly every year since. The process is rigorous: Applicants submit a multi-page proposal and references, and endure a rigorous interview process. Only 40 fellows are selected from just over 100 finalists. HMC's first recipient, Keith L. Woo '77, a chemistry major with an interest in music and the trombone, says the fellowship fulfilled a dream and provided the personal growth and self-reliance to succeed in his future endeavors. He spent his Watson year in London studying the early trombone (the "sackbut") in Renaissance music and being mentored by a trombonist with the London Symphonic Orchestra. "I have always considered my Watson fellowship as my first successful grant," says Woo, who recently retired as a professor of chemistry and associate chair from Iowa State University. "Because of my Watson experience, I encourage undergraduate and graduate students to broaden their interests as a means of enriching their lives."
The stories of other HMC Watson Fellows attest to the indelible impact a yearlong, solo, open-ended, adventure- filled trek can have on recent graduates, who must select countries where they have no, or very little, experience. No formal paper or report is required. They receive a generous stipend ($18,000 in the early years and up to $30,000 today), and they must commit to not returning to the United States or their home country during the year.
"I have to admit that I applied for the Watson Fellowship as something of a lark without any real expectation that I would get it," says Brooke Basinger '01 (engineering). She explored roller coaster design in 30 countries. "When I actually got the fellowship, the reality sunk in that I would be traveling the world for an entire year by myself without any sort of support structure or home base. It was a bit terrifying."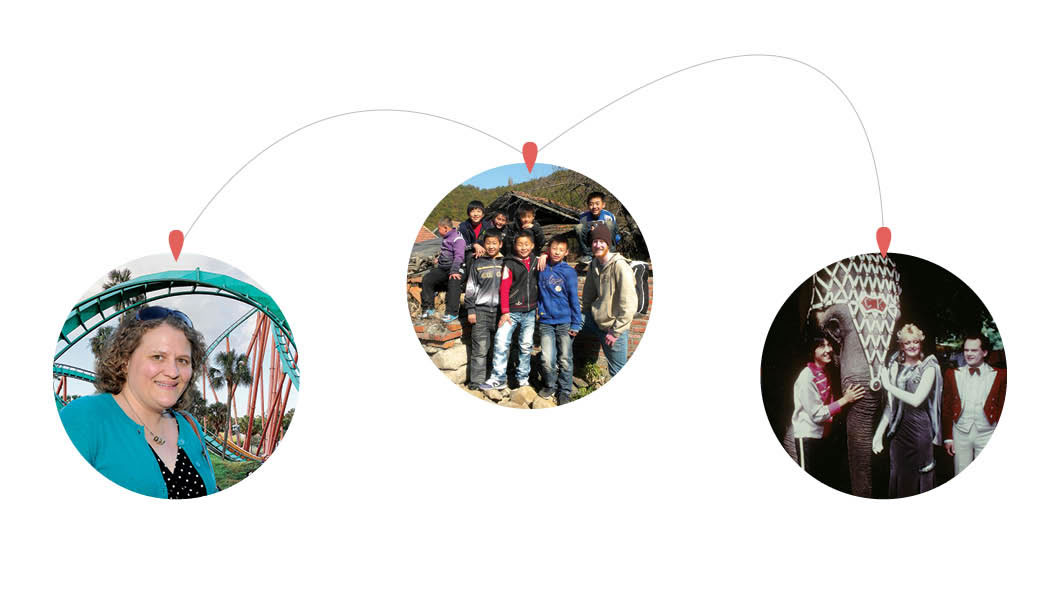 A mechanical engineer by training, Basinger had always been fascinated by mechanical interactions between the body and the machine. She found roller coasters to be a unique and interesting design challenge. "After all, where else is your design goal to scare the crap out of people without actually hurting them?" she says, "I wanted to understand how different cultures and countries approached both designing and riding roller coasters and the Watson provided me an unparalleled opportunity to do that."
She spent the first several weeks in the U.K. visiting amusement parks, county fairs and boardwalks getting backstage tours from park engineers, learning about the gritty logistics of running and maintaining a roller coaster. She met John Wardley, a leading U.K. roller coaster designer at Alton Towers where she toured their new flying coaster, Air.
Basinger recalls doubting herself after those first few weeks. "There were no grades, no right answers, and no professor or boss to tell me what was expected of me," she says. "I learned to trust my instincts, take risks and adapt on the fly."
Adaptation became a particularly critical skill when, only six weeks into her fellowship, two planes hit the twin towers on September 11, 2001. After overcoming internet and translation issues, Basinger was able to connect with her brother who lived in New York and with her boyfriend, whose father was a United Airlines pilot. All were OK.
"By the end of my Watson, the world as we knew it had fundamentally changed," says Basinger, whose career in medical device design is a result of her fascination with the mechanical interaction between the body and the machine. She earned a PhD working on implanted retinal prosthetics, and is now head of hardware operations at Google's biotech venture Verily Life Sciences. "Most importantly, I developed the confidence that no matter what weird situation I ever find myself in, I can always trust myself to figure my way out of it."
Being flexible and adaptable allowed Clarence Wang '84 (chemistry) to travel through Switzerland, France and England and hang around circuses to see what life was like, especially for kids growing up in the traveling/ performing environment. "I bought a VW camper bus so I could stay close to the troupes," Wang says. "I was allowed to travel on part of the tour of Circus Knie, Switzerland's largest and oldest touring circus."
The troupe provided Wang a scarlet jacket with black velvet lapels and cuffs, gold buttons and braid and let him help as a requisiteur (stage hand) moving things in and out of the ring between acts. "I fell in love with a circus employee—a girl who helped with the performing horses—who lived in a circus wagon next to the giraffe!"
Wang, who now manages a scientific computing group in R&D at pharmaceutical company Sanofi, says he learned to be open to new opportunities and new people, and to take pleasure in the journey.
Most of the HMC Fellows agree that the Watson experience took them outside their comfort zone.
"The Watson was both the most incredible and one of the most challenging things I have ever done," Rob Best '10 (engineering) recalls. He visited China, India, the United Arab Emirates, England and Germany to explore eco-cities, their developing practices and the role of local culture in defining a sustainable city. "I remember on my first day, I landed in Shanghai, China, walked around unable to read a single street sign, and wondered what I was even doing there. From that moment, the whole year was packed with navigating new cultures and languages while learning to network and find connections that enabled my personal investigation."
He decided to focus on cities that had evolved organically to incorporate sustainable practices, buildings and policies. "Getting to know Shanghai, London, Dubai, Delhi and Freiburg intimately became the best part of my experience," he says.
"I spent a lot of time interacting with locals, learning about the history of each place, and talking with practitioners, drawing direct lines between the culture and history and how the city was evolving."
Best was fascinated with Huangbaiyu, China, a model eco-village designed by an American architect in a rural area north of Beijing and abandoned after the first 40 houses and a school were built. He learned that despite the ecological credentials of the project, it didn't match at all the residents' desires or needs. "Yards left no room for chickens and livestock, and the houses didn't match the cultural principles with which traditional Chinese homes are designed," he says. "Today, all but one house stands empty, and the village looks apocalyptic. Rusting grain silos, a school with broken windows, and eerily still, yet intact, houses give the impression of a town abandoned after a disease or famine. It is a haunting reminder of the need to create in each place a definition of sustainable that encompasses the social and cultural as well as the ecological."
This lesson and others from Best's Watson year shaped the way he views cities and sustainable development. It solidified his interest in solving the technological and cultural challenges of sustainable urban development and drove his graduate research: using computational tools to model environmental and social outcomes of urban planning and energy policy. Today, he works at Arup, a global engineering consulting firm, where he advises cities, universities and private sector clients about reducing energy and water use and lowering their carbon footprint.
Watson project proposals need only reflect a student's passion for, or commitment to, a specific concern, either academic or personal. Though they do often direct a Fellow's career path.
Natasha Allen '16 (physics) lives in Myanmar and is starting a social enterprise that provides training and access to finance for electricians to improve their businesses and provide better quality electricity to their communities. She says her Watson experience profoundly impacted her life and career.
"My Watson project focused on grassroots approaches to rural electrification and took me to Cambodia, Myanmar, Tanzania and Uganda," says Allen, who set out to discover how communities can have greater ownership and control over their energy use. Meeting with rural electricians in the southeast of Myanmar, Allen found that many households had solar systems in their homes that weren't working. "The electricians and I spent some time together troubleshooting to find that there was an issue with the charge controller system, she says." Together we were able to fix the systems in the village using just a piece of old wire. Moments characterized by co-learning, problem-solving and hunching over solar electric systems were the highlights of my year."
Allen adds, "My experiences, good and bad, showed me how resilient I truly am and helped me to build a lot of trust in myself to take risks and try new things—like starting a business!"
Harvey Mudd Watson winners described harrowing, humorous and heartwarming moments, including meeting future partners (both Rob Best '13 and Priya Donti '15), creating a muiltilingual, multicultural blues band (Doug Dunston '90), being picked up by a car full of Kuwaiti girls (Khaldoun Shobaki '96), becoming an expert haggler (Brooke Basinger '01) and almost being knocked into " I went to Japan and totally fell in love with trains. I mean, how can you not nerd-out over trains when riding" the Shinkansen!? Hannah Groshong '13 a river by Nepalese goods-transporting yaks (Alan Baron '89). Overall, however, it was the relationships they formed that many Fellows say were most memorable and meaningful.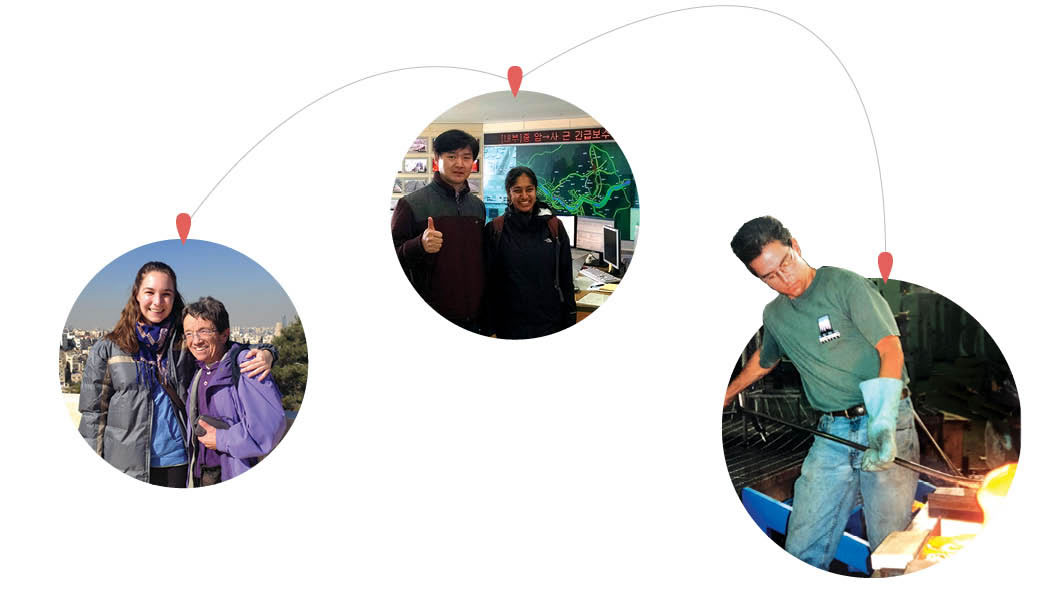 The nation of Jordan holds fond memories for Hannah Groshong '13 (engineering), who looked at how countries provide for people with special needs, particularly in the transition into adulthood. It's where she met Veronika, who had spent more than 20 years in Jordan caring for people with special needs. Every week, the two friends drove to a small village outside Amman and engaged with a group of moms and their daughters with special needs as well as with friends of Veronika's who were blind.
"Veronika's loyal friendship and practical care for people was hugely inspiring to me," says Groshong, whose younger sister, Bailey, has Down Syndrome. The year provided her the opportunity to delve into her sister's world and think about her needs and her future. "I came back with a better understanding of my role in her future and the ways I can support her in all that she does."
It also led to her career in transportation, Groshong says. "I went to Japan and totally fell in love with trains. I mean, how can you not nerd-out over trains when riding the Shinkansen!? This new interest led me to do research in freight rail automation systems in grad school, which then led me to Spy Pond Partners doing management consulting for transportation agencies."
Priya Donti '15 (computer science and mathematics) encountered kindness and generosity from those who spent multiple days with her as she traveled to remote locations for her exploration of the people and policies behind next-generation electric power systems. She recalls how a visit to Kumamoto, Japan, shortly after the large earthquake in April 2016, allowed her to observe how a strong community reacts to a disaster.
"I had been thinking a lot about resilient electricity infrastructure in the context of all the natural disasters that Japan faces, but what really struck me in Kumamoto was the resilience of the people," says Donti, now a PhD student in computer science and public policy at Carnegie Mellon University. "When I was walking around, I saw community. I saw volunteers in the city center serving food. I saw trash trucks sent from other cities to help clean up. I saw temporary vendors in a main market [where] lots of people [were]shopping, smiling, socializing and coming together as a community. It was a city moving on and moving forward."
While traveling in Mexico and Central America during the mid-1990s, Matthew Summers '94 (engineering) looked at how squatter communities develop into formalized neighborhoods in major urban centers. "It was super interesting and totally different than my experience with civil engineering in the U.S.," says Summers, a manager for a renewable energy company. "But most important, the experience allowed me to immerse myself in another culture and language. I learned a lot about myself and changed my world view by challenging my cultural biases and how I approach problems. It also gave me an interest in developing technology that benefits communities."
The realization that "one size does not fit all" was an important lesson for James Widergren '80/81 (engineering). He visited the Philippines, China, Indonesia and Nepal to learn about the introduction of new technologies into developing nations. Initially he focused on the effects of electrification on rural communities, but his interests grew to encompass appropriate and sustainable technologies in rural Asia.
"Most memorable were the efforts individuals and groups were making in Nepal to introduce micro-hydroelectric plants and solar cookers to slow the spread of deforestation," says Widegren, whose Watson led to his career in international health care. "Most surprising was how much foreign aid money is wasted on inappropriate technologies: inappropriate due to lack of cultural or economic conditions. Infrastructure and equipment do no good if there is no money to train people in its use, operation or maintenance. The Watson instilled in me a sensitivity towards the differing needs and availability of health care resources around the world."
Now CEO and president of the Orgentec Group, which develops tests for infectious and auto-immune diseases, Widegren is also chair of the board of trustees at Keck Graduate Institute for Applied Life Sciences. He's continued to travel extensively and has been to nearly 100 countries and all continents.
The unique experiences and new friendships gained from their year abroad, have inspired many Watson fellows to continue traveling.
Ryan Arndt '97 (physics) is taking a sabbatical in 2019 to travel with his wife and daughters (ages 11 and 8) in South America, Africa and Nepal. "The independence and exposure to different cultures had a profound impact," says Arndt, a part-time, middle school teacher who spent his Watson year in Italy, Ireland and the Czech Republic exploring the art of glassblowing among European cultures.
Irish musicians warmly welcomed David Abe '81 (engineering) during his time in the Republic of Ireland and Northern Ireland to investigate Irish traditional music. At the Conradh na Gaeilge, a pub in Dublin where Abe took informal Irish music sessions, he met and became close friends with Frankie Kennedy (flute) and Mairead Ni Mhaonaigh (fiddle), primary school teachers who would go on to found Altan, one of the most popular bands in Irish traditional music. "Through them and others, I developed a lasting passion for the northern style of fiddle music."
Since 1982, Abe and his wife have visited Ireland regularly. "A big highlight is reconnecting with old friends," Abe says. "We've grown up together, seen each other get married, have kids and now grandkids—all while playing our share of tunes along the way."
Now branch head at the Naval Research Laboratory in Washington D.C., Abe says, "My Watson year really impressed upon me the power of music to transcend borders and cultures."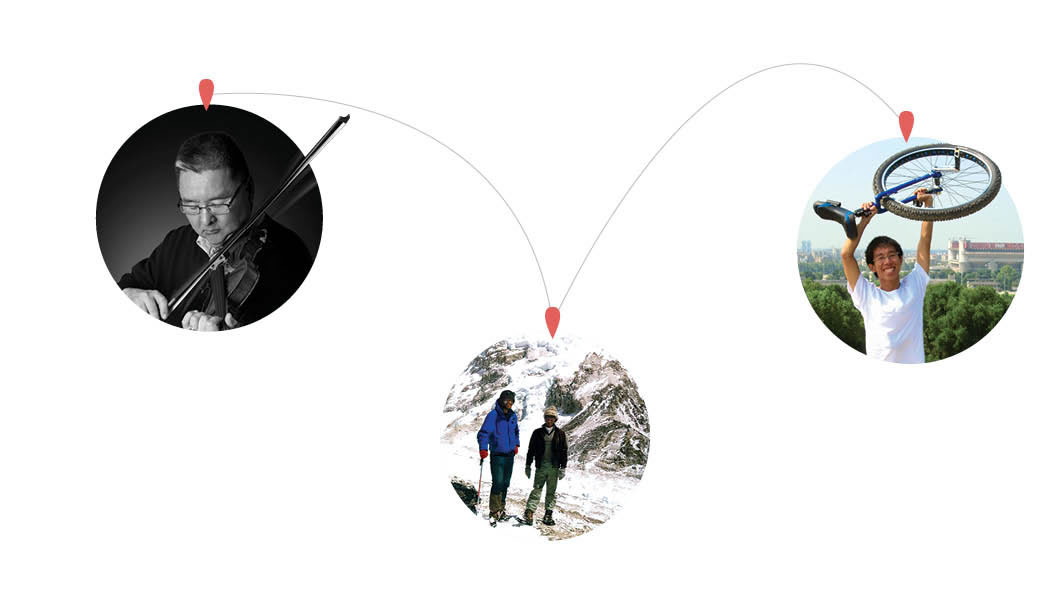 Music—a popular interest among Watson winners—is certainly universal. It turns out, so are unicycles. Veerasak Srisuknimit '12 (chemistry) took the Harvey Mudd tradition to a new level after being awarded a Watson Fellowship to explore the connections among unicycling, cultures and science.
"I spent a year traveling with my unicycle and experiencing unicycling cultures around the world," says Srisuknimit. "I went to what is basically a unicycling olympics in Italy and took part in a 100-km relay race. With five unicycles, I started a unicycling club at a school in Ghana. I tried to learn skateboard tricks for unicycling in Brazil but failed miserably. I trained with a team of children in Japan, where we performed figure skating on unicycles."
Srisuknimit says the Watson has inspired him to enjoy teaching something fun and exciting even if it's a difficult subject. He is finishing a PhD in chemistry at Harvard University, where he's studying the enzyme that allows MRSA to become an antibiotic- resistant superbug. "I find that teaching someone to ride a unicycle is often a lot more challenging than teaching organic chemistry. Both are equally fun and exciting, of course."
After half a century, the Watson Fellowship continues to shape and reward its recipients both during and long after their adventurous year.
---
More Watson Stories
For more images and stories from the Harvey Mudd Watson fellows, including how the fellowship impacted their lives and what many of them are doing now, visit HMC Watson Fellows.