Collaboration
Saturday STEM
A weekend volunteer program seeks to change the future.
Time was running out for fourth-graders Dorlhe Dabila and Abigail Silva as they scrambled to assemble their robot-powered watercraft.
Their challenge was to design a floating apparatus out of Styrofoam egg cartons, masking tape and string that could transport a cargo of pennies across a plastic swimming pool propelled by a Sphero, a spherical robot controlled by an iPad.
The girls were among a dozen or so Vista del Valle Elementary School students participating in the Saturday STEM Academy. Every Saturday for three to six weeks a semester, Academy participants meet in the school cafeteria with coaches from Harvey Mudd College, read science and technology- related stories, discuss their readings and then do a hands-on activity.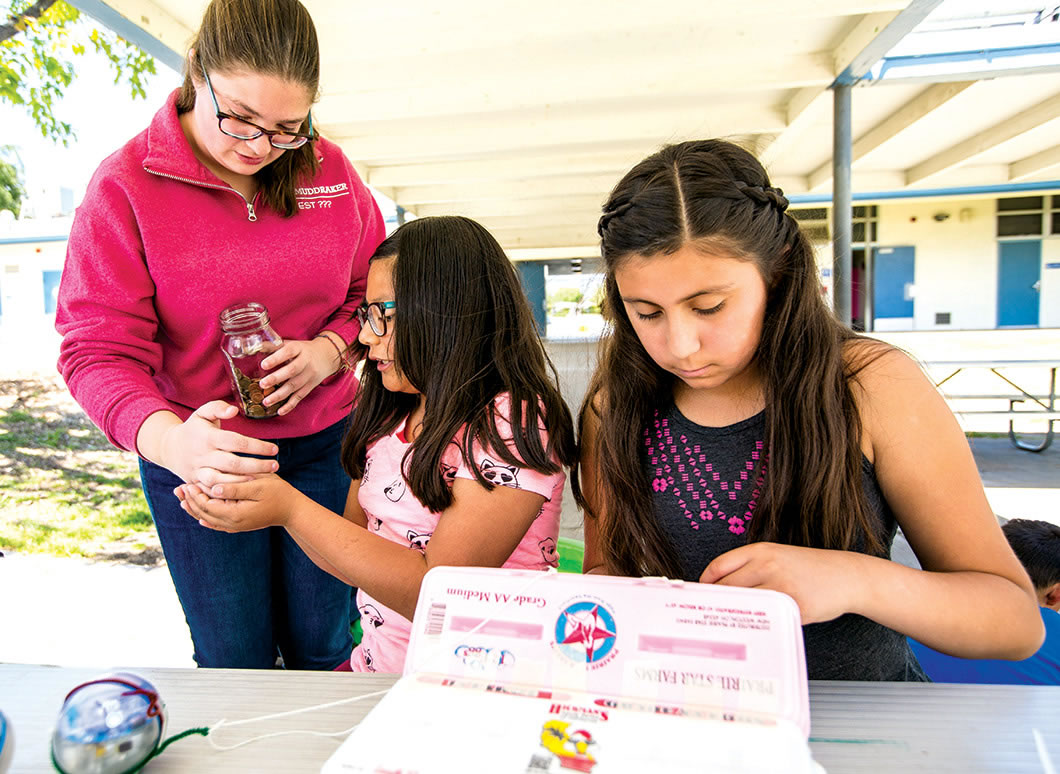 The Academy started two years ago as a partnership to provide enrichment for Vista del Valle upper-grade students and work-study options for HMC students.
"We have a student population here that doesn't always get these opportunities," says Vista del Valle Principal Brad Cuff. "We wanted to do something special for them, especially for the kids who are interested in math and science."
Years ago, when Cuff began his teaching career at Vista del Valle, Hal Van Ryswyk, HMC's John Stauffer Professor of Chemistry, had a child at the school and used to do science projects with the students. So, when Cuff returned as principal three years ago, he contacted Gabriela Gamiz, the College's director of community engagement, to reignite the partnership.
"The Harvey Mudd students have been great role models for our students by helping them and supporting them and, of course, their science knowledge, experience and background have been really beneficial and add tremendous value to the lessons," Cuff says.
During a recent session, the young students took turns reading an article about Domino's Pizza teaming up with Ford to deliver pizzas in self- driving cars. HMC coaches led a group discussion about the possible impacts of self-driving cars on a range of professions from truck drivers to UPS delivery workers.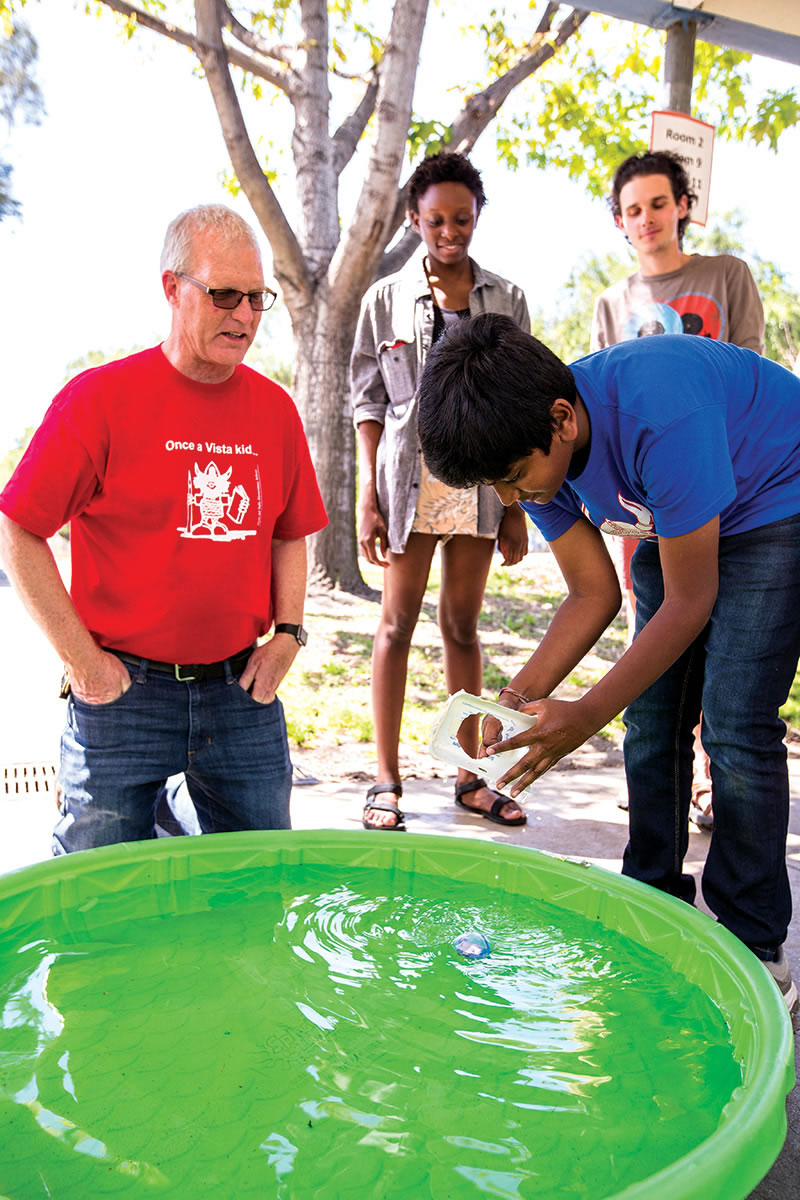 "Our goal is to help them think about what this means for their job market in the future," Cuff says.
Following the discussion, the students had a few minutes to complete their watercraft before heading out to the pool for a test run. Dabila and Silva had taped two egg cartons together, so it could carry more pennies. They predicted that when the Sphero got tangled up in the string it would spiral back underneath the vessel and push it across the water.
"If it doesn't work, we can take the big one off," Dabila says. "Then, we can see what we did wrong and what we can do better."
Not to worry. After removing a few pennies from the second carton, the Sphero responded as anticipated and the voyage was successful.
Tiffany Madruga, an HMC junior in computer science, has been with the Academy since the beginning and has encouraged several of her friends to get involved.
"The students are all really smart and come to conclusions in different ways, and it's amazing to see how they can work together to apply what they've just learned in school to some of the experiments we do in class," Madruga says.
Sitoe Thiam, a senior engineering major, also has been with the program since the start. She expects the Academy will spark the students' interest in STEM much like her elementary school teacher did by introducing her to robotics.
"I hope the Academy gets the students interested in not only STEM fields but interested in learning in general and interested in questioning how things work, how to build things themselves and how to figure things out," Thiam says.
Rachel Schibler, a junior mathematical and computational biology major, was looking for a community outreach opportunity when she started helping with the Saturday STEM Academy last fall.
"I have been impressed with how much coding the students are able to pick up on and how technologically advanced they are," Schibler says.
Cuff says feedback from his students has been positive and a lot of them have signed up for more than one session.
"Kids typically vote with their feet," Cuff says. "If they don't like it, they won't show up."
Parents are pleased as well.
"They like the fact that their children have the opportunity to expand their science understanding and they like that we're the only school in the district that offers it," Cuff says.
Kathy Banuelos says her 10-year-old son, Alejandro Salcido, looks forward to coming to the Saturday STEM Academy, choosing it over soccer and Boy Scouts. After a year in the program, Banuelos said her son's interests have switched from reading and writing to math and science.
"Now, he's interested in the way things work," Banuelos says.
She appreciates Cuff's passion for science and willingness to volunteer his time as well as the HMC students for talking to the younger ones about studying science in college and opening their eyes to possible careers and how science can be useful in their later lives.
Cuff says he can't stress enough the influence that the HMC students can have on the youngsters. "Some of them will be first-generation college students, so the ability to see and be exposed to college students that are involved in helping them is really important."
Fifth grader Jessica Lopez, who wants to be a professional basketball player when she grows up, says she never really thought about college before participating in the Academy. "Now, one of my goals is to get a good scholarship and major in science," she says.
Danny Ledezma, associate director of community engagement, says that STEM-related activities help bridge the gap between the College, the community and the education field.
The partnership is expected to continue and maybe even expand to another elementary school.
"The key is getting someone like Brad who is willing to volunteer their time, has the materials available and is enthusiastic and interested in the program," Ledezma says.