Student News
My Mudd Life Daphne Guo '19
Daphne Guo's first music-related memory is DAPHNE GUO'S FIRST MUSIC-RELATED MEMORY IS of her sister's violin lessons. Guo recalls playing in her coloring book, watching her sister and trying to steal the plastic Easter egg filled with dry beans that the music teacher used for vibrato practice. Guo eventually began her own music lessons in piano and violin. Since then, she's dabbled in flute, oboe and viola, but has concentrated on violin performance. Fall semester marked the 16th year since Guo started playing the violin and the first time performing solo with The Claremont Concert Orchestra. With her family in attendance, Guo performed the Brahms Violin Concerto in D Major Oct. 27 and 28. Becky Ackley, Joint Music Program coordinator, said, "It's really a big deal and a great testament to Daphne's skill."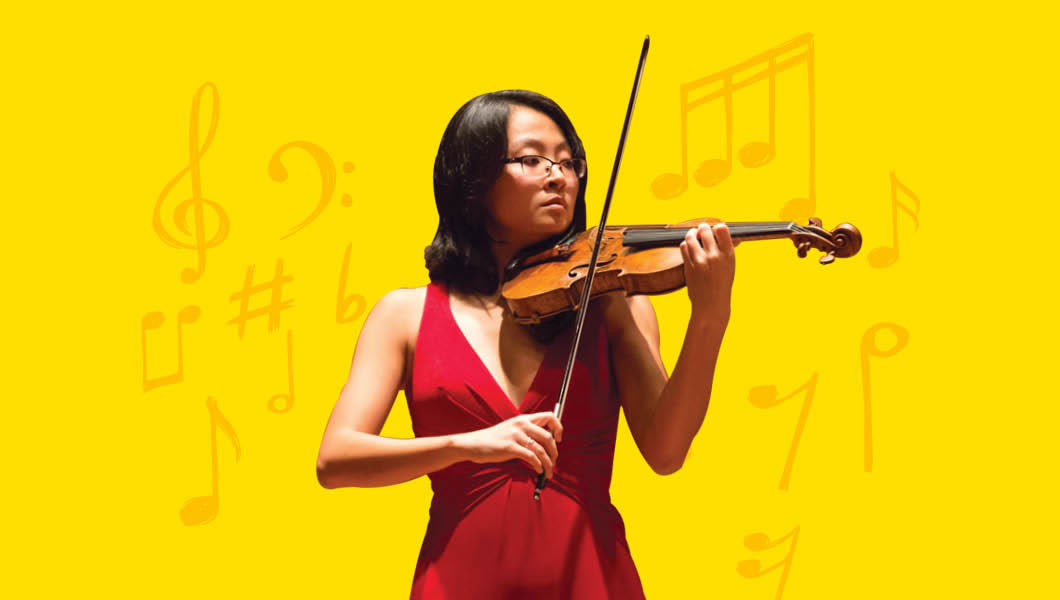 What is your musical specialty?
I'm definitely just a violinist now, someone who can only read treble clef and has the lung capacity of an asthmatic kitten. As a violinist, I do generally prefer to play orchestral/symphonic music over solo pieces (ironically enough).
During your years with the Claremont Concert Orchestra, what have you learned/gotten better at?
I'm honored to have been concertmaster for the CCO since my sophomore year, and I've definitely improved as a leader. In my experiences with school, community and honor orchestras before college, chair seating or placement was based entirely on technical skill—an audition with the repertoire. With the CCO, I've felt that Prof. David Cubek, the CCO director and conductor, places more emphasis on personal qualities that he feels will benefit the orchestra, which has, in turn, driven me to improve myself as both a musician (better preparing my own part, listening to recordings of the pieces) and a section leader (anticipating and clarifying confusion about bowings or rhythms, giving cues, coordinating with other principal players). I've also learned how to be a better orchestral player, especially when the CCO accompanies soloists each year!
What is your major?
I'm a chemistry major on the general (or legacy) track. I did a semester of research sophomore year with Prof. Lelia Hawkins as a Luke Research Fellow, but have done most of my research with Prof. Jerry Van Hecke '61 as both a Kubota Research Fellow (two consecutive summers plus junior year in between) and as his current thesis student. My project has been on thermal energy storage in organic acids, and focuses on making binary phase diagrams of combinations of nine different organic acids, documenting their melting temperatures, melting energies and general solid-to-liquid phase behavior.
Other activities?
Last semester I joined Music Mentors of Pomona Valley, a 5C club that offers free music lessons to lower-income students in the region.
My main activity at the colleges, other than the CCO, is the women's Ultimate Frisbee team, the Claremont Greenshirts. I joined the team my freshman year and am now one of the captains. The Greenshirts has been where I've made some of my best friends and has always been a safe, supportive community both on and off the field. This summer I actually joined a women's club (community) frisbee team in L.A., so that I would improve technically and get better ideas for how to help lead my college team.
What mentors have helped you along your journey academically and/or musically?
My sister, who is eight years older and finishing her PhD in ecology this year, has always been my mentor and steadfast supporter academically. She has always pushed me to excel and keeps me honest and on time about applying to college and now graduate school. Musically, I owe a lot to my high school violin teacher, Lan Qiu, who invested so much time in my learning and who continued to show interest in my musical activities in college.
My college professors have also been supportive. Part of the reason I felt so at home at Mudd was being in the small, dedicated chemistry department; I've had a chance to take classes or otherwise interact meaningfully with almost every faculty member. Most influential have been Prof. Van Hecke, who has put up with a lot of my dashing around for frisbee-related activities, and Prof. Hawkins, who is the ultimate role model for passionate, driven, professional women in chemistry. Prof. Rachel Huang, my violin professor at Scripps and Prof. Cubek have made my musical experience at the 5Cs exceptional by encouraging me to try new things (compete in the concerto competition and play modern music with a chamber group) and trusting in me to help lead the CCO.
What are your goals after HMC?
I'm currently applying to grad school in chemistry. I'm hoping to either continue doing research after school or go into teaching (high school level or below).
How will you continue your musical interests?
I plan to audition for one of the institutions' orchestras and make rehearsals fit into my schedule! If that isn't possible, I'll look into community orchestras in whatever city I end up in or try to find a smaller chamber group to practice with.