Student News
My Mudd Life Garrett Cheadle '19
This season with CMC football, junior running  back Garrett Cheadle (computer science and mathematics) rushed for 1,305 yards—a feat that earned him the SCIAC Football Offensive Player of the Year Award as well as All-SCIAC First Team and D3football.com All-West Region Second Team honors. His strong season placed him second in program history, behind only the 1,486 yards that Chris Dabrow '88 (CMC) rushed for in 1987. Cheadle was the first Stag to cross the 1,000-yard barrier since Ryan Gocong in 2002 and broke the single-game rushing record for the program with 274 yards in the 34-21 win over Whittier.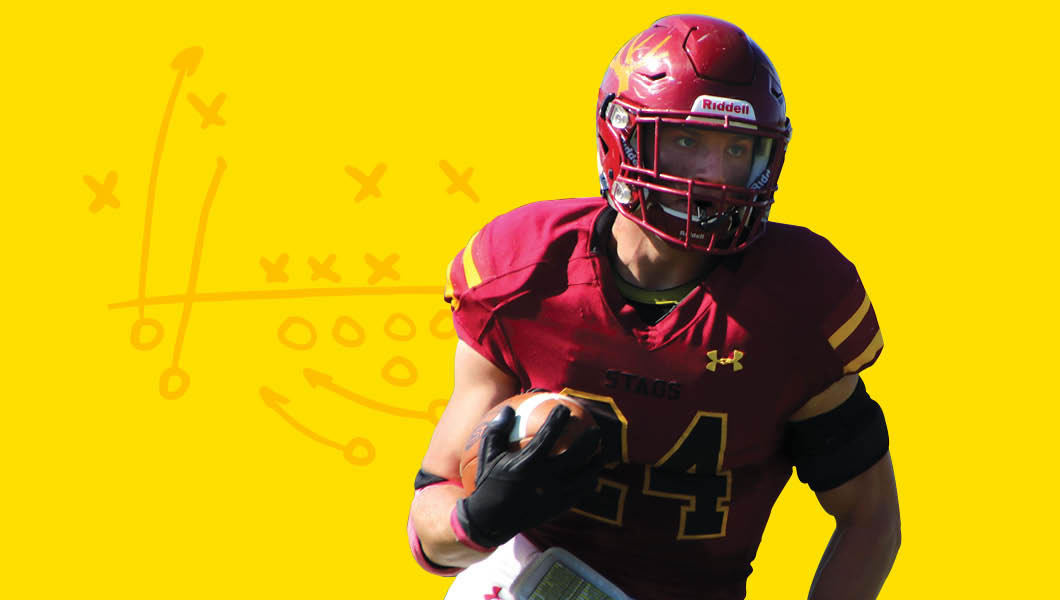 Due to an experienced offensive line and a ball- control offense that ranks in the top 10 nationally in time of possession, there were a lot of running plays this year. Cheadle carried it 238 times himself (out of the team's total of 443) to triple his 95 carries from a year ago. He ran the ball 41 times alone in the win over Chapman (for 173 yards) which clinched the NCAA bid for the Stags.
Head Coach Kyle Sweeney says Cheadle's contributions extend way beyond his stat line. "What really jumps off the film at me is how he's blocked," says Sweeney. "The number of cut blocks he's had and big blocks he's had for other people has been incredibly impressive. But more than anything, what's made him successful is his heart and desire and the way he goes after it; the way he practices hard and takes scout team reps. It's exactly what you want out of the guy who right now is your star player."
Like Daphne Guo (facing page), Cheadle has a supportive sibling who inspired him.
Your CMS bio says beating your rival in 10th grade was a big sports moment. Describe that.
In 10th grade I played on the varsity team with my older brother, Austin, who was a senior. We both played cornerback, and we were often on the field at the same time. We played against our rivals in the final game of the season and we won. Winning the last game that I ever played with my brother felt amazing, and I will never forget it.
To whom or what do you attribute your speed and agility?
I wouldn't consider myself particularly fast or quick, but I have been told that I have good vision and balance. I participate in the football team's strength program written by our offensive line and strength coach Chris Vicory. This helps me build my strength to become more powerful and explosive while on the field.
What appealed to you about playing for CMS?
I always wanted to continue playing football, so during my college search, I limited myself to places that had Division 2 or 3 football and reputable STEM programs. Mudd was one of my top choices because of its rigor and how it allowed me to be flexible with my major. Also, CMS had shown continuous improvement in the previous years and, based on the coaching staff, I thought the trend would likely continue.
Regarding academics, describe any research you have done and with whom.
This last summer, I was a member of Prof. Geoff Kuenning's research team for SINA IOTTA Trace Repository, a compendium of trace data used by file systems researchers worldwide. My partner and I managed the SNIA IOTTA Trace Repository website as well as over 10 terabytes of file system traces. Researchers use the repository of scientific data to study how to store computer files efficiently, inexpensively and reliably.
Other activities?
During the spring semester, I volunteer for the prisoner education project, PEP. We travel to local prisons to teach classes in STEM.
What mentors have helped you along your journey academically and/or athletically?
My running backs coach Wayne Moses has been mentoring the running backs since his arrival in 2017. Coach Moses is extremely knowledgeable about the game of football and is constantly providing us with ways to improve and pushing us to be our best. He is one of the reasons why I look forward to going to practice and meetings every day. My oldest brother, Austin, has always believed in my abilities and supported me by being my workout partner every summer and pushing me to my physical limits.
What are your goals after HMC?
I don't have any formal short-term goals for after HMC. But in the long term, I have always wanted to teach math. I am going on my seventh year of formal math tutoring, and math has always excited me in a way that no other subject can.
Will football continue to be part of your life?
One day I hope to coach football for a high school team, so I can influence players in similar ways that my coaches influenced me.