My Mudd Life
A Bumpy Road Paves the Way
After struggling in high school, Roger Hooper '19 didn't apply to any colleges. Hardships followed, but with support from his wife and mentors plus his own tenacity, Hooper launched a new student club and his own career.
As Roger Hooper '19 stepped on stage to receive his diploma, he scanned the sea of faces looking up at him: fellow graduates and their happy families and friends. Then he saw what he was looking for: His daughter Paige (9) and son RJ (6) jumped and cheered. His wife, Billie, smiled and turned so that 2-year-old Connor, who was resting in her arms and overdue for a nap, could see his dad without lifting his head from her shoulder.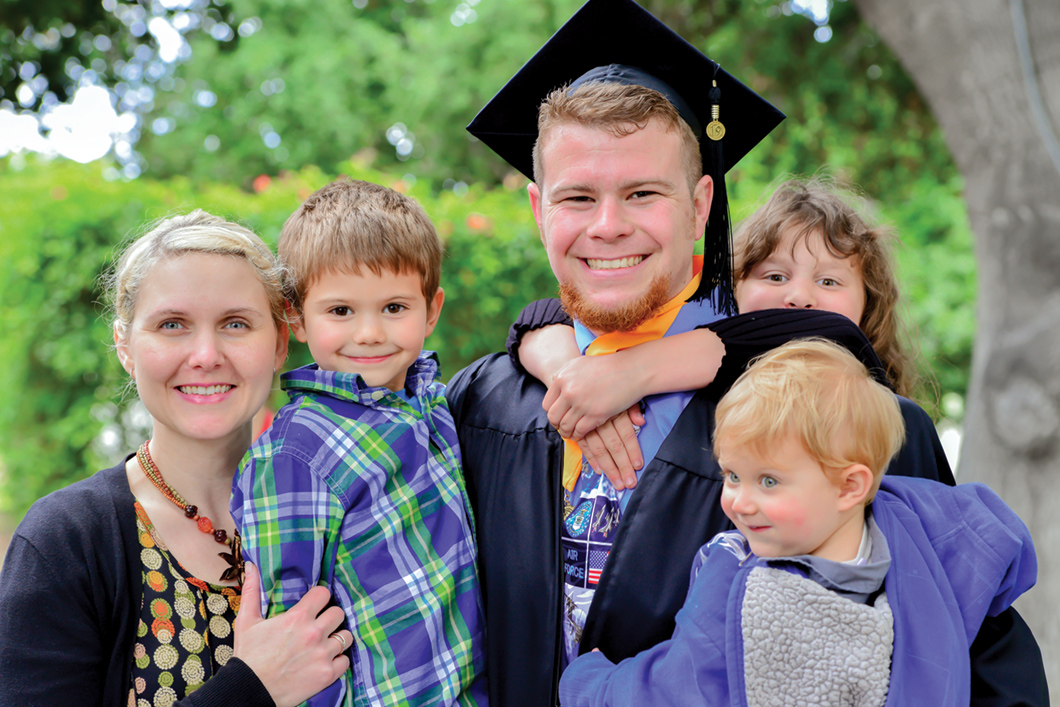 For graduates receiving a Harvey Mudd degree this May, the ceremony marked the end of an intense life chapter, the culmination of hundreds of hours of hard work, a mind-broadening education, difficult sacrifice and transformative relationships. However, unlike most of his peers, for whom the Harvey Mudd experience had served as a kind of preparation for "real life" after graduation, it was Hooper's real life to that point that had prepared him for Harvey Mudd.
My dream was to become a fighter pilot, which requires a bachelor's degree, but I did not do well in high school and didn't even bother applying to colleges. So I went straight from high school to the Air Force, hoping that I could pay for and get through college while in the military. Unfortunately, or fortunately, depending on how you look at it, I did not do well in the military. I was immature and made a lot of mistakes and bad decisions, so I was discharged early from my career.
After I left the military, I struggled to hold a job, which led to homelessness. I was either living on a couch or out of my Toyota Tacoma. I tried to take classes at Victor Valley College in Victorville, California, but I couldn't afford it, so I dropped out after my first semester. After a few months of homelessness, I reconnected with Billie, an acquaintance from high school, who would later be my wife. She helped me find a job delivering auto parts in Fontana. But, eventually, I wasn't content to deliver auto parts for the rest of my life. So I enrolled at Chaffey College in Rancho Cucamonga for the spring semester of 2013.
I was determined to be the best student in every class. I joined the honors program and became a math and physics tutor at the college. I was able to convert my classes into honors credit by completing a contract with my professors which required me to do a research paper and presentation at the end of the semester.
I didn't know Harvey Mudd existed until a favorite mathematics, engineering and physics professor, Mohammad Tavakoli, told me about it. He said he thought my life experience made me a good fit for HMC. When I looked into it and found that Mudd had a humanities concentration requirement and wasn't all about STEM, I was really excited. I was able to complete my concentration in political science, which I thoroughly enjoyed.
I am married with three kids and one more on the way! Harvey Mudd does not offer family housing, so I would commute from our home in Lytle Creek to class every day on my motorcycle. Balancing family life and HMC was very difficult, especially in my senior year. I had been taking college classes full time since spring of 2013 and had become mentally and emotionally fatigued by the curriculum and the schedule. Most days, I would say goodbye to my children in the morning and wouldn't get home until very late at night.
By senior year, I decided go home at a set time every day so that I could at least have dinner with my family. Like every other Clinic team, mine (GKN Aerospace) met late in the evenings, on Sundays and even on holidays. I just couldn't do that anymore, I needed to spend time with my wife and kids, and Sundays and holidays were the only days I got with them. I had to sacrifice something, and it made sense to me to sacrifice my Clinic grade for family time. My wife (who works from home and home schools) has done so much to support me and the kids through my time in college and hasn't once expected anything from me in return.
MARS-I is the first iteration of the Mudders Aspiring to Reach Space project. It started with a high-power rocketry course I took with Erik Spjut, professor of engineering and Union Oil Company Engineering Design Fellow. Through the course, I earned my level I and II high-power rocketry certifications through Tripoli Rocketry Association, which certifies me to launch rockets with up to L-impulse (up to 5,120 N-s) motors. The class took a trip to the Friends of Amateur Rocketry (FAR) facility, near Ridgecrest, California, where we saw college teams launch some very powerful rockets and found out that some teams actually make their own fuel. This was very exciting. There was so much potential. Designing our own fuel and motor would not only be a huge learning experience, but also we could basically make the rocket do whatever we wanted it to do, and what I wanted it to do was reach the Karman line, which is at an altitude of 100 km and considered the edge of space.
I knew Mudders had the talent to do this, so I set out to find a team of five or six people to build a rocket that would reach the Karman line. Instead of five to six Mudders, I got more than 20 who were very excited about the project! I realized a project of this scale was too much for five or six people trying to balance it with the Mudd curriculum. I created five sub teams: Structural & Aerodynamics led by Charles Dawson '19, Fuel System led by Harry Fetsch '20, Electronics & Telemetry led by Erik Meike '21, Combustion Chamber led by me, and Launch Tower (added in spring 2019) led by Mariah Ewing '20. Greg Lyzenga (Burton Bettingen Professor of Physics) gladly, but cautiously, accepted the request to be our faculty advisor. Our group of 25 students had representation from every major at Mudd.
The combustion chamber team was the best fit for me because I was one of two students who had taken the Compressible Flow course with Mary Cardenas, Anthony W. LaFetra Chair in Environmental Engineering, and learned the principles of supersonic flow and rocket nozzle design. My team and I designed a nozzle, chamber and ignition that we believe is viable, although we could really use some FEA testing on the nozzle design. The rest of the group made tremendous progress in designing the airframe, electronics, and the launch tower; the fuel team was even able to go out to FAR and develop some ammonium perchlorate-based test grains, a rare experience for undergrad students.
I'm heading to USC to start a master's degree in astronautical engineering. I'll be learning a ton about rockets and even how to develop space missions, but I am most excited to work in their Liquid Propulsion Lab, where I will get hands-on experience designing, building and testing liquid rocket engines.