College News
VP for Advancement: Hieu Nguyen
Following a national search, the College appointed Hieu Nguyen as vice president for advancement. Nguyen, who began work in July, comes to HMC from the University of California, Riverside where he was executive vice president of the UCR Foundation and associate vice chancellor for development.
"Hieu's expertise leading large-scale programs in public institutions, coupled with his work for small liberal arts colleges, make him an ideal candidate for this position," says President Maria Klawe. "He brings an excellent breadth of experience and fresh perspectives to the College."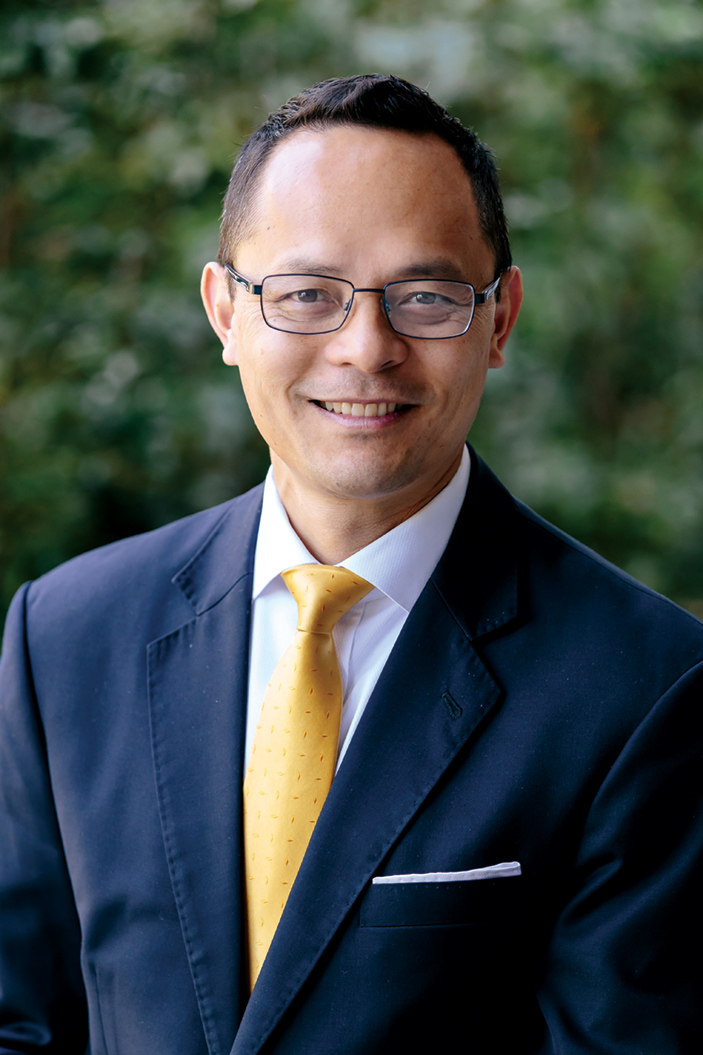 During his time at UCR, Nguyen managed advancement efforts and guided the public launch of UCR's first $300 million comprehensive campaign. Private philanthropic support more than doubled across seven school- and college-based development programs.
Prior to UCR, Nguyen served as associate VP for development at Bowdoin College, as assistant VP for college advancement at Bates College, and as the assistant director of leadership gifts/senior development officer for Middlebury College. Before joining academia, Nguyen worked in industry for Qualcomm Inc. and Burlee LLC. Nguyen attended Middlebury College, where he earned his B.A. degree in American civilization and was an All-American goalie in lacrosse. He and his wife, Shannon, are parents to teenagers, Sydney and Holden.
What was most appealing to you about this role at Harvey Mudd?
I spent most of my career in higher education fundraising and most of the last five years at a public research university, and I've learned a ton from that experience. I needed to understand both the public and private world of fundraising and to be conversant with both elite institutions and those that don't have as many resources. When the Harvey Mudd opportunity came along, it was really a point of convergence: I've learned enough to apply my experience at institutions that have both elite status and potential. It's where the future of education is going. As our society becomes more technologically reliant on math, science and engineering, Mudd has tremendous potential. Plus, the College's liberal arts education coupled with STEM—that's pretty distinctive.
How will you approach your first three months on the job?
One of my favorite sayings in Latin is "festina lente": make haste slowly. I recognize that if you've been successful somewhere else, the same formula doesn't necessarily work at a new organization. I think being at a private, elite institution like Harvey Mudd, we have the right formula and combination to see some tremendous growth. It won't happen overnight. I typically use the first 90 days to observe and gather information. The next 30 days is used to devise and develop a blueprint plan. Following that, I seek to create momentum and buy-in then execute that plan. But I've learned that if I have a plan, I have to have others come along for that journey. That's really important.
What have you found to be the most challenging aspect of fundraising?
Fundraising is a long journey. Instances where it's been challenging are when you're in a fundraising environment where it's all about getting to the most immediate need as opposed to a long-term growth strategy; what results is similar to a fire drill. I think organizations thrive better and sustain themselves more effectively and efficiently when they have benchmarks for progress. Creating a process and structure for how we tackle both the most immediate and the long-term needs is important.
You have talked about being a first-generation college graduate who immigrated to the United States with your mother and grandmother. How has this impacted you?
Having come to the U.S. at such a young age (5) but having really strong women in my life has been very important. Growing up, I didn't know my father. I think my experiences reinforced the notion of perseverance and staying positive. My mom worked as a bank clerk then as an insurance company assistant. I really didn't have the traditional experience where you wake up and mom makes you breakfast; she was usually out the door. I was much more self-sustaining. By the time I was 14, I had two paper routes in a really poor section of the town where I grew up, and I think the exercise of having to go and collect money from single moms and the elderly … I had to get myself into a more confident mode to do that. It built some life skills that are important. I was fortunate to go to a private school and to be a student with need in an environment where there were a lot of wealthy kids. It allowed me to appreciate and be proud of who I am and where I came from.
More About Hieu
Name
Hieu T. Nguyen.
Childhood ambition
To be a professional cyclist.
First job
Paper boy for the Hartford Courant, Hartford, CT
Last concert
The Little River Band (1993) Vail, Colorado
Favorite movie
Do the Right Thing
Glad I did it, but wouldn't do it again
In-line skate down switchback mountain road at 65+mph with very little protection and equipment.
Favorite family activity
Road trip in car to distant destination.
Leadership is
Listening, being self-aware and positive.