Student News
Come on Down!
The HMC student-run Committee for Activities Planning coordinates and funds many off-campus excursions. In October, a group headed to Hollywood to attend a taping of The Price Is Right. Episode 7764 features Clark Elijah Whitsett '19 (shown top left, blue shirt) being cheered on by ecstatic Mudders as he correctly prices his way onstage to play television's longest-running game show. Among his prizes: a rotisserie oven, air purifier, beard trimmer and $250.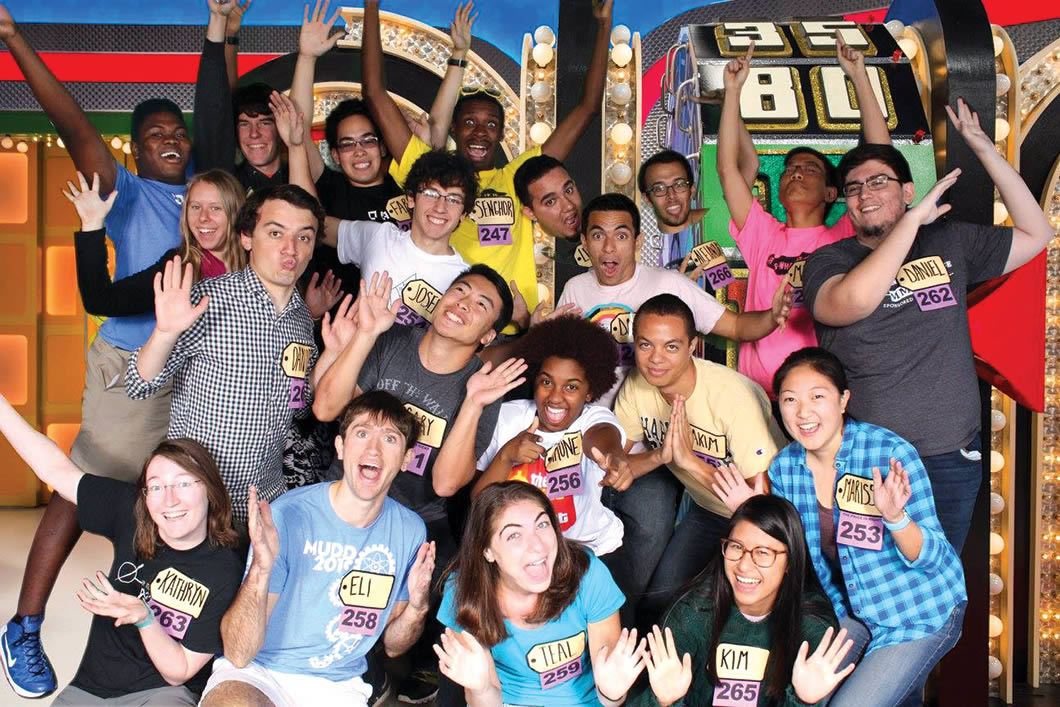 A History of Guessing Right
2011– Crystal Leonard '86 was a runner-up on Jeopardy!
2008 – Andrew Chung '10 was a finalist and $25,000 winner in the Jeopardy! 2008 College Championship
2000 – Both Sarah Daniels '02 and Ethan Bodnaruk '04 appeared on separate episodes and won big on The Price is Right
1998 – In a nationally televised tournament over two weeks in May, Andrew "Rif" Hutchings '98 won the College Jeopardy! tournament. In addition to knowing lots of random trivia, he was aided by his excellent betting strategies and a category entitled "All About Calculus," in which he swept all five questions. Hutchings' win earned him $25,000, a new Volvo and the opportunity to appear on the Jeopardy! Tournament of Champions early in 1999. Volvo also donated $25,000 to the school on his behalf, which inspired a fundraising effort to establish an endowed college scholarship to attract talented math students to HMC.