College News
Goal Surpassed
Strong vision and commitment results in record-breaking campaign
Surpassing its $150 million goal, The Campaign for Harvey Mudd College is the largest and most successful comprehensive campaign in the College's history. Generous donors have brought the total for the campaign that began in July 2011 to more than $151 million. Launched publicly in February 2014 and the College's first campaign in 20 years, The Campaign for Harvey Mudd College is scheduled to conclude in December 2018.
"We have had a strong and unified vision, a committed board of trustees and a growing engagement among our alumni and parents that gave us confidence that we could achieve our $150 million goal," says President Maria Klawe, the College's fifth president appointed in 2006. "The response from our supporters has been amazing."
"While this is a huge milestone in the campaign, our work isn't done," says Klawe. "During this final year of The Campaign for Harvey Mudd College, we will continue to focus on raising funds to support the priorities of the campaign while also looking at the opportunities created by recent gifts."
Campaign gifts from alumni, parents, friends and organizations support a range of priorities focused on continued strengthening of the academic and student support programs as well as expanding and improving academic and residential facilities at Harvey Mudd College.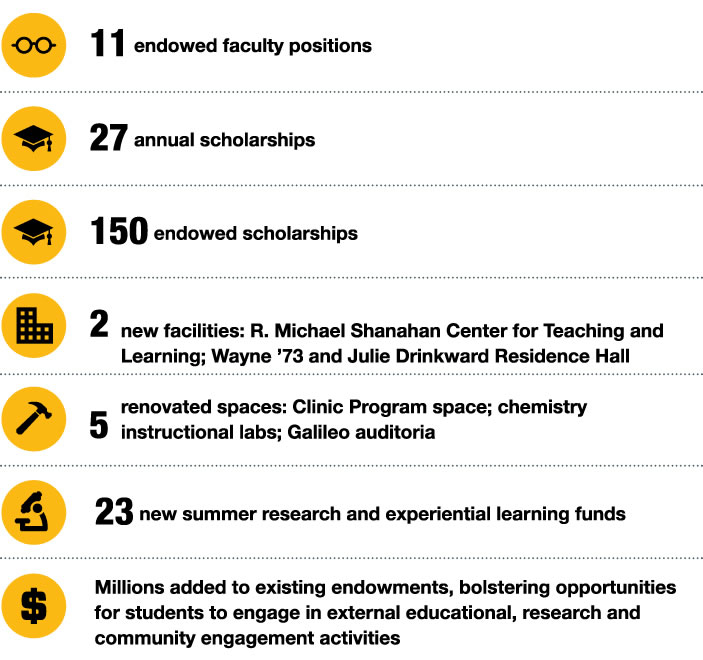 Areas where continued support is being sought
New academic building to house the Computer Science Department and a state-of-the-art, collaborative makerspace
Curricular innovation and revision of the Core Curriculum
Permanent funding for summer research
Formalization and growth of entrepreneurship efforts
Increased collaboration around data science research and education
Building a more diverse and inclusive community
Increasing innovation across academic departments
Bolstering co-curricular opportunities and student support services