Logan's Journey
Software engineer Sheldon Logan '06 considers his next career move while mentoring others.
SHELDON LOGAN '06 FOLLOWED HIS HEART TO Harvey Mudd, his head to software engineering and his gut to Google. Now, as a mentor, he's sharing his journey with a growing and appreciative following.
Originally from Jamaica, Logan was accepted to several colleges in the U.S., but the California weather won his heart. "I'm from a tropical country and can't handle those East Coast winters," he says. Besides, his sister, Renee '04, was already at Harvey Mudd, and he was really hoping she would do some of his laundry. (That didn't happen.)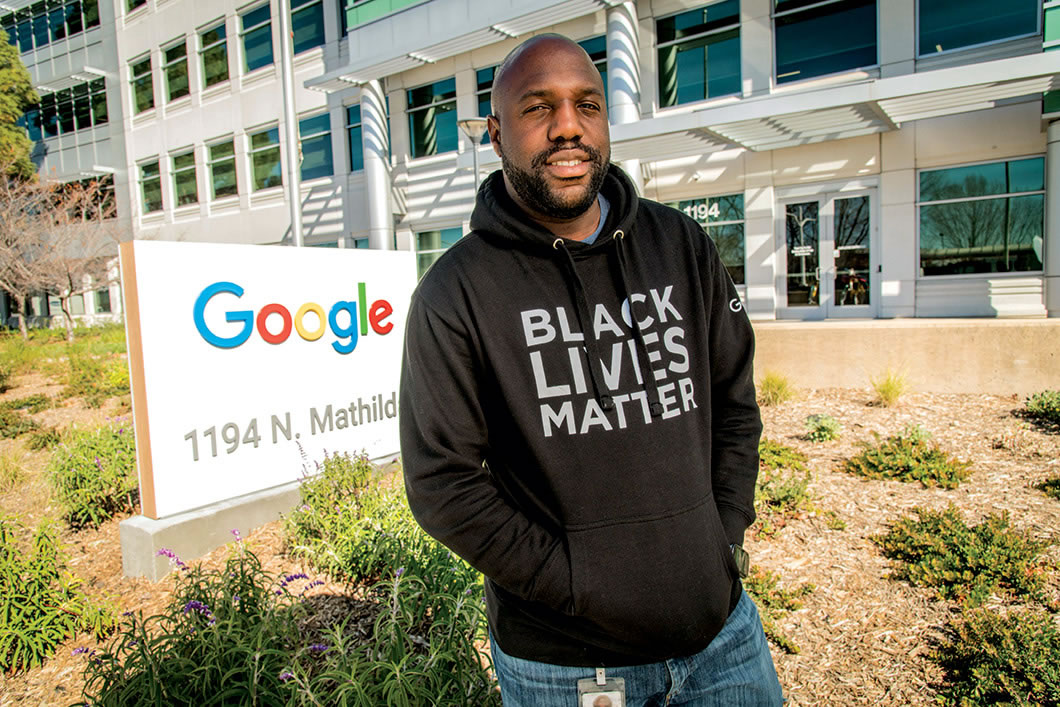 His plan was to become a chemist, but he learned in his first year of labs he didn't like chemistry. Logan eventually settled on engineering, then studied software engineering during his doctoral studies at the University of California, Santa Cruz.
Just as he was finishing his degree, Logan had two tech companies vying for his attention: Synopsys, based in Mountain View, California, and Google. Initially he accepted the Synopsys offer because the position was more aligned with his graduate research, but his gut (and his sister, now an engineer at Apple) persuaded him to go with Google. Now he works in the tech giant's infrastructure section as a senior software engineer, monitoring hard drive performance, health and security. He appreciates the work-life balance (he gets to meet celebrities from time to time, and once scrimmaged with—and scored on—basketball hall-of-famer Dikembe Mutombo) and says he enjoys being able to advance his career at his own pace.
"I'm not about the fast life," says Logan, who considers himself a go-with-the-flow-and-seewhere-it-leads kind of person. "Software engineering has a short lifespan, so I'm thinking of life beyond Google. You never know where technology is going to be in 10 years. Short-term plans can be concrete, but I've had a more long-term vision."
Logan says that vision could include teaching, and he's already getting a little taste of that potential as a mentor. Each summer, Google encourages employees to take interns under their wing. Logan has participated each of the past three summers, and in 2016, he had the pleasure of mentoring a current Harvey Mudd student, junior David Olumese.
"It's been good to see the road that Sheldon took," said Olumese, who's considering working with hardware after graduation. "I'm seeing the decisions he made to get where he is, to see what's possible and see an example of how one gets there. He's someone I can talk to if I need help making decisions."
Besides introducing Olumese to other engineers to expand his network, Logan also built a personal relationship and still keeps in touch. They share a love of basketball, good meals and good laughs, but perhaps the strongest tie for Logan was their international background. Logan had little exposure to other cultures while growing up in Jamaica. At Harvey Mudd, he got his first taste of an international environment, meeting people coming from a variety of different experiences, customs and values. Still, there were few black students at Mudd when he graduated. He says he feels a special connection with Olumese, a native of Nigeria who grew up in Switzerland, because of their shared ethnicity.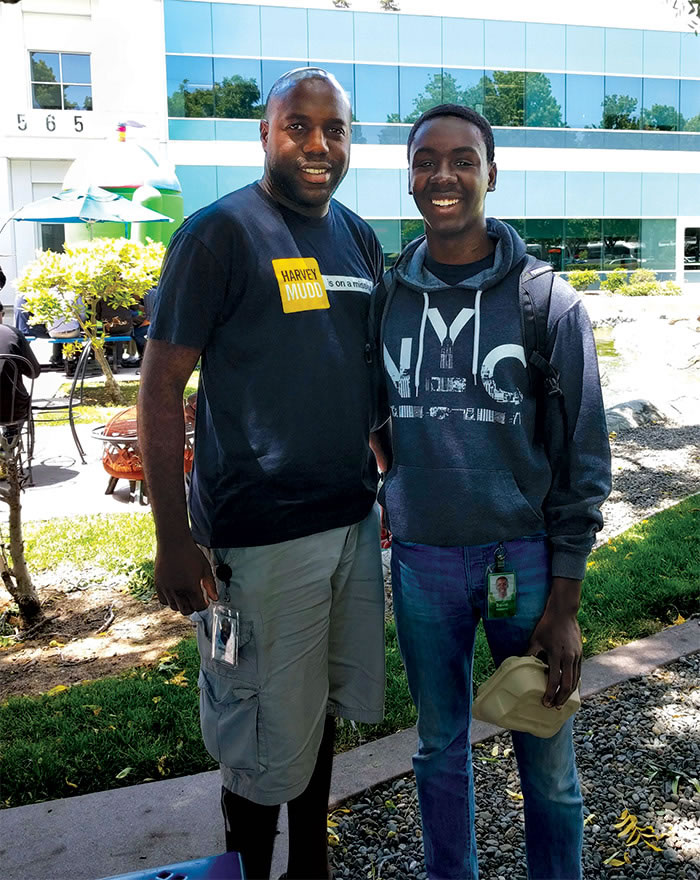 "I choose to be a mentor specifically to help those who come after me," Logan says.
"Being a black person from a different country, I didn't know what it meant to be black in the States," says Logan, who recalls that many of his international friends were also in the same position. In 2004, when students burned an art project shaped like a cross on campus, student demonstrations and community discussions ensued. This incident, in particular, raised Logan's awareness of the depth of racial tensions in the U.S. "For me, it was a learning experience."
But the event didn't taint his perspective of the U.S. and certainly not his view of Harvey Mudd. In fact, he says his four years in Claremont were probably the best of his life.
"I knew, when I got my degree, that was the finality of it," says Logan. "I actually cried at graduation, and everyone was shocked. That's how great it was."