Enduring Romances
Beverly J. Orth '74 peeks into the lives of five Mudd couples.
Romances blossom and fade on every college campus, and Harvey Mudd College is no exception. However, some endure long after graduation.
Being half of a Mudd couple myself, I asked Arran McNabb '06, assistant director of alumni and parent relations, how many alumni in each class are married to another Mudder. Not surprisingly, several classes consist of the null set. (What happened, Class of 1976?) At 19.4 percent, the Class of 1998 is likely to be the record-holder for a long time, considering that future classes will be larger as the College increases in size.
I wondered how these Mudd romances began and how being Mudders had affected these relationships. I also wondered how many couples had been Seal Ponded— dunked in the Scripps College Seal Court lily pond—after their engagement became known. I wasn't even certain whether the Seal Ponding tradition, begun in the early 1960s, remained alive! I contacted Jerry Van Hecke, Class of 1961 and Department of Chemistry faculty member, for his take on the Seal Pond tradition.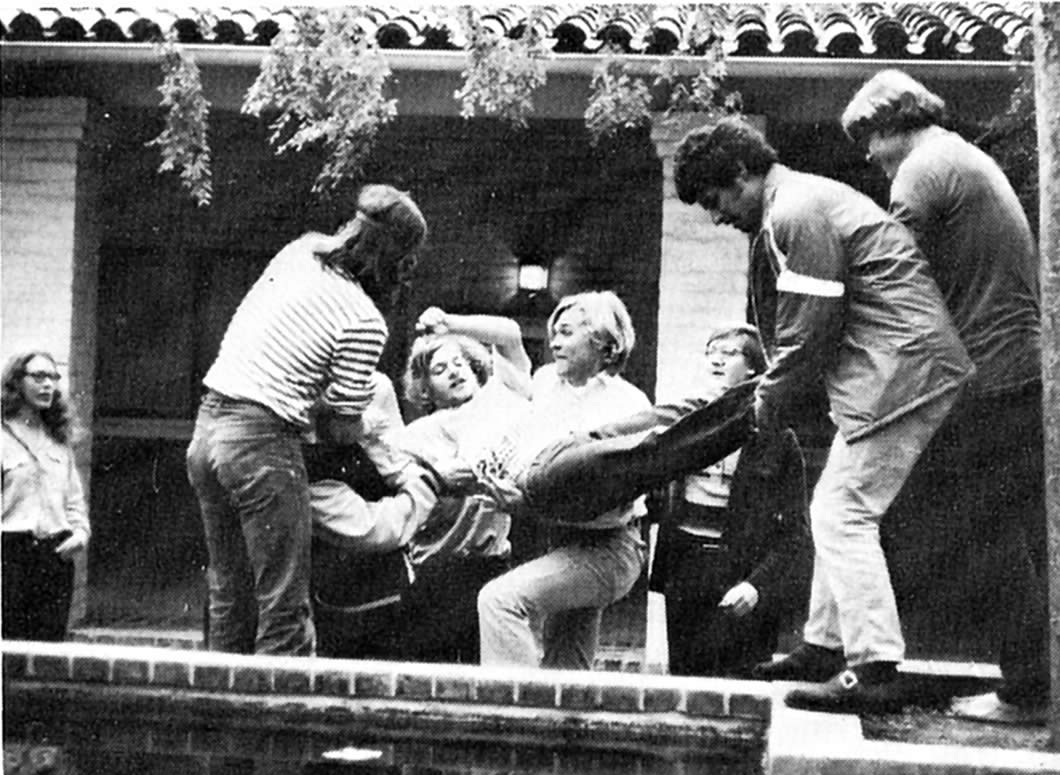 "As to the origin of the tradition, I do not know," he says. "It certainly was in force by 1960–1961 when several of my classmates were introduced to the slime of the pond. Frankly, I have not heard that ponding has died out. If it has, [it's] probably because the number of engagements during school is way down. The tradition of getting 'pinned' has all but disappeared at HMC."
Through the HMC Alumni Association group on LinkedIn, I recruited several Mudd couples to interview. Responses ranged from the Class of 1981 to the Class of 2014, but graduates from earlier classes were more elusive. I had to resort to more traditional means: I used email. Join me as I explore the history of love, Mudder style, and peek into the lives of five Mudd couples.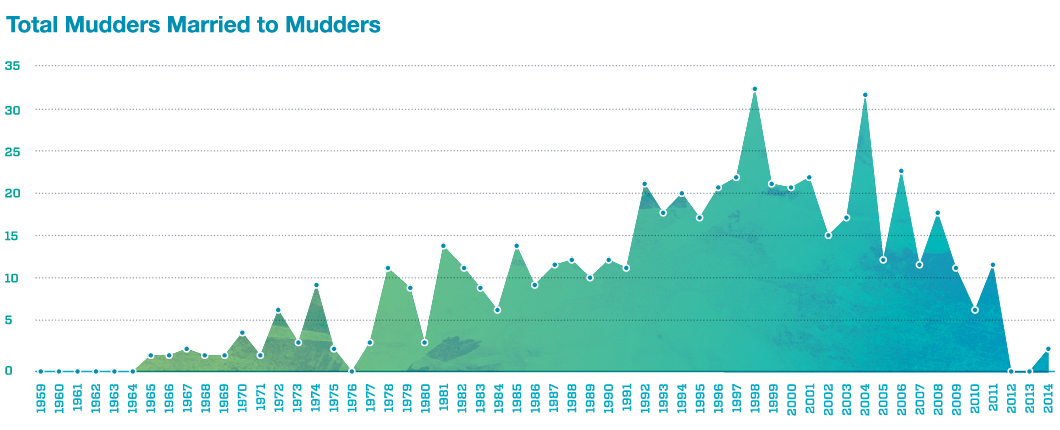 Pat Barrett, Engineering 1966 | Penny Barrett, Engineering 1967 Palo Alto, California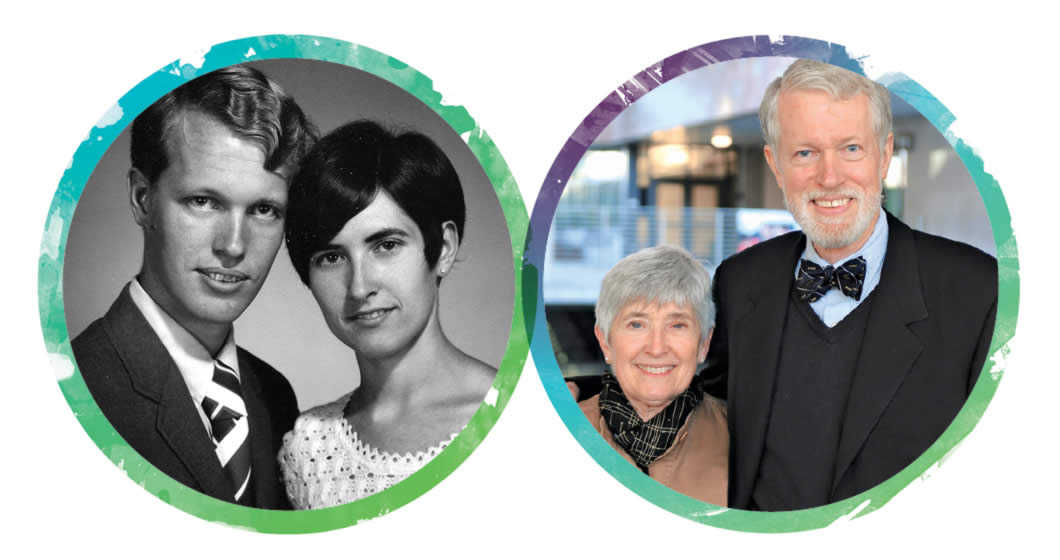 Q: Let's start at the beginning. I'd like to know where and how you met.
Pat: We met in Mrs. Tapp's sociology class when Penny was a freshman and I was a sophomore. Upon seeing her it was, "Um hmm, yep. I'd like to date her."
Penny: And I thought, "Oh, he's too eager." I had just broken up with my high school boyfriend.
Q: How did you decide to get married?
Pat: I don't have the transfer function for that any longer.
Q: Did one of you propose?
Pat: Yes, I did, on the playground at Hugo Reid Elementary School in Arcadia, California.
Penny: With a Cracker Jack ring, because it was adjustable.
Pat: You know, one of those little things with a great big piece of glass that looks like a diamond.
Q: Sounds very playful. Was it spur of the moment or did you plan it that way?
Pat: I planned it that way. I actually had a cohort help me with that one.
Q: Did you get Seal Ponded?
Pat: Someone who had already been Seal Ponded stood in for me at the pinning ceremony at Scripps, where Penny was living. As you recall, all the women lived at Scripps in those days. When Penny and I got pinned, I was still in Massachusetts and so I asked [Dean of Students] Gene Hotchkiss if he would stand in for me at the dinner. Since he had already been Seal Ponded for his own wedding, he didn't feel in any danger of being Seal Ponded for my pinning, which they did at the formal dinners that they had in those days. I had previously been Seal Ponded on account of another girlfriend, but we broke up before I met Penny.
Q: So, Penny, you didn't get Seal Ponded?
Penny: No, it wasn't done to the women then.
Pat: Things were definitely unequal in those days.
Shun Cheung, Engineering 1981 Louisa Mak, Mathematics 1982 Mountain View, California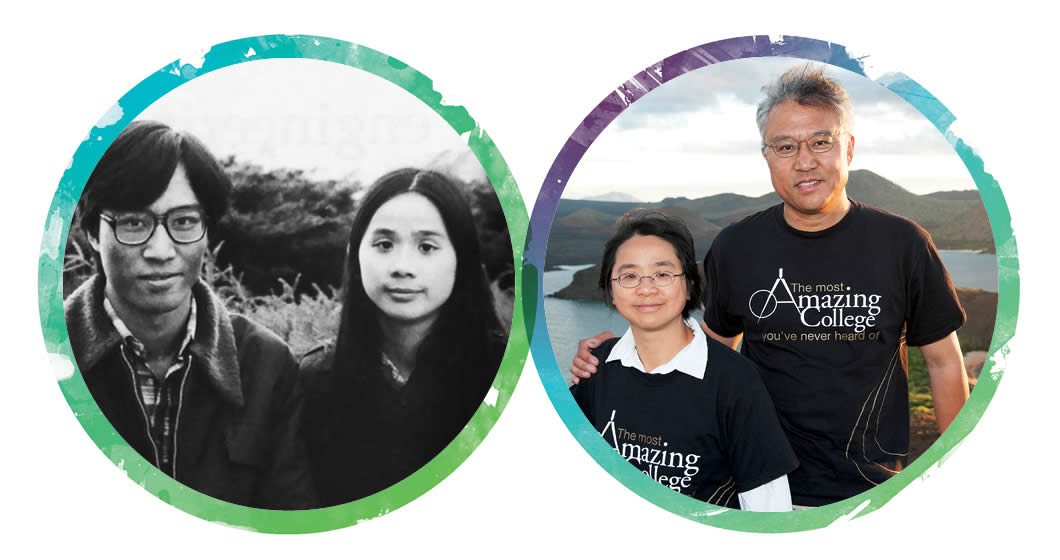 Q: Where and how did you meet?
Shun: It was September 1978, before the first week of class. We saw each other outside the courtyard of Platt Campus Center.
Louisa: It was actually earlier! I'm from Hong Kong, so I asked for a name to ask some questions, and they gave me the name of Shun's roommate. So I went there, and I talked to that guy and he said, "Oh, you should ask Shun!"
Shun: She was looking for a knapsack, and he didn't have one, but I had one.
Q: What was your impression?
Louisa: He's too tall for me! He's 6'1″ and I'm 5'1″.
Q: How did you decide to get married? Shun: We were always going to get married after a few years, but Louisa had applied for a green card, and each country has a quota for how many people can apply. Hong Kong, as a British colony, was only 600 a year.
Louisa: Or 200. Shun: The whole country [of China] was about 20,000 a year. I was born in Beijing, China, so if we got married, it would be my quota and it would be a lot faster. With Hong Kong, it would take years of waiting. Louisa graduated in '82 and we both went to UCLA to get our master's. Then she started working and processing the green card and all that stuff. After she graduated from UCLA, she got a job in Silicon Valley. We were in a long-distance relationship for a couple of years.
Q: Have you had any professional conflicts, like working for competitors?
Shun: Actually, the opposite problem. Louisa finished grad school in 1984 and we got jobs at AT&T Bell Labs in New Jersey. It was good for a while, but the industry was going downhill in the late '90s. That was the tail-end of the dot-com boom, the year 2000. It was very easy to find jobs in Silicon Valley, so we moved back.
Fred Streitz, physics 1983 Wendy (Duckworth) Streitz, engineering 1983 parents of twin daughters, HMC class of 2013 San Ramon, California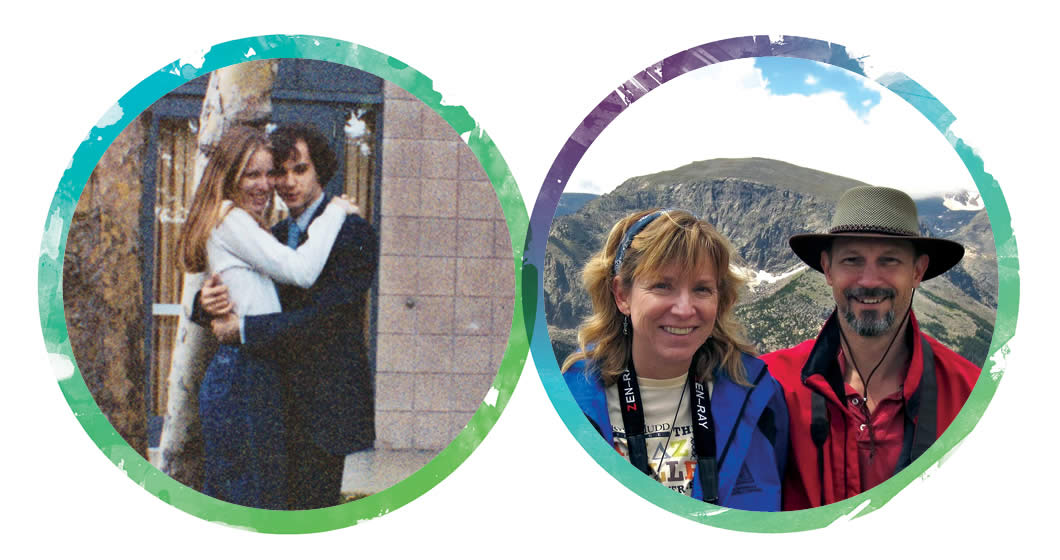 Q: Where and how did you meet?
Wendy: We were both in North Dorm freshman year. My roommate and I were on the second floor, and Fred and his roommate were on the first floor.
Fred: Directly beneath them. Wendy: Right. That's how we met, but we didn't actually come together until senior year. I was the South Dorm president. Fred: And I was the dormitory affairs committee chairman. The first week there was a retreat for the student government leaders, and that's when we started dating.
Q: What was your earliest recollection of each other?
Fred: How could I forget! She was like the most gorgeous person in the class: tall, blond, long legs and she's still gorgeous, tall, blond, long legs.
Wendy: When did you notice?
Fred: What do you mean, when did I notice? Immediately.
Wendy: I noticed Fred because his roommate, who I like a lot now, was really obnoxious. He used to put stuff on a long handle and bang it on our window. There were a lot, a lot of awfuls. And, as they said, the odds are good but the goods are odd.
Q: When and where did you get married?
Wendy: We got married three months after we graduated.
Fred: We were engaged while we were still at Mudd, so we had the joy of being Seal Ponded.
Q: How did you decide to get married? Did one of you propose?
Fred: I proposed. It was a little abrupt.
Wendy: It was awfully abrupt.
Fred: We'd been dating for …
Wendy: For three or four months.
Fred: And then we didn't tell anybody for a while. Around spring break, we started telling people that it was true. People thought we were nuts. Several years later, friends told us that there were bets taken about how long we would last as a couple. They all lost!
Q: It sounds like the Seal Pond tradition was still alive. What happened?
Fred: We were eating dinner and got dragged physically out. They walked us down to Scripps and lined us up together and threw us straight into the pond. It was pretty scummy in there.
Andy Roe, Engineering 1993 Tonya (Fagerwold) Roe, Biology 1994 Lake Oswego, Oregon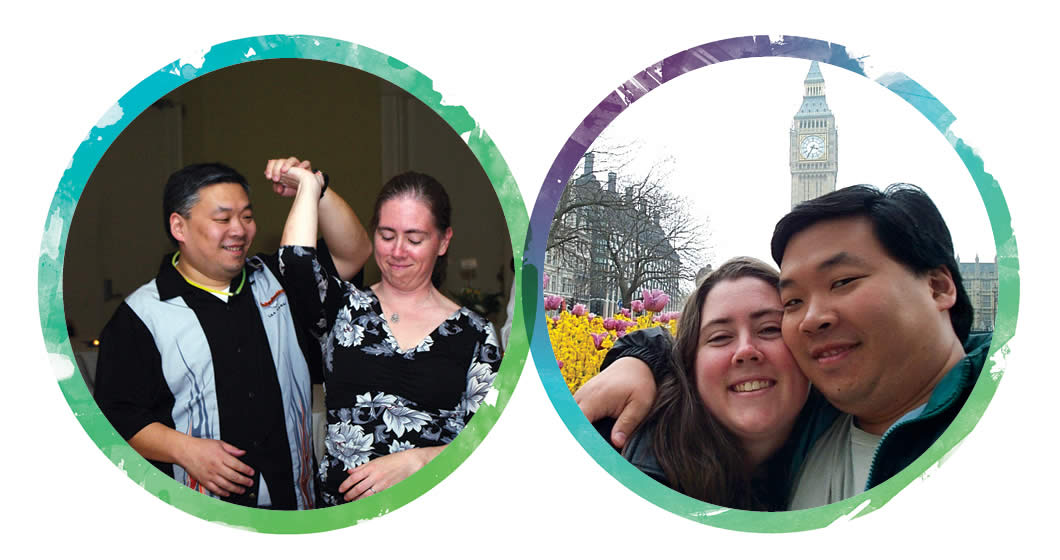 Q: Where and how did you meet?
Andy: She hung out at West. I remember seeing her in the lounge her freshman year.
Tonya: He had a big TV. So everyone came and hung out in his room. I was more interested in one of his roommates.
Andy: I lived in Atomic, one of the suites. Probably late '80s through most of the '90s, Atomic and Subatomic were two of the end suites in West. We were morally obliged to have a loud stereo system. We had constructed our room so that all of the beds and the desks were on one side and the other side had a couch and a TV and an air conditioner.
Q: How did you decide to get married? Did one of you propose?
Tonya: Kinda! Andy and I started dating when I was a sophomore.
Andy: No! You were a junior.
Tonya: Oh, you're right. It was the year I lived in West. Then he graduated. We thought he was going back to Oregon, and he ended up going to grad school at UC Irvine, so we moved in together for a year after college. Then he went to Los Alamos, New Mexico, for a job. We stayed connected but we weren't dating. I was working in Ohio and couldn't decide if I wanted to live in Chicago or move to Portland. I became really good friends with someone who lived around the corner from Andy in junior high. She said, "Oh, just live with me! You're only here three weekends a month anyway." We went camping; we had parties. Andy was in New Mexico, doing none of this. Then his 10-year high school reunion came along. He took me to the social night and some other girl to the formal night.
Andy: I was only going because she had stolen all of my friends, and I wanted to hang out with them.
Tonya: I was like, "Why didn't you take me to the formal night?" I really was sort of jealous! Right after that, we got back together. Within a couple of months it was like, alright, we're ready. Let's get married now.
Travis Athougies, Joint Computer Science and Mathematics 2014 Ileane (O'Leary) Athougies, Joint Computer Science and Mathematics 2014 Mountain View, California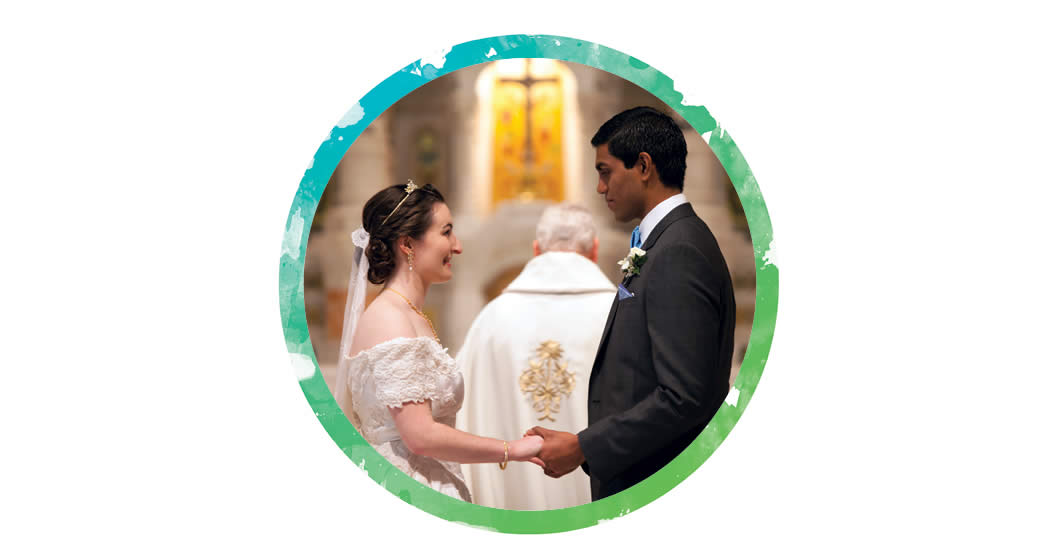 Q: Where and how did you meet?
Travis: We met at a high-five before freshman year.
Ileane: That's sort of a pre-orientation Summer Institute. It started three weeks before the school year started. We met on the very first day. There were maybe 30 students. So, it's kind of funny because we met before school even started and hit it off right away.
Travis: By the end of the semester we were officially dating.
Q: When did you get married?
Travis: We got married in San Francisco, on March 14, pi day.
Ileane: And we got the extra digits, 15.
Q: How did you decide to get married? Did one of you propose?
Ileane: Travis did! He took me to St. Peter and Paul's. Travis' family knows the priest there. It was over spring break, our senior year.
Q: Do you know about the Seal Ponding tradition?
Ileane: I don't think it happens anymore. Maybe we were just lucky, but we weren't dunked.
Travis: We got dunked on our birthdays. Like, throw them in the shower. I don't think engagements happen all that often.
Q: Do you have any advice for current Mudders who are starting a relationship with another Mudder?
Travis: I think a lot of people feel that it's hard to be in a relationship at Mudd or that it would cause added stress, but I don't think either of us felt that it caused added stress. It kind of made things easier.
Ileane: They say when you come to Mudd, you find your people.