Collaboration
Above and Beyond
Expanding students' post-college readiness is a team effort.
There's always lots of hoopla on club day, but the addition of bubbles to the all-campus presentation of extracurricular and student-support organizations gave the festivities that extra pop. As did the bubble gum.
The clever enticements presented by Office of Career Services (OCS) staff during fall 2014 were designed to draw attention to a new program devised to prepare students for life after they leave the Harvey Mudd College campus, sometimes considered a protective "bubble." The staff decided to call the program "Beyond the Bubble: Life After HMC" and offer students the opportunity to hear presentations from a diverse group of speakers— employers, alumni and Claremont community members—eager to share their expertise and contribute to students' professional development.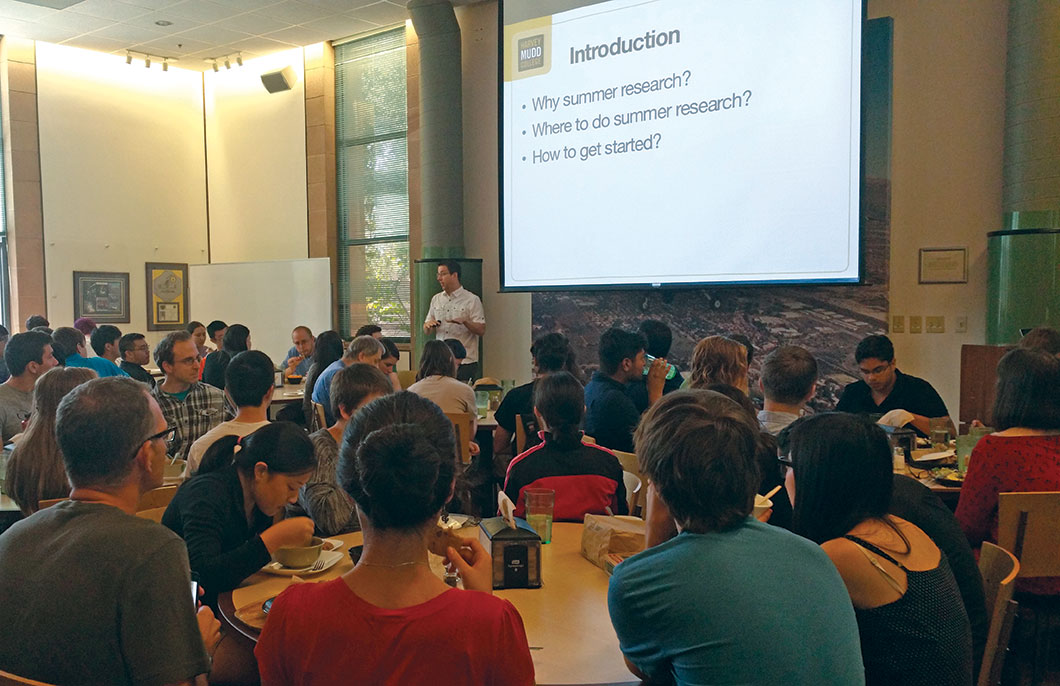 The program includes five series that coincide with the Beyond the Bubble theme: "Bubbling Over (Landing Your Dream Internship or Job)"; "Thought Bubbles (Test Your Career IQ)"; "Bubble Up (Personal Bootstrapping)"; "Bursting the Bubble (Real Advice for the Mudd-to-World Transition)"; and "Economic Bubble (Adventures in Finance)." During fall and spring, up to four seminars were offered in each series during the lunch or dinner hours.
The Beyond the Bubble seminars really help Mudders see life beyond HMC.

– BRUCE YAN '15
Google and Deloitte Consulting got the series off to a strong start with seminars on interviewing. Scott Ellsworth '89 and Daniel Fielder '11 from Google talked about mastering a technical interview while Ilona Phipps-Morgan '13 and fellow consultants from Deloitte discussed bubbling to the top—or standing out—in a case interview. Computer science major Bruce Yan '15 attended the popular session. "During the Deloitte case interview seminar, it was most students' first time solving a consulting case," he says. "They quickly formed groups to tackle the case exercise and realized that even with little to no business background, they could solve it with teamwork and logical problem solving skills. The BTB seminars really help Mudders see life beyond HMC."
Campus offices and student groups collaborated with OCS on several seminars. One featured a panel with staff from the Harvey Mudd Office of Institutional Diversity (OID), the Claremont University Consortium's Queer Resource Center and Harvey Mudd's LGBTQ student organization PRISM. Another student club, Entrepremudders, worked with OCS to present an investor who discussed fundraising. The Office of Alumni and Parent Relations collaborated with OCS to offer a graduate school panel, featuring Nick Evans '07 (UCLA Anderson School of Management/business administration), Claire O'Hanlon '09 (Pardee RAND Graduate School/policy analysis), Kenny Buyco '13 (Caltech/civil engineering) and J. Chance Crompton '13 (Caltech/chemistry). Wendy Menefee- Libey, director of the Writing Center, conducted a seminar on writing effective personal statements. Health and wellness staff Qutayba Abdullatif and Evelyn Cho as well as Cynthia Beckwith, assistant vice president for human resources, also offered seminars. Karl Haushalter, associate dean for research and experiential learning, held two sessions about summer research that drew over 200 first- and second-year students.
Two employers that actively recruit on campus returned to hold Beyond the Bubble seminars. REAL Software's CEO Kent Sahin shared how to land one's ideal position, and Laserfiche's university recruiter Laura Victoria talked about finding the right fit. Later, during spring, Victoria received the first Dean of Students Leadership Award for Outstanding Contribution to Harvey Mudd College, which recognizes an employer's contribution to the College's mission to develop students as leaders in their chosen fields.
As the series grew in popularity, the OCS staff lined up more seminars. "It was fairly easy to engage employers and to get alumni to participate, and students were very responsive," says Judy Fisher, director of OCS. The staff's goal of offering a different approach to delivering career education resonated with students.
Computer science major Marcelanne Gaebler '17 found the sessions helpful. "They provide practical advice about things that we don't usually have to engage in every day, so they're good for preparing us for those areas where we have less experience," she says. Robert Linden '18 was pleased with the insight and perspective he gained from the talks: "It's good to get started early thinking about these things."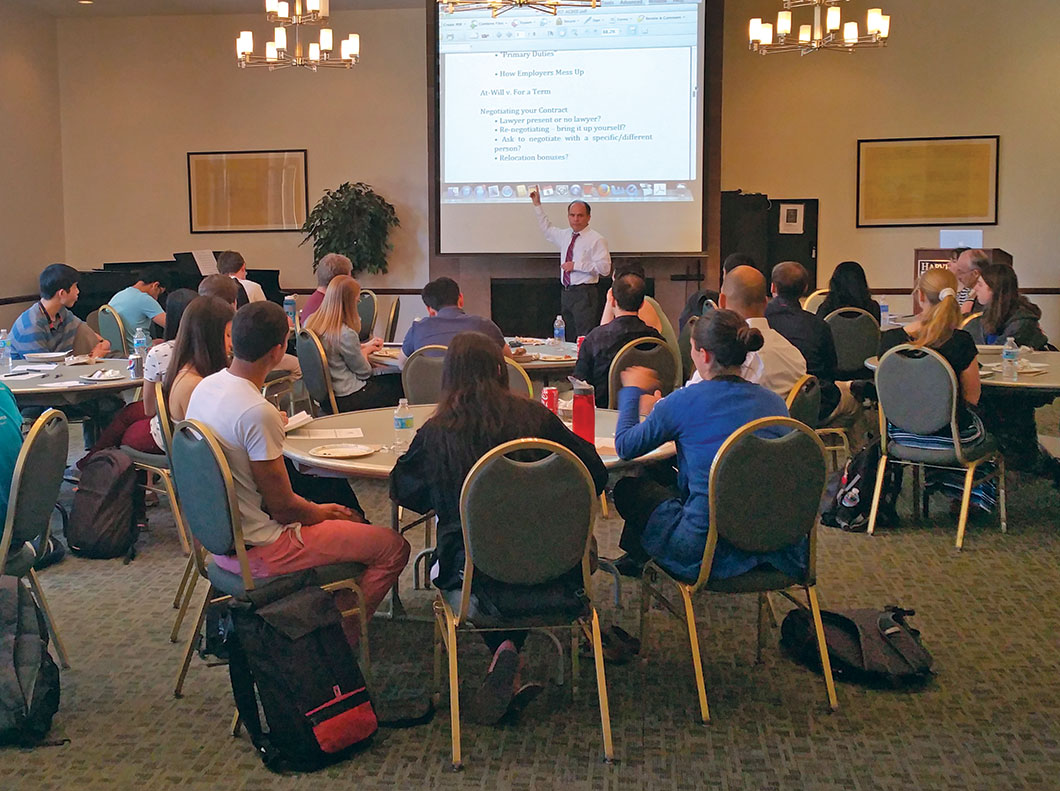 During spring, participants benefited from presentations by more student clubs, including environmental group ESW/MOSS, which co-sponsored presentations by Arne Ballantine '90 of Bloom Energy and David Gross '08 of eSolar. OCS and OID worked together on OID's new program "Are You World-Ready?," and Victoria (Laserfiche) returned to conduct a seminar with Donald Delgado of CUC's International Place to offer career fair advice to international students. Students heard from seniors Bruce Yan, Michael Baeder, Victor Bhattacharyya and Kristina Ming about their job-search experiences and learned practical cooking tips from dining hall Chef Mike Telleria and Nancy Culbertson, assistant manager.
Through its own connections and with the help of the alumni and parent relations office, the OCS was able to find many alumni eager to present seminars: Benson Tsai '06, co-founder of Motiv Power Systems; Ben Ver Steeg '98, co-founder/ VP of TruTouch Technologies; and Jonathan Schwartz '13 of Body Labs. Crompton returned to join career counselor Jonie Tsuji in a discussion about preparing grad school applications. Alumna Emily Roberts '07 flew in from the East Coast (Duke University) to offer a seminar on how to finance graduate school. Lindsay Wray '08 and Loren Perelman '02 attended the career fair to represent their company Bolt Threads and, while on campus, they conducted a seminar about careers in science. As the result of a LinkedIn alumni group post calling for Mudder attorneys, the OCS heard from Craig Byrnes '88, employment litigator and former engineer for NASA's Jet Propulsion Laboratory. His seminar on employment contracts, non-competition agreements "and other legal stuff" was a huge hit, and the OCS is working on a return engagement.
Several other alumni returned to campus due to their company's participation: Amanda Rainer '06 and Marc Davidson '10 were on the Apple panel; Jimmy Retzlaff '91 and Jessica Stringham '13 joined their Yelp colleagues to give tips about being successful at career fairs. To encourage students to continue taking advantage of the strong Mudd network, alumni and parent relations staff conducted the popular seminar "Muddworking: Connecting With Alumni Throughout Your Mudd Experience."
Fisher is planning 2015–2016 seminars, seeking volunteers—high on her list is someone to discuss financial planning—and working to build upon the initial success of the program. "We're pleased that Beyond the Bubble has provided valuable insights and knowledge for the next generation of leaders as they embark on their life journey," says Fisher.