Shifting Priorities
After the earthquake struck Nepal, Meghan Jimenez '14 decided to forgo vacation to see what she could do to help.
ON THE EIGHTH DAY of her visit to Nepal, Meghan Jimenez '14 climbed aboard a United Nations Humanitarian Air Service helicopter to bring provisions to villagers who had nothing but rubble left of their homes.
She arrived just two weeks after a 7.8 magnitude earthquake struck the South Asian country in April leaving more than 8,000 people dead. After hearing about the disaster, Jimenez, an engineering graduate, and her boyfriend, Denis Lemeshchenko, felt compelled to do something. So they left their vacation travel plans in Asia to team up with the Hand & Hands Volunteer Society (HHVS), a non-governmental organization that desperately needed help serving Nepalese people trapped in the mountains.
To prepare for the trip, the two immediately started gathering supplies to be self-sufficient while in Nepal—they refused to be a burden on an already hurting nation. "We wanted to make sure our positive impact was much, much greater than our negative impact," Jimenez says. "We wanted to help and not just wander around."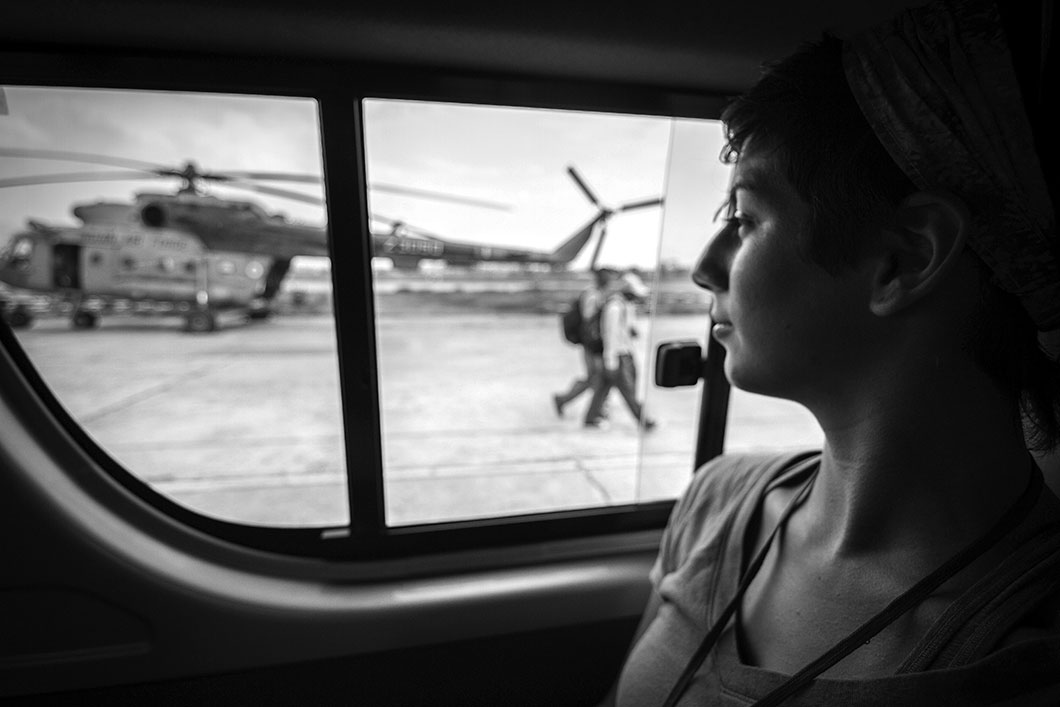 On the ground in Kathmandu
Both young volunteers would have been in Nepal when the first earthquake shook the country, except that a friend enticed Jimenez to Vietnam and a business trip sent Lemeshchenko to Thailand. When he heard the news, Lemeshchenko felt he "owed life something" and decided to go do whatever he could to help. He pitched the idea to Jimenez to see whether she would join him.
"It took her less than a minute to say, 'Yes, let's go,'" Lemeshchenko says. "I don't think there's any challenge too big for her."
Neither was sure what they'd be getting into while they were there, so they prepared themselves for everything, including the hands-on labor of shoveling rubble. But because they weren't experienced aid workers, they had a difficult time finding an organization that could use their help.
Lemeshchenko had contacts with doctors at the University of California, Davis, who connected them with HHVS. The doctors were coming to provide medical care to thousands of villagers trapped in the mountains, and they asked HHVS to assess the people's most critical needs. The HHVS organizer asked Jimenez and Lemeshchenko to take on the responsibility of talking with locals and making a report for the relief effort. When a villager arrived in Kathmandu on a motorbike to describe the situation, the volunteers learned firsthand the hardships these people faced. "They didn't have much to begin with, even before the earthquake," says Jimenez, who volunteered with HHVS from May 9 to 17. "Everything was in tatters. Eighty percent of the houses fell down in the first earthquake, and lots of people died under the brick-and-mortar buildings."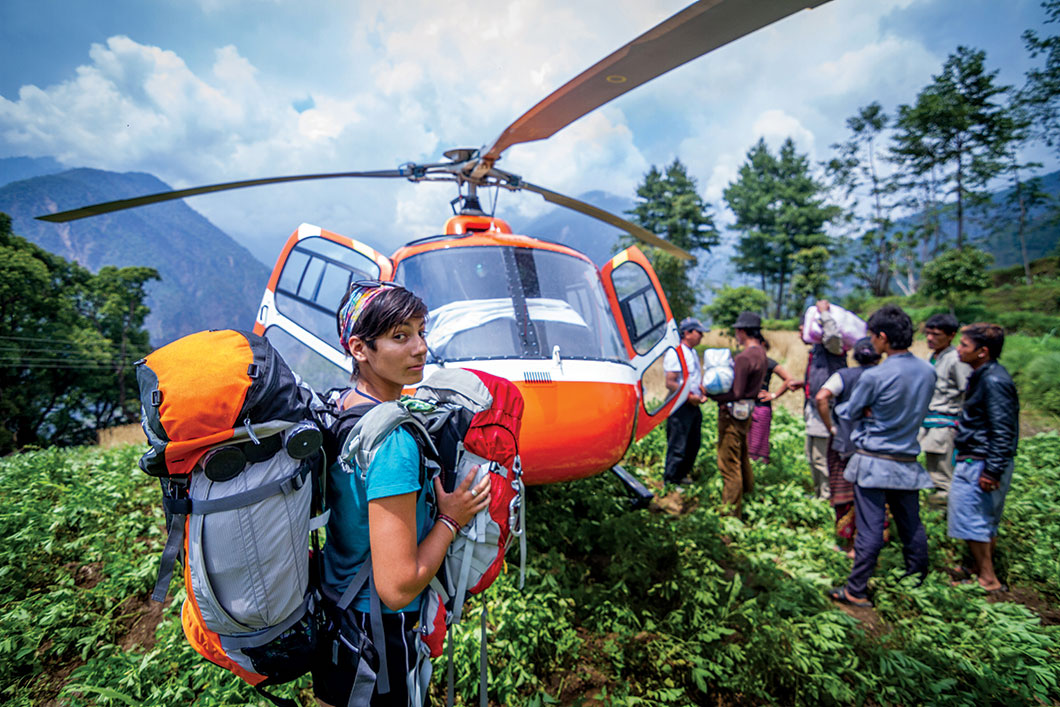 Despite the brokenness of its cities, Nepal's people remained strong. Jimenez was amazed to see the way communities reacted to the disaster— coming together to share food and supplies, caring for one another like family, making the best use of their limited resources. Even more amazing, she says, was the way they protected her in the wake of the second earthquake on May 12. They made sure she and Lemeshchenko were standing safely in an open area.
"I tried to run to Denis, but I couldn't because the road was rolling, and my balance was off," Jimenez says, recalling her terror in the 7.3 magnitude aftershock. "The ground wasn't where it should be—it was tilting and twisting."
Into the mountains
The second quake wrecked the volunteers' plans to deliver provisions to the nine villages outside Kathmandu. They had planned to load up buses and jeeps to make the seven-hour trek through the mountains, but the roads were impassable. While they waited for clearance, Jimenez and Lemeshchenko bought more tarps and other supplies. But time was running out, and the two wanted to visit the villagers personally.
In an act of desperation, Lemeshchenko requested official United Nations helicopter transport through the UN Logistics Cluster, which offers operational services for humanitarian emergency response. Less than two hours later, he received tickets for a ride into the villages of Bhotang VDC. The next morning, provisions in tow, Jimenez and Lemeshchenko, along with the HHVS leader, loaded into the helicopter for the 20-minute flight.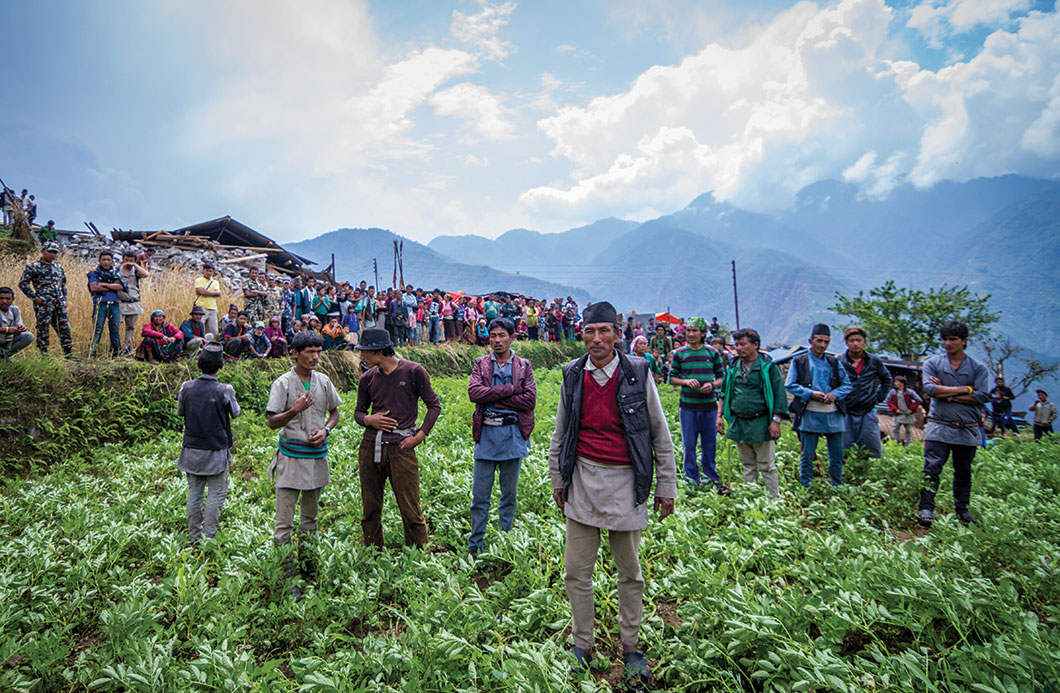 "Flying in on a helicopter, you look like a savior, but we could bring so little," Jimenez says, remembering how the entire village came out to meet them as they arrived. The group had only one hour on the ground, so Lemeshchenko, an amateur photographer, reached for his camera while Jimenez distributed supplies and connected with the community.
"The destruction was like nothing I'd ever seen before," Jimenez says. "I was talking with one of the two people who spoke English, and I asked how many houses were still safe. There had been 170, and the man literally looked around and pointed, counting each of five homes left standing."
Even those five weren't safe. The slightest tremor could cause them to come crashing down. Despite the danger, villagers ventured back into the rubble to find whatever they could use to make rudimentary, leaky shelters. It was a huge risk, but the other option was exposure to the elements.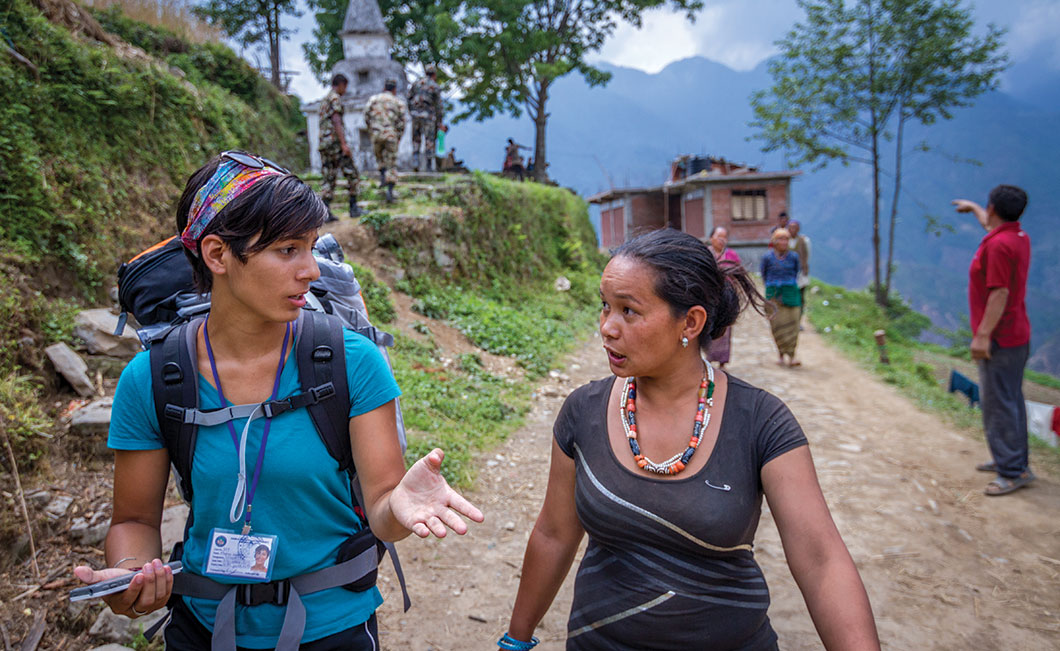 Jimenez also assessed the people's health care needs. She educated the women on how to use the sanitary napkins they brought among the supplies. For the report, Jimenez noted the people had no place to relieve themselves, so their water became contaminated, and everyone was sick with diarrhea. People from some of the other villages didn't have water at all, so they walked—because there was no other transportation—to the central village to share what was there.
When the one-hour time limit came to an end, Jimenez had plenty of information to give a report to the incoming UC Davis doctors, who would arrive when the roads cleared. The group climbed back into the helicopter and turned back toward Kathmandu, observing—and truly comprehending—the destruction from the sky.
Everything sinks in
Before arriving in the decimated country, Jimenez vowed to give what she could, but realized it wasn't much. She wondered what impact she could truly have as just one person. But she adopted a mindset to do whatever she could to help as many people as possible. Jimenez believed if she could help even one person, the effort would be worthwhile.
While in Nepal, she and Lemeshchenko started a fundraiser, asking family and friends to donate to their cause. They raised $3,000, which they used to purchase six tons of rice, two solar chargers, a first-aid kit for each village, sleeping pads, tarps, sanitary napkins and enough purification tablets to filter about 6,000 liters of water. They also bought 30 kilograms of chili powder and other spices, which villagers requested because it kept them warm on cold nights in the mountains. And for the children, they brought soccer balls and other toys they could share.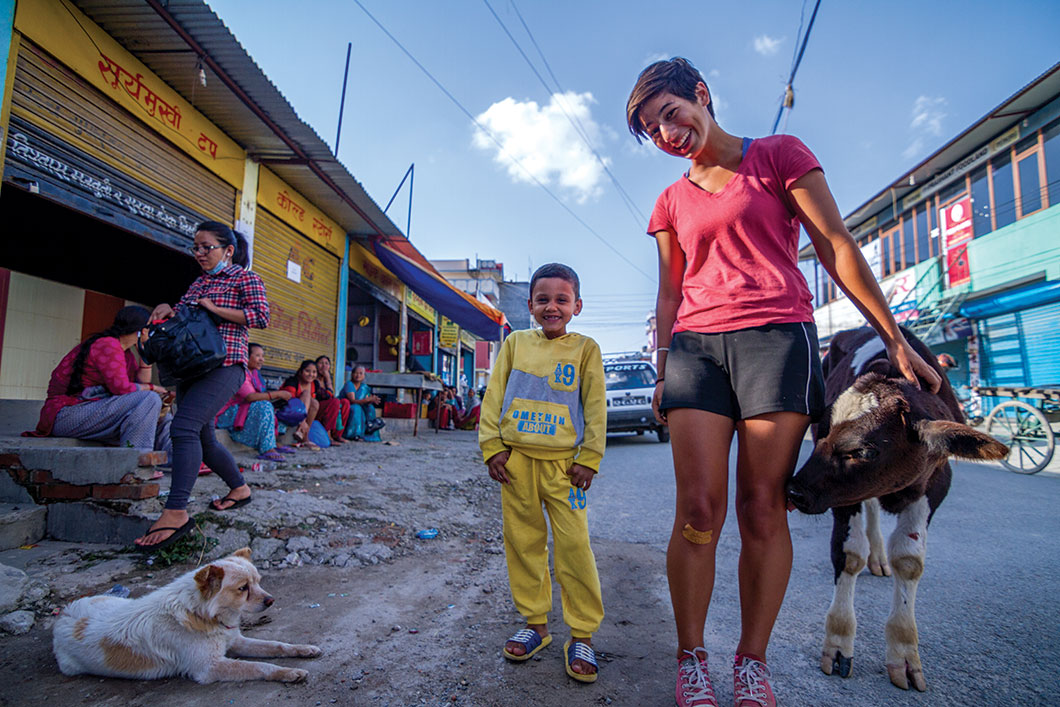 "Children are often forgotten in a disaster," Jimenez says. "The world is crashing down, but for kids, it's important to have things as normal as possible."
Jimenez paid special attention to the children because of her vested interest in their well being around the world. That passion recently led her to accept a teaching fellowship in Massachusetts, where she will earn her master's degree in education. At the same time, she will teach high school classes on robotics and computer science using her engineering degree from Harvey Mudd.
Her first job after graduation was a research position in Singapore working on advanced wireless prosthetics. She was hired as an electrical engineer, but the company soon discovered she was skilled in design work as well, so she created models for testing and worked on several projects that had fallen by the wayside. Jimenez says her broad background at HMC allowed her to "jump in anywhere."
Though she enjoyed the job, she knew it could be years before the prosthetics had life-changing results for those who needed them. So she opted to return to the U.S. to teach, where she could make an immediate difference in students' lives.
Looking back on her trip to Nepal, she realizes she's able to use her degree anywhere, in any situation.
"With a general engineering education, Harvey Mudd taught me how to learn, think, solve any problem," she says. "When I'm thrown into a situation where I don't speak the language and don't know anything about anything, I think about what's the best way I can contribute, and then I make it happen.
"In Kathmandu, I knew shelters had to be waterproof and light, so if it falls down, it won't kill anyone. That's concrete engineering design," she says. "But I also wrote a technical report and outlined what we saw and what the people might need. I had to ask the right questions to find out what they needed, much like I would ask a [Clinic] liaison what they want in a product. Harvey Mudd's mission statement is about going and using these skills in a way that has a positive impact. You understand what you're doing, and you know it's a good thing."