Hot off the Press
3-D printing captures the public imagination and a growing market.
When 3-D printing appears in not one but two Grey's Anatomy storylines, the technology has clearly entered the mainstream. But interest in 3-D printers and their use has spiked only recently. The earlierst machines of the 1980s were expensive and difficult to operate, limiting their availability and appeal. Even by the time Ben Frantzdale '03 became a graduate student in 2005, that hadn't changed.
"My department had 3-D printers, but you had to wait in line to use them. Now I have one on my desktop. This changes how you think about using them," says FrantzDale, who's currently a print process lead at the desktop 3-D-printer manufacturer Formlabs in Somerville, Massachusetts.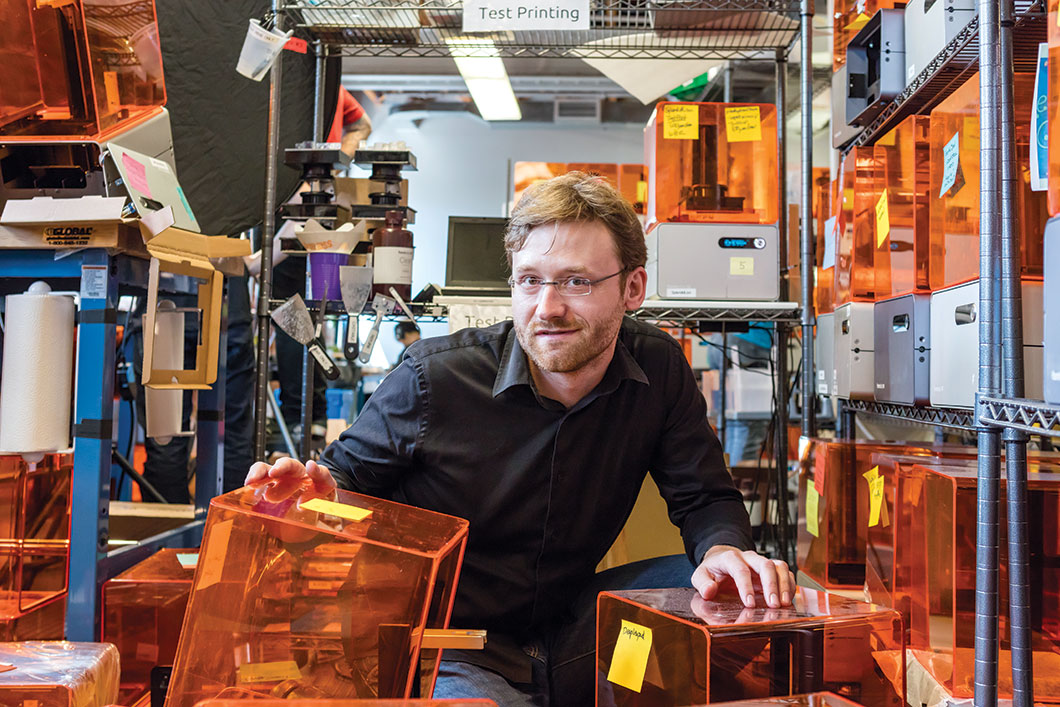 Today, 3-D printing is a fast-growing, multi-billiondollar business with products accessible to engineers and hobbyists alike. Although the consumer market for the technology has emerged more slowly than expected, 3-D printing applications continue to expand. Prototyping is the most common use of the additive manufacturing process that builds layers to create a solid object from a digital file, but Mudd alumni note many applications: prosthetic limbs, engine parts, shoes, sales promotional items as well as edible wedding cake toppers in couples' likenesses.
"The big thing was desktop 3-D printing. That was the spark—the hobbyist revolution driving 3-D printing. At the same time, on the high end, a lot of applications have come to fruition," says Max Friefeld '13, cofounder of two 3-D printing companies with fellow Mudders Jonathan Schwartz '13 and Oliver Ortlieb '12.
They launched their first venture, Layer By Layer, as students. Friefeld says, "Our goal was to make 3-D printing easier for the average person by developing software and working with designers to make products that printed with the click of a button. The first things we made were iPhone cases. We created unique designs and also offered customization. We sold them for $10 to students at The Claremont Colleges."
They wrote a business plan for Layer By Layer, getting help from Professor of Economics and Harvey Mudd College Entrepreneurial Network founder Gary Evans. A listing among 50 innovative companies founded by undergraduates, Y Combinator seed funding and a patent for their web-based method of delivering a physical object through 3-D printing soon followed.
Friefeld, Schwartz and Ortlieb have since sold Layer By Layer to the desktop 3-D printer manufacturer MakerBot but still work together. Now in New York, they recently founded Voodoo Manufacturing, a MakerBot spinoff using low-end 3-D printers to provide printing services to the professional market. Friefeld and Ortlieb are there full-time while Schwartz splits time between Voodoo and his role as director of products for Body Labs, whose technology creates digital models of the human body using 3-D scans.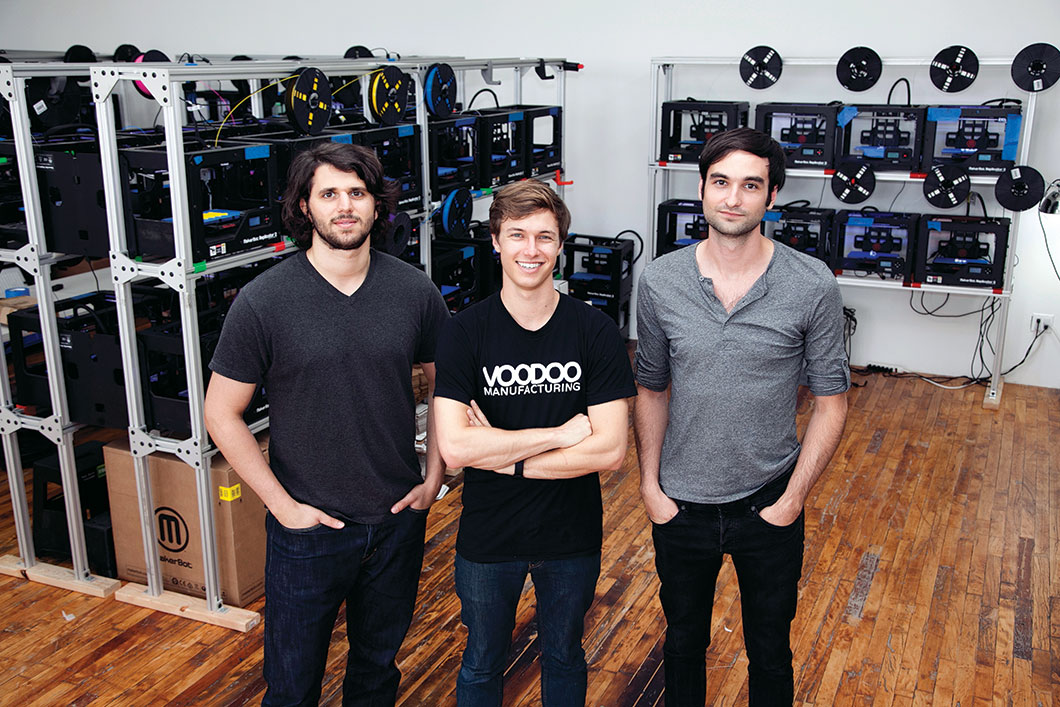 "We saw a gap in the market," Schwartz says of Voodoo's place between companies offering more expensive commercial 3-D printing services and those simply providing access to a 3-D printer network. "We have a factory, so we can do high volume. We can work with individuals who want faster service or large companies needing either high-volume or quick, cheap prototypes."
FrantzDale also works with a fellow Mudder at Formlabs, although they hadn't met previously. Matt Keeter '11 joined the company first, starting in software development and shifting to electrical engineering. FrantzDale arrived in late 2013 and says, "I had been working with startups in the area and saw they all had Form 1s on their desktops. I wanted to make the tools everyone was using."
Keeter understands the appeal. He says, "To me, Formlabs is a place where the hype about 3-D printing lives up to the reality. The products are real prototypes people can work with and use to iterate." Engineers, for instance, may find creative uses for Formlabs' latest product, Tough Resin, a sturdy, ABS-like material that withstands high stress or strain, ideal for snap-fit joints and other sturdy prototypes. Both see room for 3-D printing technology to continue improving—for it to become cheaper, faster and more versatile—but they're skeptical of the stream of market entrants. FrantzDale says, "Every day, you can find a new 3-D printer on Kickstarter, tiny startups without new technology."
Keeter adds, "I can make a printer in my garage, but there's a lot more to 3-D printing. Software design, materials and customer support are all important to a good user experience."
Jay Wright '06 adds to customer capabilities as a senior manufacturing engineer for Stratasys Direct Manufacturing, a division of the global 3-D-printer maker Stratasys. Wright works primarily with medical companies. "They have to innovate over and over again," he says. "It's fun and exciting to talk about expanding technical capabilities. We own the equipment customers need, and we apply these tools to their ideas and requirements."
One customer makes carts used to disinfect rooms to prevent the spread of disease. Another is developing better ways to perform root canals. Yet another produces equipment that helps hospitals and police departments maintain the integrity of stored biological samples.
"I want to work on things that help people solve problems and have an impact on their lives, and 3-D printing is a tool that people can use to improve the lives of others," says Wright, who has worked in 3-D printing since he was recruited at a campus career fair.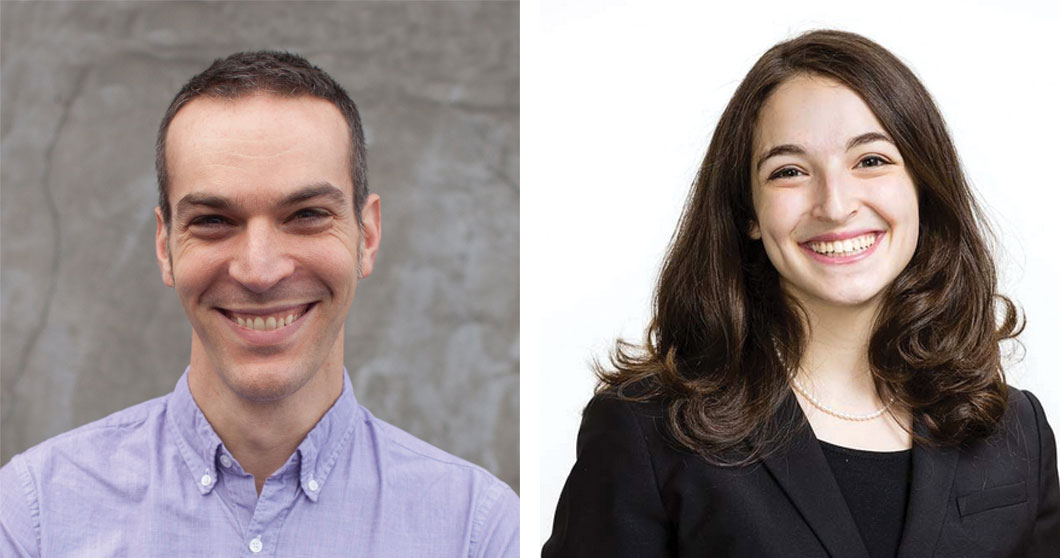 Dan Shapiro '97, co-founder and CEO of Glowforge in Seattle, is also looking to make an impact. He sees it in the product he calls a 3-D laser printer. But unlike other 3-D printers, the product Glowforge will release later this year uses subtractive technology—shaping, sculpting, slicing, cutting, engraving and etching a variety of materials—rather than adding layers to form an object. Shapiro views Glowforge as part of a 3-D fabrication industry, filling a need unmet by traditional 3-D printers and laser cutters.
Glowforge grew out of Shapiro's frustration with 3-D printers. He explains, "They're great for designing and prototyping, but it's a painstakingly slow process. You have to iterate, spending a lot of time and materials. Plus there's nothing missing from my life that's made out of lumpy 3-D plastic."
The notion of giving our customers superpowers is core to what we're doing. We give them skills they never had before and the ability to work in a medium they never could before.

– Dan Shapiro '97
The serial entrepreneur who's sold a company to Google and written a book for startup CEOs had what he considers a better idea: lower-cost desktop 3-D fabrication technology that lets consumers and small businesses easily and quickly create finished products in materials such as leather, wood and fabric.
"These are beautiful materials you actually want in your life," Shapiro says. "I think of us not so much as having an impact on 3-D printing, but on people who make things. The notion of giving our customers superpowers is core to what we're doing. We give them skills they never had before and the ability to work in a medium they never could before."
The possibilities of 3-D technology have also captured the interest of Jaclyn Olmos-Silverman '13. From her vantage point as a participant in General Electric's Commercial Leadership Program, she's seen the impact of 3-D printing in heavy industry—and it is big.
"GE's work in additive manufacturing is amazing. They're researching every kind of material—especially metals and ceramics—and thinking through a variety of applications for energy, jet engines and health care," Olmos-Silverman says. "It's about brilliant design and factories, staying lean, making better products faster."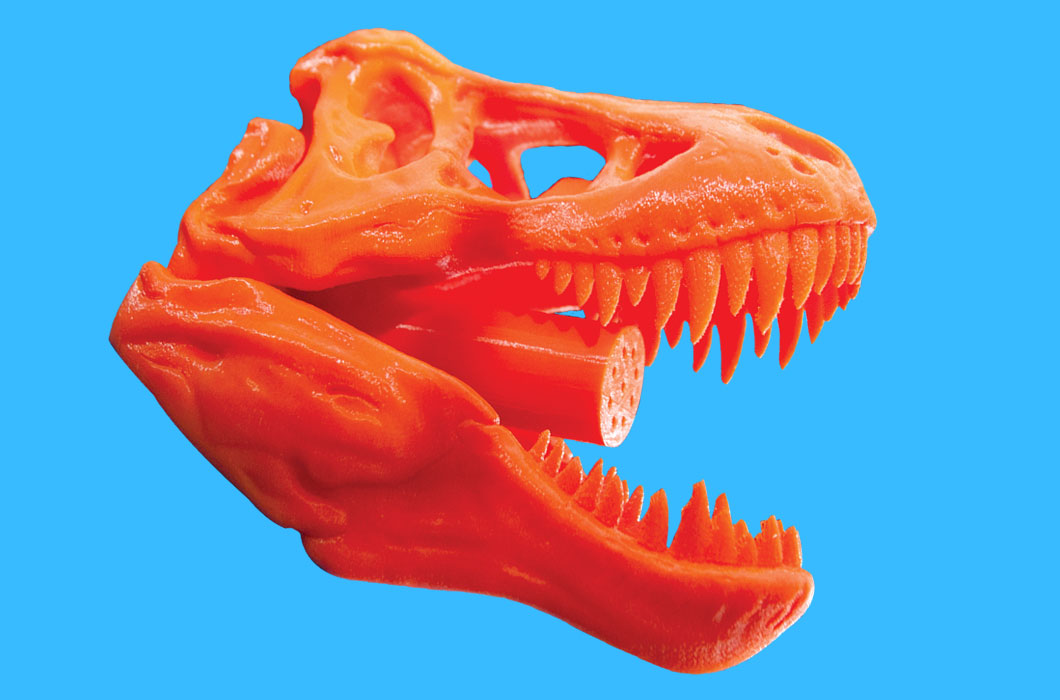 Olmos-Silverman believes the Federal Aviation Administration's approval of GE's jet engine sensor housing—a first—exemplifies the new developments. She says, "I learned about 3-D printing in my advanced manufacturing class senior year, but I didn't fully appreciate it until I got to GE."
What's the next big thing in 3-D printing? The Mudders point to mass customization—individualized designs affordably produced—and the use of more materials, including biological matter. Schwartz says, "People have already started to 3-D print houses. Food 3-D printing is going to be big. But people need to change how they think about 3-D printing. It's not just about making the same things using 3-D printing, but inventing products that were never possible before. People talk about printing organs—that will be huge."