Students
Making Lemonade
Community partners of all ages work with Mudders to transform complex challenges into tantalizing solutions
Dina Sinclair '17 spent her pre-Harvey Mudd summer teaching math to the kids of some of her high school teachers. When one of the parents wrote a blog post about the success of these sessions, Sinclair got a call from a woman in San Diego, wondering if she'd stage a science- and math-themed birthday party for her 6-year-old son. By then, Sinclair was a first year at Harvey Mudd. She enlisted her friend, Lisa Yin '17, to go to San Diego with her, and together they put on a birthday party complete with baking soda and vinegar volcanoes and the makings of invisible ink. It was a lot of fun, she says, and the duo was determined to teach together again.
"At the end of my freshman year, I went to [mathematics] Professor Michael Orrison to ask about teaching opportunities, and he suggested teaching math to elementary school kids," Sinclair says.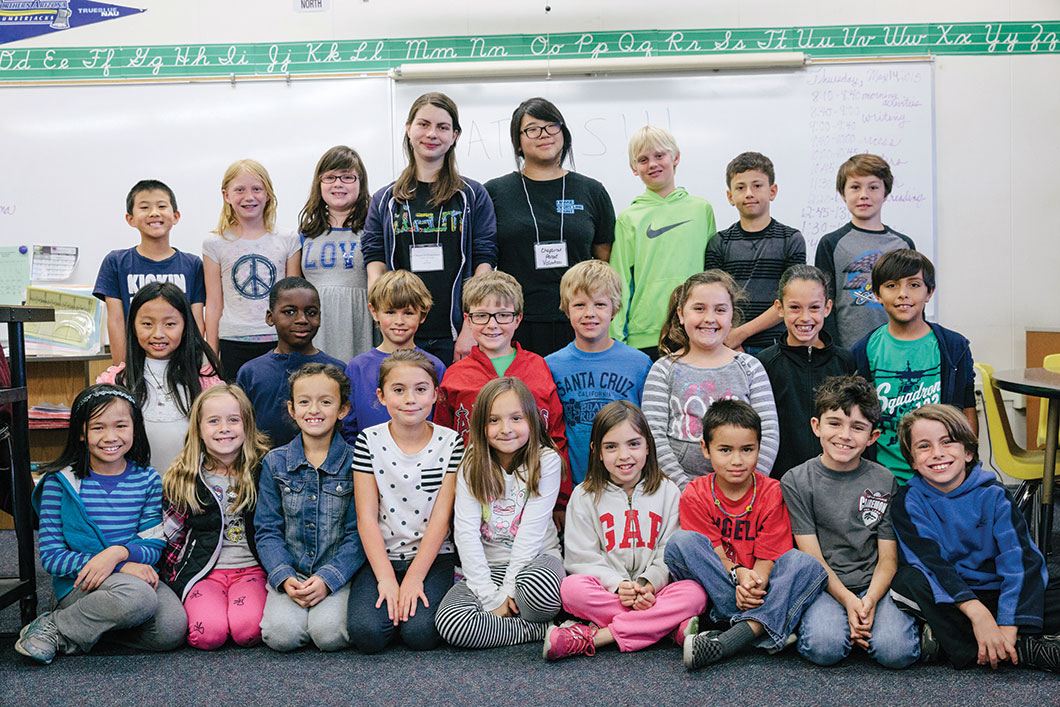 Sinclair again turned to Yin, and they embarked upon an independent study with Orrison, reading papers by mathematicians about best and worst strategies for teaching math and developing a curriculum for the lessons they were going to teach to Jean Merrill's third graders at Chaparral Elementary School in Claremont.
"Professor Orrison helped us come up with broad goals for what we hoped students would take away, based on what had worked with two Mudd students [Elly Schofield '13 and Nate Pinsky '13] who'd taught in Jean's classroom before. We used those goals generally, but we definitely brainstormed new, specific lessons of our own," Yin says.
Sinclair and Yin based their lesson plans around the concept of ratios. "You learn how much skill it takes to be a good third grade teacher," Sinclair says. "Jean had to translate for us. For instance, the students didn't know what a ratio was, but they did know about fractions. They were really excited to answer questions. Hands shot up in the air."
Merrill seconds that observation. "Third grade—8- and 9-year-olds—is a wonderful age. Every new concept is exciting to them. I told Dina and Lisa, 'I bet you've learned just as much as the kids in the class have.' It was a big step back in time for these women. They are incredible students themselves, but they had to get used to bringing it back to a level that's understandable for third grade. For instance, the kids didn't know where a decimal point was on a calculator."
Everything that Sinclair and Yin did in the classroom had a hands-on component to it. They brought in multi-media presentations, visual aids, information sheets and data sheets. Their lessons focused on ratios in different ways: planetary distance in space, probability with rolling dice, octaves in music and taking a recipe for lemonade and increasing it. "They've been great. Realistically, when you do this fulltime, you just don't have the time to do these amazing lessons," says Merrill. "Dina and Lisa have put such time and energy into their lesson plans."
When I see a student take the initiative for an independent study class that comes from their mind and their heart, it means a lot. To design a class that taps into that passion, to generate something from scratch, is just amazing.

– Gabriela Gamiz
Yin remembers the lemonade lesson fondly. "Some kids were surprised by how much sugar we were putting in," she says. "And one kid said it was better than his mom's lemonade!"
"They showed so much enthusiasm for things we take for granted," Sinclair says. "There was a moment in our first lesson when we were talking about scaling factors and trying to scale the planetary system down to the size of the classroom—in other words, convert from millions of kilometers. So we had them take out their calculators and divide 8 meters (the length of the classroom) by 4,500 million kilometers, and they got 0.00178. They'd never seen such a small number on a calculator before!"
Gabriela Gamiz of Harvey Mudd's Office of Community Engagement says what excites her is seeing the Mudd students' independent study with Professor Orrison bring math and education to a crossroads. "When I see a student take the initiative for an independent study class that comes from their mind and their heart, it means a lot. To design a class that taps into that passion, to generate something from scratch, is just amazing."
Feedback: Essential to the Mix
Using the passion they have for technology, students are creating viable solutions for community partners in Jim Boerkoel's computer science class, User Interface Design.
Boerkoel, an assistant professor of computer science, places particular emphasis in his course on accessibility, global awareness, cultural sensitivity and interface design as a tool for challenging stereotypes of marginalized social groups. He received funding to create the class from the Holen Community Engagement Fund, which supports Harvey Mudd faculty in the development of courses related to community engagement.
"The first semester (fall 2014) we ran it as a website development class, basically," says Boerkoel. "Gabriela Gamiz connected us to three local organizations: Claremont Homeless Advocacy Program, Real Connections and Project Caring and Sharing. We realized the students' projects provided some real value to our community partners—two of which have launched their new websites—but I think our students were antsy to have more application development experience. So, during spring 2015, we re-ran the same class but instead focused on developing mobile applications. Students chose whether to develop a mobile iOS or Android application."

Vanessa Ronan '15, a computer science major, worked with the organization Bike San Gabriel Valley to develop an app that kids can use to invite one another to go on bike rides."Jonathan Rodriguez from Bike SGV thought it would be cool if the app could be used in the classroom, too, so teachers could track the kids' progress and give them rewards in class if they biked a lot that week—make it kind of a competition. He's talked with some middle schools in El Monte about it already," Ronan says.
She notes that there were many more female than male students in the class, a confirmation of Boerkoel's hunch that the class would be popular among typically underrepresented computer science majors and off-campus majors. "It was more of a creative class," Ronan says.
Ronan, who graduated in May and is launching an interior design startup called Decorater, a platform to crowd-source interior design, noted that for her the most challenging—and ultimately rewarding—part of Boerkoel's class was user testing. "Our very first assignment was to go out and interview people," she says. "I tend to be shy and thought I would hate it, but it was very helpful." Her design team asked kids in the Claremont Village to use the app to do three tasks. The team then noted the results and steered their design away from what the kids found difficult. "The point is to try to make the app intuitive. One button of our design had an icon on it that the kids couldn't identify (a list of bike logs that looked like a book), so we turned it into the words 'Bike Log,' which is a place for the user to list all the bike rides they've taken.
"So now when I'm designing the app and the website for my company, instead of just assuming the design is good, I'm definitely going to do some user testing," she adds. She did so during a summer meeting of Harvey Mudd's Entrepreneurial Network (HMCEN), a gathering of mostly alumni who share startup stories.
Mackenzie Leake SCR '15, worked with Community Senior Services, an organization that maintains a database of services for area seniors. She also saw the value in user testing for her project. "The focus was on designing the app and making it really accessible to our potential users," she says. "They had a strong vision of what they wanted. We would send design ideas to our contact, Abby Castillo, and she gave us feedback. We also did user testing with three seniors at Community Senior Services, who let us know their number one frustration was with small text size, and number two was with small button size. They also pointed out concerns they had, like making sure that it's easy to navigate back. We learned, when in doubt, make the buttons bigger!"
Leake was drawn to working on a project for Community Senior Services because it's a cause she believes in. She thinks it's important to step away from coding and think more about the people that one's product will serve.
"I'd like students to produce something that's motivating and useful," says Boerkoel. "Students are used to projects with clean, well-defined goals that get graded against a 'right answer.' With community service, there's a natural frustration with not having well-defined goals or a right answer—and an opportunity there. I think that's powerful."