Pariday is a Mom's "Breast" Friend
Jackie Lai '99 creates products that take some of the misery out of mothering.
Women by warned: There are "parts of motherhood no one tells you about."
This is the mantra of Pariday LLC, the company started in 2011 by Jackie Lai '99 and two other moms who wanted to take some of the mystery and misery out of mothering.
The idea to help nursing moms first came up over coffee with her friend Erin Vitus when Lai was on maternity leave from the product design firm D2M. The two women soon began commiserating about the difficulties and pain they experienced breastfeeding their newborns. Lai says she experienced many issues with breastfeeding, ranging from pain to embarrassing leaks. They knew that breastfeeding pain was the number one reason women stopped breastfeeding prematurely and wanted to provide new moms with a "Swiss Army Knife" product that could help them get over the initial hump of breastfeeding. They also shared their frustrations about the inadequate and antiquated "solutions" for sore breasts, including cabbage leaves and icepacks made from frozen peas. Commercial products were expensive, lasted only a couple of days and left a sticky residue that needed to be washed off before it was safe to nurse again.
The conversation could have ended there, but both women realized that between them—Lai, an engineering major, earned a master's degree in structural engineering from Stanford in 2002, and Vitus has a master's in mechanical engineering— they had the perfect combination of design and manufacturing experience to develop a better product and bring it to market.
Strategy in place, Lai left D2M and at a meeting to launch Pariday, she and Vitus laid out their plans for the company, including a commitment to put family first. The two began prototyping gel packs in their kitchens. They also brought in Mara Lowry, who has an MBA and marketing background. Lai credits Lowry's environmental consciousness for their eventual development of a vegetarian, compostable gel that is used for the company's TendHer Pillows and Perineal Packs. Lai says, "We wanted to use something that would not harm mom or baby if it leaked. It might be gross, but it won't hurt you."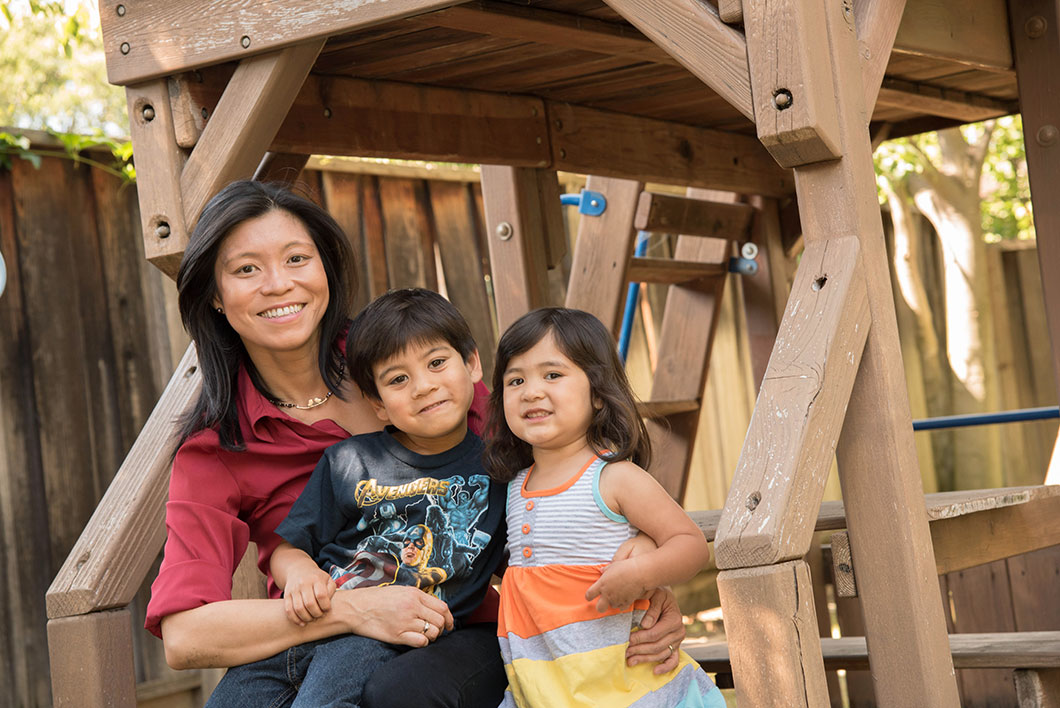 Lai says the three partners have different parenting styles and personalities but work well together and complement each other. They do most of their work independently, from their homes, trusting each other to get tasks done when they are not tending to the needs of their young children. (Lai's son, Ettan, is now 5 and her daughter, Avani, is 3.)
The plan is working: They have gone from selling their very first gel pad in April 2012 to developing a nationwide network of retailers for Pariday's TendHer product line. The gel-filled, long-lasting pillows soothe on contact, fit discreetly in a bra and can be warmed or cooled and worn with a reusable fabric sleeve to help ease breastfeeding discomfort and absorb leaks. Customer reviews on Amazon rate the pillows 4.5 out of 5 stars. In 2014, they tripled their 2013 revenues, and this year they are on track to triple last year's sales. The company recently introduced the TendHer Perineal Packs because, according to Pariday marketing materials, "No matter your birth story, labor and delivery leave you a little sore in places you'd rather not talk about."
The Pariday trio gathers monthly for "builds" in Lai's Sunnyvale, California, garage. Their capacity has increased from fewer than 100 pillows in a day to about 1,000. After spending almost a decade of her career engineering cars (Lai worked for both GM and Volkswagen), Lai loves using her skills in another way. "I literally touch every single thing that goes out. That gives me the direct satisfaction of knowing that I am helping somebody out there," she says. Lai also teaches a weekly therapeutic prenatal yoga class for the same reason: The reward of making a difference in other people's lives.
When Lai left her home in Singapore to attend Harvey Mudd she never envisioned becoming an entrepreneur. She says she never thought of herself as "grad school material" and is thankful she was encouraged to apply to Stanford by engineering Professor Ziyad Durón '81. After grad school in 2002, she and Rohit Mishra '00, a casual acquaintance at the time, became part of a new electronics research lab at Volkswagen. The two were married in 2007, and Mishra's support has been vital to the success of the new venture, says Lai.
Lai's next goal for Pariday is for more people to know what it is. "Pariday is dedicated to creating elegant solutions to some of life's least elegant moments. We want Pariday to be the go-to, must-have products for new moms and to be in everybody's baby shower package within the next few years," she says. "The thing about baby showers is that the baby gets everything and the mom gets nothing. We want to be there for the mom."