College News
Keep Calm and Stay Shiny
57th Annual Commencement
Commencement day was a time to relax, rejoice and celebrate. But graduation speaker Mary Nichols, chairman of the California Air Resources Board, told graduates and their families that the reprieve is necessarily a short one.
"You've worked hard to get here today, and you deserve to get a little bit of a break and kick back," said Nichols, who oversees the implementation of California's landmark greenhouse gas emissions legislation as well as other initiatives to improve air quality and fight climate change. "But not for too long, because I'm here to tell you that there's a lot more to be done, and we need you to help do it. We need to immediately and significantly change the way we generate and use energy and the ways we manage or build our natural environments."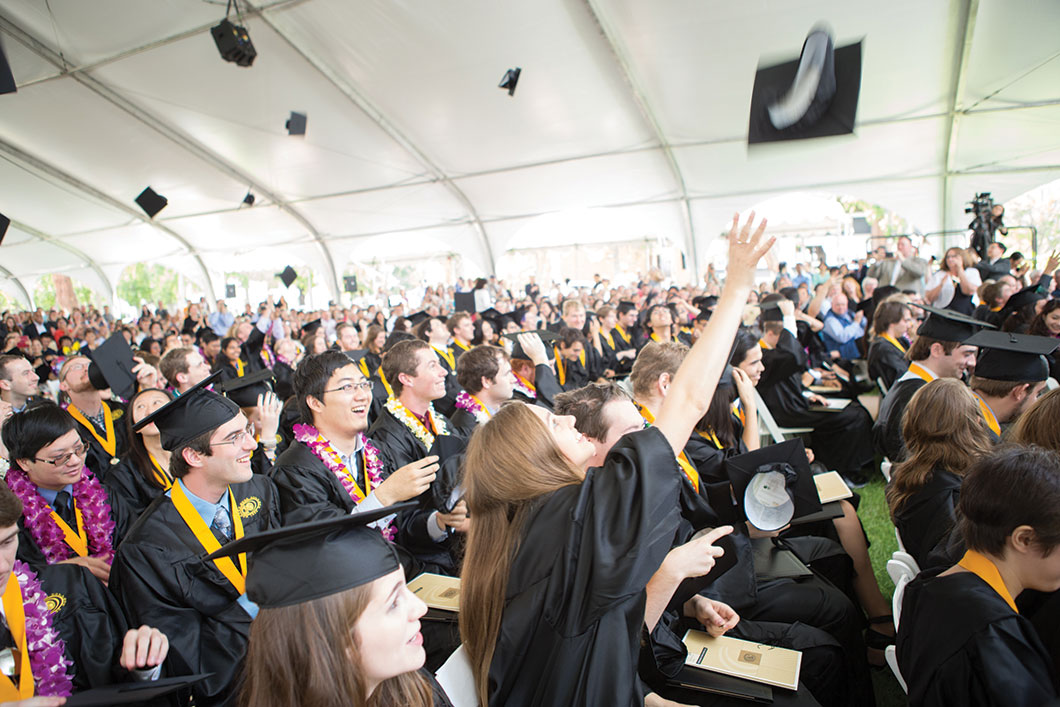 In comments to her Class of 2015 classmates, engineering major Cindy Angpraseuth spoke about the inevitable transition. "As we all go on to the next chapter of our lives we're going to be freshmen again. We'll be doing something new, starting with a clean slate. This is the commencement of the rest of our lives. Remember those new shiny feelings when they happen. It'll be easy to go forward and get jaded again in a few years, but what kind of life is that? When things look dark, just remember, keep calm and stay shiny."
Mudd Prize
Calm prevailed despite the surprise announcement of the Henry T. Mudd Prize, an annual event at commencement. Recipient Ran Libeskind-Hadas, R. Michael Shanahan Professor of Computer Science and department chair, graciously accepted the $4,000 prize, awarded each year to a member of the Harvey Mudd community whose service to the College and its mission is exemplary.
Libeskind-Hadas joined the faculty in 1993 and, in 1996, was awarded the Iris and Howard Critchell Assistant Professorship, which honors a junior professor who has exhibited an unusual talent for mentoring and counseling students. In 2005, he was the first to be named to the Joseph B. Platt Endowed Chair for Effective Teaching. He received the 2012 Distinguished Alumni Educator Award from the University of Illinois at Urbana-Champaign for his outstanding contributions to computer science education and for his work motivating computer science students.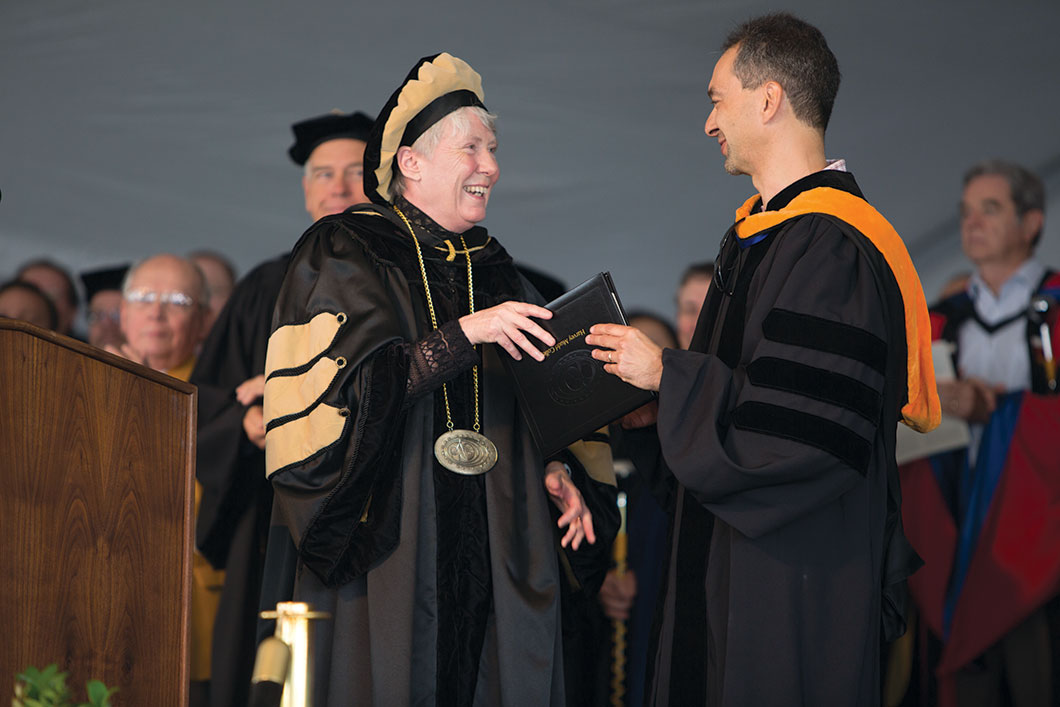 Libeskind-Hadas supervises undergraduate research, senior theses and Clinic projects and advises the Harvey Mudd student chapter of the Association of Computing Machinery. His recent writing projects include the book Computing for Biologists: Python Programming and Principles, which he co-authored with Eliot Bush, associate professor of biology. He served multiple three-year terms on the Computing Research Association/National Science Foundation's Computing Community Consortium Council, a national committee tasked with helping shape computer science research.
As chair since July 2011, Libeskind-Hadas has helped to grow the Computer Science Department to nine tenure-track faculty members and three staff members and was instrumental in helping implement innovative practices to attract women to the discipline. Harvey Mudd has more than tripled its percentage of women CS majors, resulting in a gender ratio that is also triple the national average. This year, for the first time, there were more graduating CS majors than engineering majors.